Authorities: "The Amount Of Smut Contained On Bin Laden's 100's Of Hard Drives Rivals Those Of Click Bait Smitts and Malcolm Smutler"
The Daily Beast - The revelation that bin Laden had a lot of smutty videos and images on his hard drives isn't new; it was first reported by Reuters back in 2011, and has since been described by officials as "fairly extensive." Bin Laden's Hard Drive host Peter Bergen—a CNN national security analyst who, in 1997, was the first Western journalist to interview bin Laden on TV—says that "a significant amount of pornography" was retrieved by the Navy SEAL squad. Alas, his hour-long TV special (airing Sept. 10) doesn't provide any more details about precisely what kinky craziness bin Laden was watching—or, for that matter, whether he was watching it at all. Although porn was definitely on his drives, the actual consumer of this X-rated stash remains something of a mystery. And the fact that many of bin Laden's computers had been previously owned by others leaves some doubt as to whether or not he was even the one who compiled it in the first place.

More interesting is Bin Laden's Hard Drive's suggestion that maybe the terrorist leader's sex videos (whose origins are unknown, since he didn't have an internet connection) were canny tools used to communicate with acolytes. 

Then again, as forensic psychologist and CIA consultant Reid Meloy states, it could have just been that, for all his outward claims of humble, righteous piousness, bin Laden was a normal guy who occasionally wanted to get his rocks off, since "biology trumps ideology."
A new documentary that came out confirms once again what a big smut guy Bin Laden was. 
Big smut guy.
If we've come to know one thing over the course of the years on this site, it's that when it comes to smut guys, you can almost always tell a book by it's cover.
Exhibit A- 
Exhibit B- 
Exhibit C-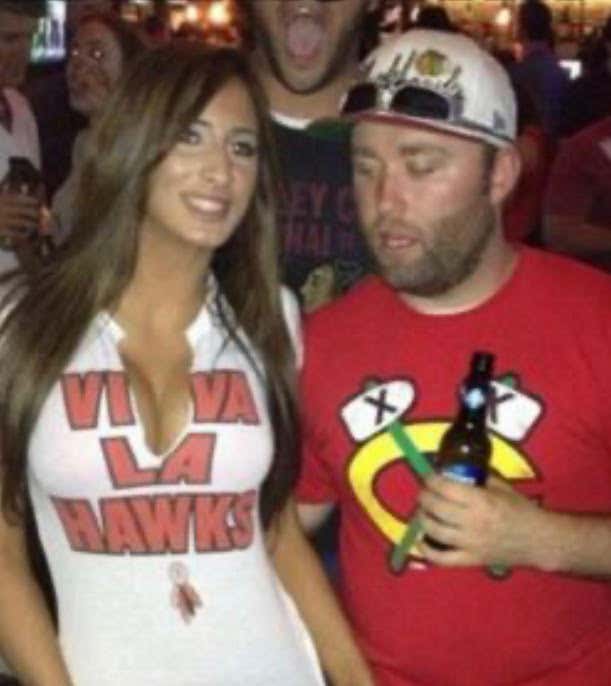 The prosecution rests Your Honor.
According to reports, well over 100 hard drives, filled to the max with hundreds of gigabytes of pornography were recovered from Bin Laden's little hideout in Pakistan. Another case of hypocrisy at it's finest, but that's not what this blog is for.
I'm guessing he loved to get his rocks off to the good old American stuff. If this country's known for producing one thing, it's cars that are built like a rock. And then it's porn.
For a country founded by puritans, we are anything but today. 
Everywhere you look it's sex. 
No wonder Bin Laden was such a hater. Guys stuck in the mountains, undressing 20 layers on women with his eyes, fucking goats, and fantasizing about American bombshells morning, noon, and night.
What kind of a smut man do you think Osama was? 
We're talking back in the early 2000's here, so I'm gonna go with
1- Big Sausage Pizza
Big Sausage Pizza was hot back in the day. It was a no brainer business plan combining pizza, and dick. Aka big sausage. The ladies were always mildly horrified with the surprise when opening the box, but that shock quickly turned to arousal. Guessing Bin Laden was not only a huge fan of this series' work but that he was equally fascinated by the American pizza delivery industry. 
2- Captain Stabbin 
Another early porn site gem that I'm sure Bin Laden had a full Pirate Bay site rip of. Amazingly simple, and realistic premise. Old scummy guys getting young girls on their boat, then doggin them out. 
3- 8th St. Latinas - 
8th St Latinas was just pure debauchery. The girls featured in those scenes played no games. They were just down to fuck. Anywhere and everywhere.  If you had a 56k dial up modem and about 15 minutes to spare before your mom got home or your roommate was back to the dorm, 8th St Latinas was your reliable closer you could bring in that you know would get the job done.
Just speculation here of course.
But one thing we do know for certain was Bin Laden was a big Sunny Leone fan -
Bin Laden was especially fond of the works of Sunny Leone, an American Porn star who transformed into a Bollywood actress. Leone was named Penthouse Pet of the Year in 2003 and was under contract with the adult film industry powerhouse Vivid Entertainment before transitioning into mainstream acting after appearing on the Indian Reality show Bigg Boss 5 in 2011. 

Reports state that he had a stack of her videos in his house when he was shot dead by a special team of American commandos. Indian film director Ram Gopal Verma further claimed that a source revealed to him that Osama was watching one of her videos when he was shot dead in Abbottabad. That rumor has never been confirmed, and will probably never be. When asked about the Osama connection, she chose to laugh it off,  "I think that it was probably a joke and I never thought about it after I first heard that."
If I missed any good ones drop them below.