When It Rains It Pours, And It's Currently a Fucking Monsoon For The New York Yankees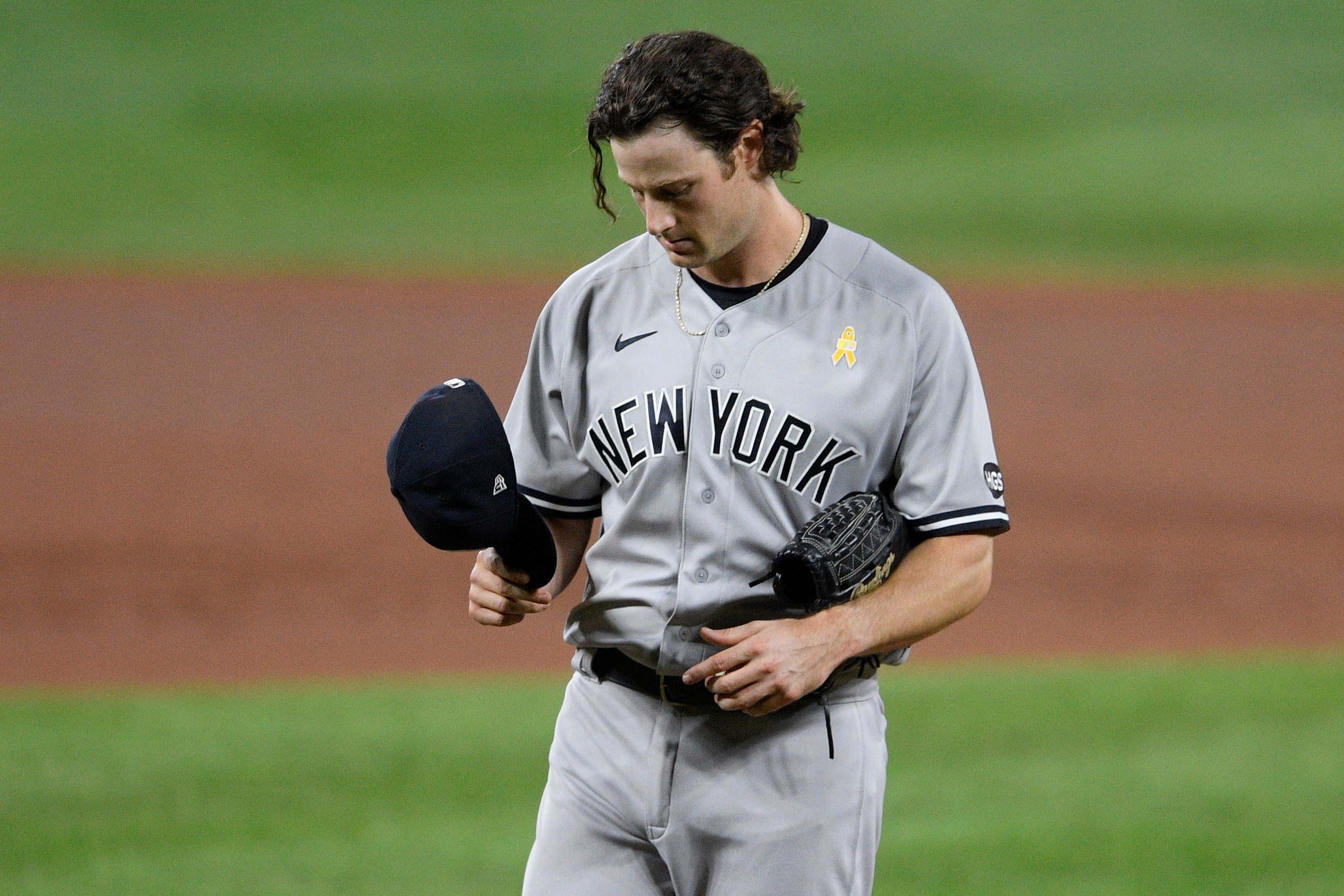 Nick Wass. Shutterstock Images.
Orioles 6 Yankees 1
For five innings on Saturday night Gerrit Cole looked unbelievable. I was laughing out loud with every pitch. GC started the night striking out 8 of his first 9 batters. Vintage Cole that we needed to rebound in this one. How could they lose this game? Well through five shutout one-hit innings the Yankees put up a big ole goose egg on the scoreboard. Unacceptable against a guy who was throwing 92 mph down the middle. They couldn't get this man a single run to play with. Not one. You cannot win baseball games if you don't score. 
What happened in the 6th inning? DJ Stewart led it off with his first homer of the year (his first hit of the season) on a moon ball to right. Cole will always been susceptible to the big fly, but what usually happens is it's in the solo nature like that one. Following a ground ball out after the solo shot, Thairo Estrada threw away a ball to first which should have been out number two in the inning. Following the error Cole got his 10th punch out. After that he lost his command badly and walked two in a row to load the bases. The rhythm and confidence he had in the first 15 outs was completely gone. Cole got ahead of Ryan Mountcastle 0-2 with the bases juiced. One pitch and he was out of the jam. Cole went high with a fastball, but not high enough, the Orioles young stud got around on it and knocked in two go ahead runs with a base hit up the middle. 
Impressive piece of hitting, but Cole has to get that pitch elevated more on 0-2. Rio Ruiz then doubled down the right field line to score two more. In the blink of an eye it was 5-0. Seemingly impossible. Fucking impossible. Only one earned run gets charged to Cole but who gives a shit really? Sure the error took away an out, but losing command like that right after is on him. The 0-2 pitch that missed is on him. The double down the right field line is on him. He knows that better than anyone. Is the loss on him? I'd put it way more on the offense, but that 6th inning was a disaster. Like Ken Singleton said on the broadcast, if you score even two or three runs for Cole while he was cooking that allows a pitcher to cruise even more and relax out there. Have him continue to pitch in a 0-0 ball game is a different situation. Of course you pay a guy like Cole that much money you expect him to do that, I'm just saying the Yankees offense did themselves no favors tonight. 
I mean Gary Sanchez has struck out seven times in a row. SEVEN TIMES IN A ROW. His average is down to .130. He's struck out 48 times in 100 at bats in 2020. Did you read that correctly? 
48 STRIKESOUTS IN 100 AT BATS
How is that even possible? If you throw him a fastball up he simply cannot hit it. It's not just him either. Hicks is hitting .20, Andujar .162, Estrada .194, Wade .164, Gardner .188, Ford .149. Tauchman is 2 for his last 26.  It's so tough to do next man up two years in a row, but like I've been saying no one is going to feel sorry for the New York Yankees and their injuries. Not a soul. Gleyber got himself a leadoff double in the 4th and didn't advance a base. That's the Yankees offense right now. Can't even move a runner productively to set up a sac fly or RBI ground out situation. It's pathetic. 
Judge and Stanton aren't showing up on that lineup card anytime soon. This is the team you're stuck with. Ideally DJ LeMahieu never sits another game for rest ever again. Fucking Boone. Gleyber came back tonight and had some good swings so they're going to need that moving forward no doubt, but they're also going to need the rest of this lineup to wake the fuck up. I can't say it more. 
Maybe there is something to the lack of CC, Didi, and even Romine to be that voice in the clubhouse, especially with Judge down. These guys need a CC-type speech right now to snap out it. You have to have some sort of player's meeting to hold people accountable. Just let it all out. You can't keep going on like this. The Yankees lost a Gerrit Cole start to the Orioles by five runs tonight. It's fucking crazy what has happened. I almost wish they never started the season.
Clint Frazier said this after the game and it played a part in my title: "When it rains, it pours. We're trying to find cover." They need the goddamn sun to come out soon or they're going to drown.
P.S. It's fucking depressing to have to follow the Detroit Tigers results because they're right there for a playoff spot. Same with Toronto. These ten games coming up with the Jays are going to murder me. That's the season right there. What you do with the Blue Jays coming up defines where you finish in the 2020 standings. You wanna make the playoffs? Gotta beat Toronto. A postseason berth is not being handed to you. Hammer that home in your head. You have to actually pitch, score runs, and beat these teams to get in. Holy shit is this depressing.