Report: Ohio State Is Working To Get 5 Other Big Ten Schools To Play A 10 Game Schedule This Fall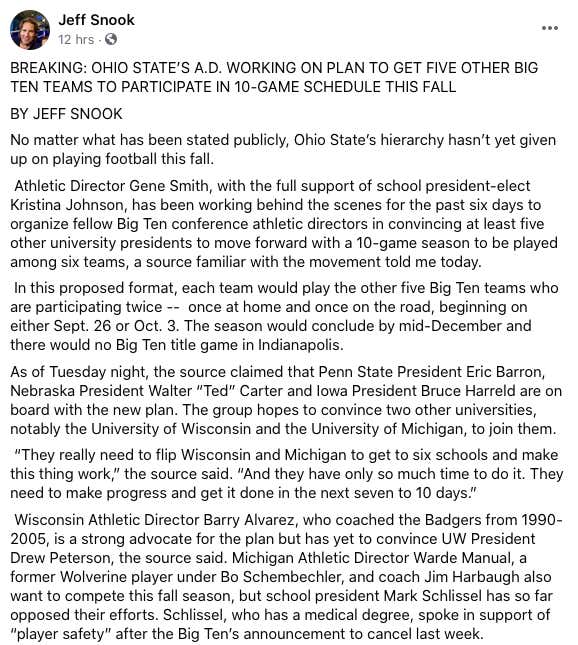 Are we back????? I don't know. But we're definitely still breathing. This seems pretty in-depth and would be quite the detailed ruse if not true. I guess it all depends on who this Jeff Snook guy is and if you trust his "source". But let me be the first to welcome him to the Insiders Club.
I'm no Sir Yacht or anything, but MY inside source in THE Ohio State University football program made it clear this weekend that this season isn't off the table just yet. I wouldn't call it coincidence that Justin Fields made this petition all on his own. I think there are some pretty smart coaches in that building that know they can't speak out against the Big Ten directly, but they can certainly support their guy.
Ryan Day is supporting Justin Fields fight to play this season. Ryan Day is supporting the parents fight to play this season. Ryan Day appreciates his his Athletic Director and President fight to play this season. Folks, Ryan Day might not be saying it publicly but this dude is FIGHTING for a season. 
And wouldn't you?? He's got a National Championship contending team and a Heisman trophy frontrunner. This team won't have a competitive game until the playoff. We can't just give up on the season because Selfish Kevin Warren said so. So yeah, we're going to keep fighting. And it sounds like we just need to convince Michigan and Wisconsin to play. Come on Michigan, do a solid for us one time. We won't hang a hundred on you this season if you do, only like 70. And Wisconsin, you'll do what you're told to do. 
I don't know guys. Is this too good to be true? Is this all BS? All I know is that I'm choosing to believe it because I want to believe it. I'm riding with Jeff Snook on this one…and so is…….
Oh boy, that actually makes me feel worse. I have a hard time trusting anything Zach Smith does.
Either way, it seems like we have 7 to 10 days to change someones mind, per source. Did they see all of the signatures on Justin Fields petition???? Should be a done deal any moment now.