PLL Championship Series Elimination Day Is Here. 7 Teams Enter, 4 Teams Leave. Here's Exactly How It Will Go
5 words. Individually on their own, there's nothing spectacular about them. But you throw them together in a specific order and it magically turns into one of the most arousing sentences in the English language. 
Tuesday night PLL triple header. 
And that's what we have here tonight, boys. That's what we've earned here tonight.
The round robin play is over. We had 14 games in 8 days and on that 8th day, the Whipsnakes proved that they don't give a single heck about anybody's feelings here because they're just here to dominate the shit out of everybody. They won the final game of the 2019 season in September after being crowned the inaugural PLL Champs. And they haven't even had a close game since. A 13-9 win over the Redwoods. A 15-6 dick kicking over the Atlas. A 12-7 shit pumping over the Chaos. And in the battle of the only two remaining unbeaten teams on Sunday, Matt Rambo had a casual 8 assist and a 10-point day  as the Whips pulled away with a 17-11 shellacking. 
+24 score differential through 4 games and the only other positive team in the tournament are Chrome with a +5. Granted, the only reason they're positive right now is probably because they didn't have to play the Whipsnakes in the round robin but that's besides the point. 
Either way, the Whipsnakes earned themselves a bye to the semifinals on Thursday so they'll be off today. The rest of the teams will be playing tonight for the other 3 remaining tickets to Thursday night. (Don't pay attention to the game times on the bracket, they are wrong).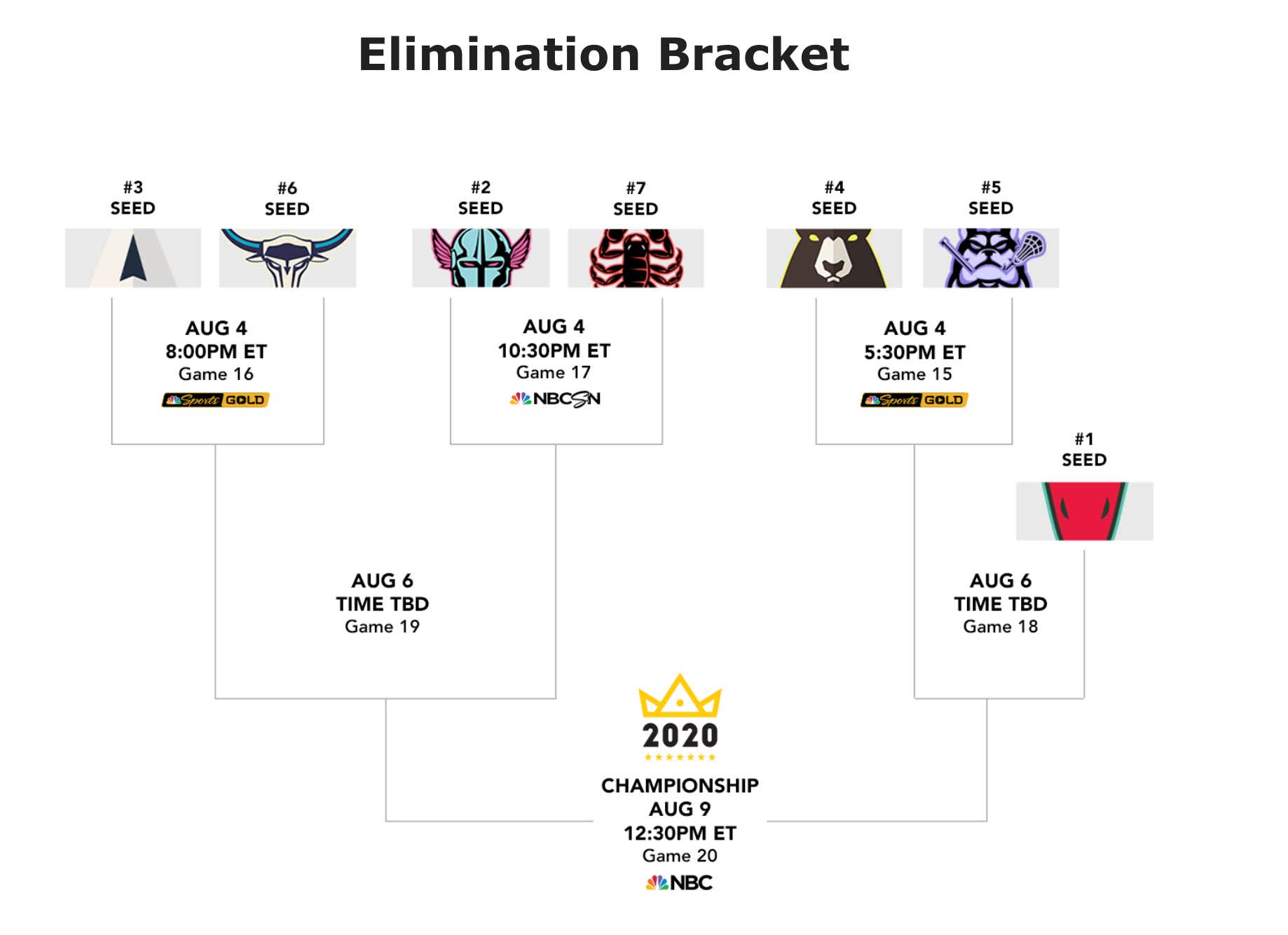 Game 1 // #2 Chrome v #7 Chaos // 5:30pm // NBC Sports Gold
This is the most intriguing matchup of the day for two reasons. The first obviously being the rematch between Matt Gaudet and the Chaos. Mic'd Up Gaudet set the lacrosse world ablaze the first time these teams played each other. And while the Chaos were cowards during the game and didn't do anything to shut him up then, they sure were vocal about it on twitter after the fact. 
So we'll see how much real estate Gaudet continues to own the the brains of the Chaos tonight, and if he'll be able to completely throw them off their game like he was able to do against the Redwoods later in the tournament. 
But even more than the Gaudet stuff is the fact that the Chaos haven't won a single game yet in this tournament. For the most part, their offense has looked like shit. It's not because they don't have good players or anything like that, but it's because so many of their guys are primarily box lacrosse players and they only had a 6-day training camp to try to figure out how to make this offense work. So you'd think it would only be a matter of time before their offense starts to click and figure it out. The only issue is that their defense actually sucks ass and there's no way to really fix that. Aside from Blaze Riorden making 25 saves tonight, I don't see this Chaos defense being able to stop Jordan Wolf and Justin Guterding from constantly taking their defensemen to the rack. So if the Chaos offense can keep pace, then they have a chance to just outscore the Chrome. But if that Chaos offense still doesn't fully figure out their spacing and get stagnant for a while, there's just no chance their defense can hang on long enough to give their offense a chance. 
Jordie's Pick: Chrome Back
Game 2 // #4 Redwoods v #5 Waterdogs // 8pm // NBC Sports Gold
The Waterdogs got their first win in team history on Saturday afternoon and it was glorious. That Zach Currier overtime snipe was a thing of goddamn beauty. Low-to-high, kisses the crossbar, turn & rake. Unfortunately….well unfortunately I think that'll be their only win of 2020 because even though this Redwoods team hasn't played well at all so far this tournament, they've always got the 2-ball just waiting there in their back pocket. 
Perkovic has taken 9 shots from beyond the arc during this tournament and he's scored 6 of them. The undisputed 2-bomb king of 2020. And that right there is a certified game changer. What we've seen out of the Waterdogs so far is that they take their foot off the gas a little too early. If they build up a lead against the Redwoods and let up even a little bit, that Perk Bomb is just one shot away from making it a game again. Now outside of Perkovic, there hasn't really been anyone on this Redwoods offense who has been a serious weapon so far in this tournament. As a whole I'd say the Waterdogs have more depth offensively. But I'd give the Redwoods the advantage at defense and then that threat of the 2-ball will either allow Perkovic to let them fly all night, or it will just open up more space inside for guys like Garnsey and Kavanagh to work. 
Jordie's Pick: 'Woods Roll
Game 3 // #3 Archers v #6 Atlas // 10:30pm // NBCSN
The first time these two teams played each other, the scoreboard said it was only a 1-goal game. But there was never really a point in that game when it didn't look like the Archers weren't going to win. They just let the lead get away from them a little bit. And that was also their first game of the tournament. So now that Ament, Schreiber, Manny, Holman, Ambler,  MacKay and Sankey have had more time to really get that offense going? It's just aside from Ryan Brown shooting the shit out of the ball, there's nothing the Atlas really do well. They're just a super okay team. The Archers are elite. 
The only issue that has really been hurting the Archers during this tournament is that they have 2 goalies splitting the halves. They can't do that in the elimination round. You need to let one guy get fully settled in between the pipes and right now, that guy needs to be Ghitelman. I know it's worked out decently well enough for them right now but these games actually mean something now. It's not middle school, you need to just have one goalie. Because if you put a cold goalie in the 2nd half and he has to face an onslaught of Ryan Brown bombs? That's how you fuck this whole thing up. Other than that scenario, Archers win and they win big. 
Jordie's Pick: Arrows Up.
5:30pm, 8pm, and 10:30pm. We've got a long night of lax ahead of us. 3 games tonight, 2 semifinal matchups on Thursday, and a championship game on Sunday. Soak it all in, boys. Because who knows when the next time we'll be able to watch meaningful lacrosse again will be.