The Bucks Are Still The Celtics' Boogeyman Until Further Notice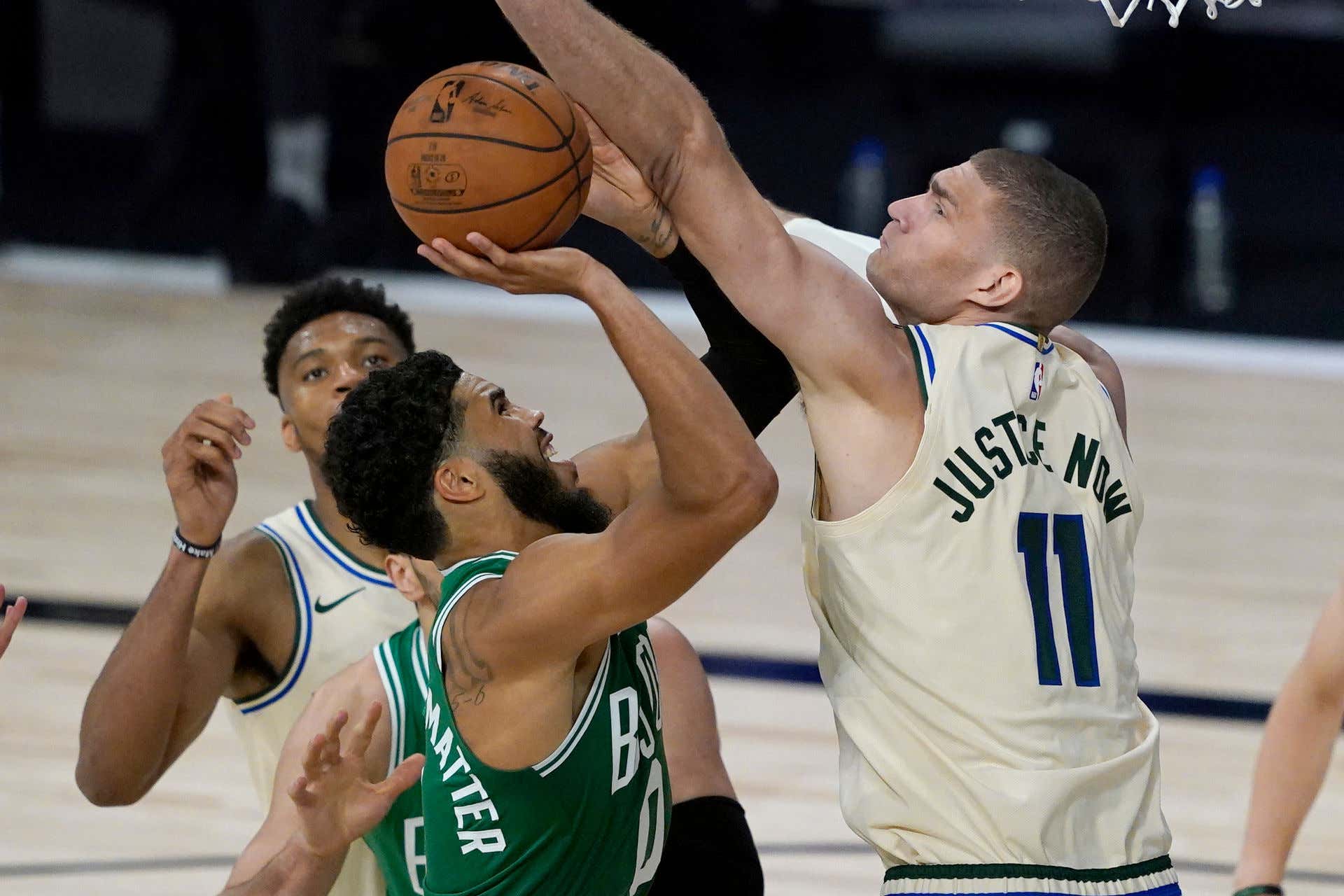 Pool. Getty Images.
If there was any question as to whether the Celtics would return to form after a four month hiatus, we got our answer last night and it was a resounding "yes". For some teams that might mean looking better than ever, but for this team that means making us stress the fuck out for 48 minutes and ultimately cause us pain in the end. Last night might have been a surprise to some, but their performance against the Bucks was exactly how they other two games have gone which tells me the Celts are most definitely back. If you consider this a measuring stick game one thing is pretty clear. The Celts can show they can play with this team on any given night, but they are still miles away from getting over the hump. Giannis & Co are still this team's boogeyman until further notice. 
You know what I don't want to hear from anyone when talking about this game?
"Oh it was just rust, they'll be fine"
Fuuuuuuuuuuck that. You don't get to say that when they were light on everyone's minutes in the scrimmages and then just scrapped the third game all together. Every team in the league, including the Bucks, played their regular guys at least a little bit in that third scrimmage to get ready. Brad made the decision to rest the top 7 which is his way of telling us they were ready. Did they look ready to you to start this game? Maybe ready to stink but certainly not ready to compete with the wagon that is MIL. You played like shit to start. Own it. 
While there was a pile of dogshit to get through, and we will, there were also a lot of positives to take away from several guys on this roster. My general feeling is still positive and yours should be too. Their playoff hopes do not change one way or another based off 1 seeding game. They same would be true even if they won this game. But that doesn't excuse a lot of what we saw so let's just dive right in.
The Good
- I think we were all nervous about what Kemba would look like in a real game against an elite defense. We had barely seen him play in four months, nobody knows what to believe. Well I think it's safe to say that Kemba looked fantastic, like the Kemba of old
The quickness was there, the first step was there, Kemba had that burst that pretty much makes or breaks his offensive game, his outside shot looked fluid, all in all it was exactly what I hoped and dreamed to see when it came to Kemba in his 19 minutes. Now let's tell the whole story here, not having to go up against a defensive monster in Eric Bledsoe 10000% helped, but if you remember Kemba couldn't get by anyone before the hiatus so it was great to see him get back to his old self.
I also don't give a shit about the minutes restriction and how it may have impacted this game. This isn't a Zion situation, the Celts aren't playing for their playoff lives. Kemba's offense got them back in the game and he did his job. Now we wait to see how he recovers before we know if this is really an issue or not.
- Rough night for the Gordon Hayward haters out there who thinks he never shows up against a good team. He was pretty much their best all around player in this game
I would have liked to see him make a couple of his open threes, but you saw the value in what Hayward can bring to this team on both ends. I thought he was by far their best facilitator and creator which is an important role he's going to have to fill in the playoffs, I thought he was aggressive and found ways to get into his sweet spots offensively, and then on the defensive end he was really the only one that had any sort of success on Giannis. He held him to just 2 points on 1-4 shooting on their matchups which is about as good as you can be in my opinion. 
He was a little too turnover prone so he wasn't perfect by any stretch, but if the Celts are going to get a version of Hayward that's 17/9/6 they'll be just fine.
- It took about 53 seconds for the Celts to find themselves on life support in this game and it wasn't until Marcus Smart came in that things started to turn around. Everything changed once he got his hands on his game and it was probably the best I've seen him play in months
you could feel the momentum swing back into the Celts favor as they made they way back from being down 17-2, and without Smart they probably get killed by 50 in this game. I certainly don't expect him to be have this type of efficiency all the time (7-11, 3-6) but I was very pleased with his shot selection which to me is the most important part. He played under control offensively which is always the question with Smart. Like Hayward, a little too turnover prone (4), but overall Marcus was as solid as you could want.
- If there's one player that has shown he's ready, it's Jaylen.
It was his offense that kept them in the game at all in the first place, and right away you could tell we were getting Aggressive Jaylen. He attacked the rim, he got to the line, and he was their best player in the second half. The problem with Jaylen was his foul trouble, a lot of stupid fouls you just can't have against a team like MIL, so that's a learning experience for him. This team needs him to be on the floor, especially when Tatum is struggling like he did.
- Shoutout Daniel Theis with his 13/12/3 and a couple threes along with two blocks. He was solid defensively holding Lopez to just 1-5 and even Middleton to 1-5. Seeing him play well against this length and frontline was encouraging and he looked much better last night than he did in his scrimmage appearances which I appreciated.
- We give him shit, but let's give him credit when its due. Brad Wanamaker was really really good in this game outside of a couple head down forced transition drives
- It was good to see this team didn't quit when things got out of hand early. Last year, the team quit against MIL when they looked like they would be too much to handle. This year, they fought their way back. Sure I'd prefer to not get down 17-2 in the first place but they've made it clear that this is just what happens against MIL so it was nice to see some fight.
- Khris Middleton went 6-20! Yeah he had some daggers in there but this was the first time in his life he hasn't shot 85% against the Celts so I'll take it.
The Bad
- You know before this game I asked this team very nicely to not shoot themselves in the foot in the first 6 minutes. I was fine with the fact that they were going to shoot like shit to start. I watch this team, I know what they do. But I asked that they also don't play zero defense at the same time. Well what happened? 
It was 17-2 4 minutes into the game. This now marks the third game in a row that the Celts find themselves down 15 points in the first quarter against MIL. It's inexcusable. Either Brad doesn't have this team ready to go or the players just forget how to play basketball and I'll be honest I don't love either option there. I don't even care that they ultimately came back, you aren't going to be successful if you spot the best teams in the league 15 points before you even break a sweat. The defense was non existent, the offense was gross and mostly isolation shit. They let noncalls impact their focus and then they started forcing, all of it was gross.
- I also talked about how the Celts were going to have to find creative ways to score in the paint since MIL was the #1 team in the NBA in opponents points in then paint. Well they didn't, and look what happened. Why was there no adjustment to find a way to bring Lopez out of the paint before you drive? The man had 6 blocks and COMPLETELY dominated any Celtic to drove to the rim. Even if you think he got the benefit of the doubt on 50/50 calls, this team has to find a way to not get beat by Book fucking Lopez. 
- The Celtics largest lead in this game was 1 point, and it lasted 1 possession.
- Lose by 7 in a game you miss 7 FTs. That's fun. And I know they can't be perfect, but against a team like MIL I don't need my good FT shooters missing FTs. Period. Tatum missed one, Jaylen 2, Smart 2, every chance the Celts had to get over the hump they would miss a FT or some shit and then MIL would immediately come down and score. That was frustrating as hell, get some defensive stops and turn the momentum for me one time. That's supposed to be their calling card.
- Not great when three of your best defenders (Theis, Smart, Jaylen) hold Giannis to 10-11 shooting. That's bad.
- Pretty annoying you make your way all the way back, tie things up heading into the fourth, and then you fall apart when it matters most to the tune of 44/33% shooting and 4 TOs. All while allowing MIL to shoot 52%. You start the quarter with a Wanamaker TO, some misses, a Tatum TO and boom in the first 3 minutes it's 94-89. Really tough time for Jayson Tatum to go 0-5.
The Ugly
- So let's talk about Tatum. One of the worst offensive nights of his career, there's no doubt. I mean there's stinking out loud and then there's whatever we watched in this game. The 2-18 (really 1-17) is bad enough, but even if you throw that out just watching him was gross. He didn't drive with purpose and when his shot got blocked he cared more about complaining to the ref. He had absolutely no touch whatsoever either on his layups or his midrange. I don't think it's rocket science to say this team can't win if he's going to be that poor offensively, but also, where the hell was Brad to get Tatum some easy looks? To be honest I'm not sure it mattered because Tatum was going to miss anything anyway, but this is now the third time we've seen Tatum in Orlando and he hasn't been all that great in any of them. This looked a lot more like the slow start October Tatum than the February All NBA Tatum that's for damn sure.
- Look, we all know the officiating in this game was sketchy down the stretch and it sure looked like they were protecting Giannis. Frankly that shouldn't surprise you, this is what playing Giannis is like. And yes, it's frustrating that 6 of his points to seal the game came after he should have fouled out. It was a little suspect that the ref told Brad they couldn't review his Theis dick punch for a foul in real time, but then after the game said they could and just didn't.
But you know what I don't need? I don't need the players crying about it. It's not why they lost. Their shitty play is why they lost. So when I see stuff like this
it bothers the hell out of me. Just shut up and take it, even if you have a point. Do you think this is only going to help you get calls the next time out? Try the opposite. There is literally no benefit from saying this shit publicly. It only does more harm than good and it takes the focus off why you lost this game in the first place. The Celtics get boned by officials all the time, but it doesn't matter if you play well. I'd rather see them go the route of personal responsibility than crying about Giannis getting 9 fouls. Nobody forced this team to foul three point shooter, nobody forced Jaylen to get his 5th foul on a rebound. Just a bad look all around in my opinion.
All I know is the Celts better turn the page quick because they are getting a hungry POR team tomorrow that just dropped like 145 points or some shit. Dame and CJ are going to be a problem if this team's perimeter defense doesn't shape up. The Blazers have a big frontcourt as well and these are all must win games for them. Let's try to not spot them 15 points to open the game and maybe things will turn out a little better. Just try it.