There's Something Eerie About The Celtics Starting Their Title Quest On The Day Kevin Garnett Became A Celtic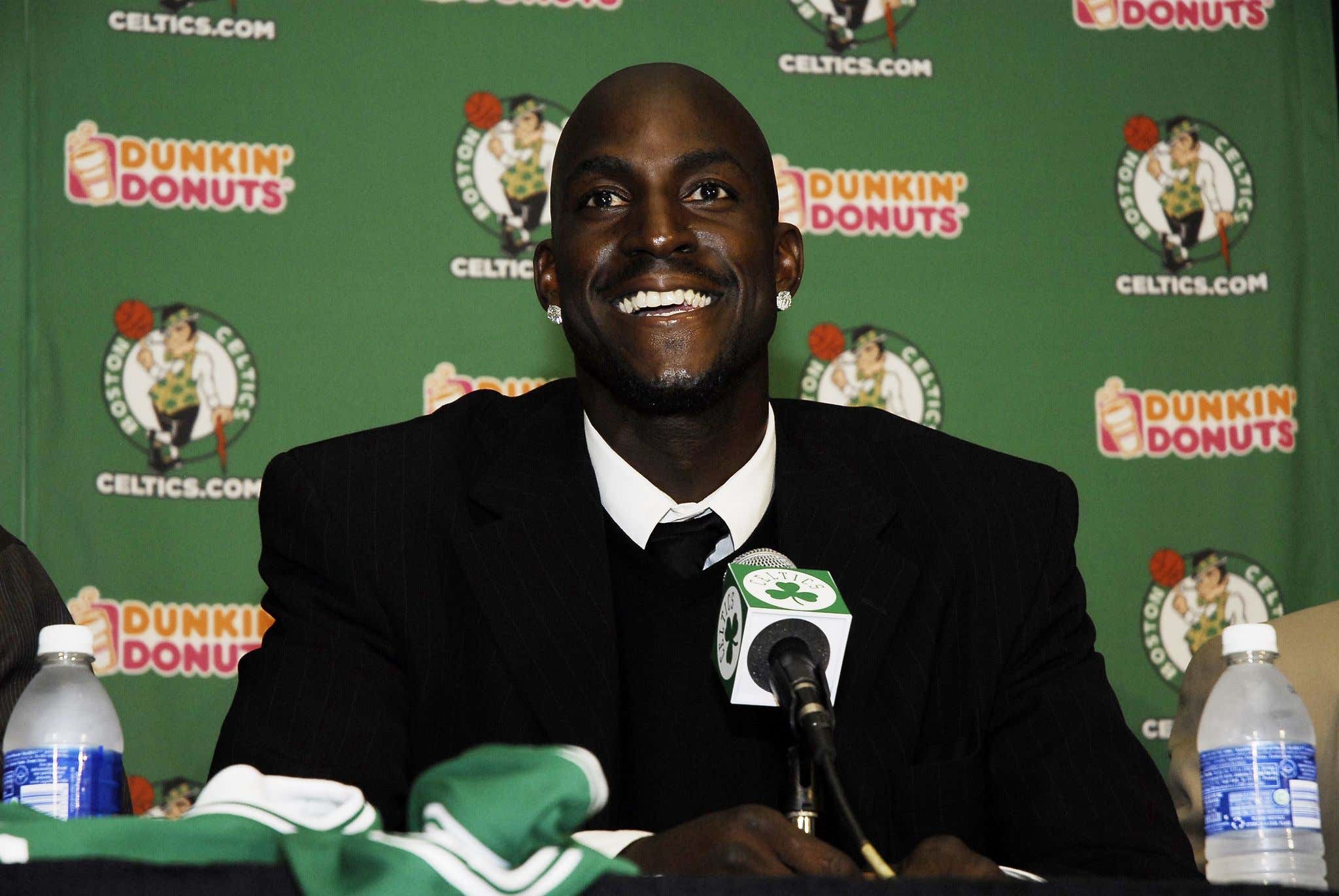 Brian Babineau. Getty Images.
I'm a big superstitions guy when it comes to sports. Always have been always will be. Everyone has their routine and we all do our part to try and create some positive juju. So you bet your ass I'm going to do that on the night the Celts return to action. I want as much positive energy out there as possible and there are few moments more positive than this day 13 years ago. 
I was 20 at the time and I can say without a doubt that this was the most surreal moment I ever had up until that point as a fan of this team. I couldn't believe what my eyes were seeing. Kevin Garnett?? A Celtic?!?! That's something I didn't even pull off on my 2K Dynasty. Seeing that news on the ESPN ticker legit broke my brain. I didn't know how to react. It was the biggest trade for one player in NBA history. Can't thank Kevin McHale enough for lobbing that one over the fence for his buddy. Even though Big Al was legit, that trade doesn't happen without McHale/Ainge. The best way I can sum it up is this
and of course, he immediately turned this franchise around. Not sure if anyone has told you this before but the Celts won the NBA title that year. Nobody ever really talks about 2008 so there's a chance you didn't know that since it's been so long. Looking back, there was nothing like that Big 3
They fit together so perfectly and none of that is possible without KG. The franchise needed a culture change in the worst way and that's exactly what he brought. A true Celtics legend, Garnett played a total of 396 games as a Celtic, was a 5x All Star, DPOY, All NBA 1x, All NBA Defense First Team 3x (Second Team 1x), is 8th in blocks, 7th in DREB and obviously brought them a title where he averaged 20/10.5/3.3 on 49% shooting in 26 games. Everything we hoped Kevin Garnett would be as a member of the Boston Celtics he was and then some. He brought me something I never thought I would see in my lifetime. 
Now, next to Pierce, his number will live in the rafters for eternity next to the 17th NBA banner he delivered. He'll forever he a God to this city and this fanbase, and he's already passing the torch to the next generation
Crazy it's been 13 years already since that press conference. That makes me feel old as shit but you know what? I think it's a sign. You're telling me there's nothing fishy about the Celts restarting their season and title run on the same day Kevin Garnett became a Celtic and led that team to a title? Read a book for me one time