Aaron Rodgers Says He Drank A Gigantic Glass Of Straight Tequila The Night Jordan Love Was Drafted
Well, that didn't take long. It would have been foolish to think their relationship wasn't going to completely dominate the narrative all season (season?), but here we are on the very first day of Packers training camp... talking about how Aaron Rodgers feels about Jordan Love. Of course. 
So let's get right to it - the first of the thousands of "Rodgers on Love" interviews we'll see this season.
Rodgers on his draft night experience: "So when they traded up, I definitely perked up a little bit."
Because he, like many of us reasonable folk, thought they moved up to get him a receiver, not his replacement. 
"And then I got a text - because everything's so delayed - I got a text from my agent, marketing agent who I love, and he just texted "quarterback." I was like "Oh, wow. Ok."   
"I love scotch, but I'd been drinking some sipping tequila as well. Once I got that text, I went to the pantry, I poured myself about four fingers, and I knew it was going to one of those nights where the people are going to start calling and there was going to be the, "Hey, is everything fine? You ok?" "Yeah, I'm fine."
Four fingers worth of tequila is a pretty strong indicator that someone is NOT fine. That's basically an entire lowball glass (8oz) of straight tequila, and that's based on my fingers. While I will admit to having man hands, they are not big ass quarterback hands. (Yes, this is a hopeful assumption.) 
"Like I said, I wasn't elated by the pick, especially being one game away from the Super Bowl and feeling like we're a couple of players away. But at the same time, I understand it's a business. I know that's the reality.

But I will say - as much as people want to make parallels to certain things - in 2004, the Packers were 10-6 and lost in the first round of the playoffs. We were 13-3 and one game from the Super Bowl, won a playoff game at home, obviously won our division - a little different circumstances. 

Not to mention that Brett had talked about retiring for a few years before that, and I've talked about playing into my 40s. When people started talking about the parallels to this and that, well, I fell to 24th. They traded up and drafted Jordan."
SAY IT LOUDER FOR THE MORONS IN THE BACK! I do not understand why people continue to say he should have seen it coming because it's the exact same situation he was brought into when Favre was quarterback; it's not even remotely close to the same situation! Aside from their age and the fact that Favre's 16th season was his last and this just so happens to be Rodgers' 16th season, the actual circumstances that would cause an organization to consider replacing their star QB, are completely different. 
But perhaps this distinction is what will make Love's experience a little warmer than Rodgers'. 
"The next day I called Jordan because I just wanted to make sure he knew that, you know, that I know what he was thinking, I know what he was going through. 

The last thing you want is to deal with any negativity around realizing a childhood dream."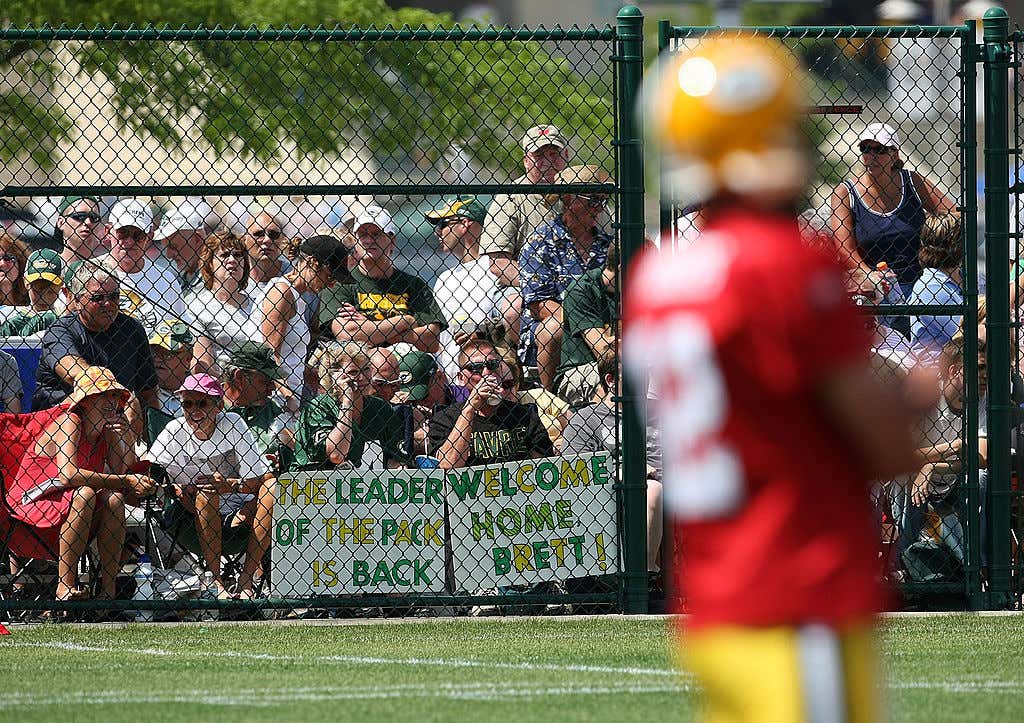 So I just told him, 'Congrats man. I understand what you're going through, man - it's super exciting. I'm excited to work with you, which I am, and I understand it's a business. I understand the nature of the business. I'm not here advocating my spot by any means - that's not gonna happen - but I understand how the business works.'"
You know what? I believe him. I genuinely think Rodgers is going to be a helpful teammate to Love - the teammate he maybe hoped Favre would have been to him back in the day. He's in the unique position to see both sides of the coin and choose what side he wants to be on. In the end, it may turn out Rodgers went through hell so Love didn't have to.  
Unfortunately, it sounds like he knows he may be handing over the reins a lot sooner than I hoped.
KB: "If you're just you, and you can stay healthy, the team either has to choose, 'We're going to move on from Aaron Rodgers,' which sounds nuts, or 'We're just not going to play our 1st-round draft pick.' How does this end?"

"I think probably the first. The former. I think that's probably what happens, based on just the circumstances around everything. 

Just look at the facts: they traded up, they drafted him - I would say they like him, they want to play him… And I get it, I really do. I don't harbor any ill will about it. 

Was I bummed out? Of course. Who wouldn't be? I wanted to play my entire career in Green Bay. I love the city. I grew up there, really. I got there when I was 21, I'm 36 now. You know, a lot of changes during that time. But look, I get it. I see it completely clearly and I'm not bitter about it. It's just kind of is what it is. 
Ima go ahead and call BS on this PR heavy answer. 
Just because you "get" the situation, understand it's a business, and see the whole thing clearly, that doesn't mean you're not fucking pissed! OF COURSE HE'S BITTER! WHO THE FUCK WOULDN'T BE! He has done nothing but carry the team on his back, year in and year out. He's played through broken bones and fucked up shoulders and knees and he's gone out there and made shit happen time and time again, often out of nothing! He's made the lifestyle changes, told them he wants to continue playing into his 40s and finish his career in Green Bay, and he's done it with zero drama. 
Yet, the Packers turn around and show him he's even more replaceable than the guy who came before him whose "will I, won't I" games they tolerated for years because it was fucking Brett Favre… by MOVING UP to get a quarterback!
NO ONE deserves to be bitter or harbor ill will more than Aaron Rodgers. 
And if the chip on his shoulders from his other draft night tragedy is any indication, his grudge towards the organization is going to be monumental. 
KB: How do you look in a Bears uniform? 
"Oh man, that's a tough thought right there."
GODDAMMITMOTHERFUCKER