Three Belichicks, Two Mayos, Two O-line Coaches and Troy Brown: A Look at the Patriots Coaching Staff
Patriots.com - The Patriots have set their coaching staff for the 2020 season and it includes some new faces, some promotions and a few transitions to new positional groups as New England continues to finalize details in preparation for the start of training camp.
 Four new coaches will join the staff, including quarterbacks coach Jedd Fisch, assistants Tyler Hughes (offensive) and Vinnie Sunseri (defensive) and special teams assistant Joe Houston, while Cole Popovich, Carmen Bricillo, and Brian Belichick were promoted from assistant positions.
 Demarcus Covington, Troy Brown and Stephen Belichick will all be coaching new position groups this season, as they continue to build experience in multiple areas.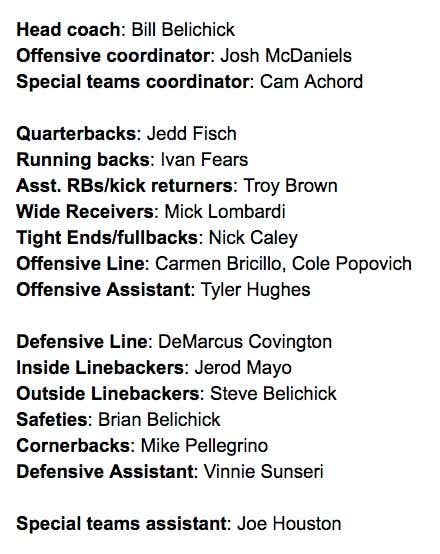 The very first thing I point out on all the more-often-than-you'd-think occasions that someone tries to float some theory that Bill Belichick hates his job or doesn't like working for his boss or that he somehow harbors some deep, secret longing to go work for the Giants because he's got an insatiable emotional connection to the franchise from 30 years ago is this. Look at his coaching staff. Not just now, but throughout his tenure. Look at the care that has gone into creating the perfect culture, the ideal system, and the way he's been able to develop an endless supply of smart, reliable people to perpetuate it. Why would anyone ever want to leave a situation where he has total autonomy to do things his way, and surround himself with like-minded people he can trust, with less than zero meddling from anyone else?
In football terms, Belichick is Martin Scorcese, casting only the people he enjoys collaborating with. The DeNiros and Pescis and DiCaprios he knows he can bring out the best in, and who will bring out the best in him. And like any great collaborator, he surrounds himself not with Yes Men, but with people who can handle a hierarchy where information is expected to flow not just from the top down, but from the bottom up as well. If he's asking for advice on how to handle the Rams system of calling audibles just before the snap or stopping the Ravens option run offense, then you'd better have an answer or he'll hire somebody who does. 
So a few notes on this year's staff:
--Oddly enough, this might be the Belichick record for most former NFL players on the staff, with two. Pre-Jerod Mayo, the last actual pro player I can remember was Pepper Johnson. And if you're adding another former Patriot, it's hard to imagine anyone more suited for the job than Troy Brown. Nobody who ever wore the uniform knew more about returning kicks and punts. Or has more first hand experience at being a roster bubble guy hanging onto a roster spot by balling out on special teams. Or got more out his natural talents, going from being an eighth round pick to a 15-year veteran and a member of the team Hall of Fame. He was around the team a lot last year, and I'm glad they made it official for him. I'll admit it's personal for me because I used to do the Patriots pre- and postgame show with Brown, but he's got the perfect temperament for the job. 
--Once again, the staff is made up largely of small school guys and football lifers who've worked their way up into their roles. Your tight ends/fullbacks coach is Nick Caley, who went to John Carroll U., same as Josh McDaniels. DeMarcus Covington shifts inside from outside linebackers to the defensive line, and he went to Samford U. Cameron Achord is your new special teams coordinator from that noted football factory Belhaven U. And Brian Belichick out of Trinity College takes over the safeties from Steve Belichick, who now moves up to OLBs. But they might have an in. 
--Speaking of connections, receivers coach Mick Lombardi is back after being an offensive assistant last year. Which is laughable if you remember when his father Mike Lombardi left Belichick's front office, the Boston radio guys all painted a picture like Belichick couldn't stand him and forced him out. In New England sports media, the No. 1 rule is to never let the truth get in the way of some good uninformed speculation. Another legacy is Mayo's brother Deron, as an assistant to the strength and conditioning coach. One time my brother-in-law was hired as a partner in a law firm and in the interview was told, "Here's our policy on nepotism: We're all for it."  The logic being that if you bring in your daughter as a summer intern, you're going to guarantee yourself the hardest worker doing the least amount of goofing off imaginable. Belichick has made that policy a fundamental part of his doing business. 
--Whoever was calling the shots on defense last year - and I'm still convinced it was a combination of Steve Belichick and Jerod Mayo - leading the No. 1 defense of 2019 wasn't enough to earn the coordinator's title in 2020. Name me another team that handles job descriptions like that. Never mind. You can't. 
--The rare outside hire is QB coach Jedd Fisch, who's been everywhere. From the OC at UCLA where he was interim head coach for two games to working under Jim Harbaugh at Michigan to gigs with the Jaguars, Seahawks, Broncos and Ravens. Lately he's spent the last two years under Sean McVay in LA as his senior offensive assistant and assistant offensive coordinator. So hopefully he's the guy with enough experience to work with such disparate skill sets as Cam Newtons and Jarrett Stidham.
--We've finally got our answer on how you replace a legend. Not that one, the other legend. The assistant coach who started working for you in 1983, and has seen four owners, seven head coaches, 11 trips to the Super Bowl and six U.S. Presidents. The only way to find a man to succeed that man is to find two men. I imagine Cole Popovich and Carmen Bricillo will fill Dante Scarnecchia's irreplaceable role kids movie-style. By putting one on top of the other's shoulders and wearing one big long trench coat. With the Patriots as well as at Barstool, no single Millennial can do the job of one pair of Old Balls.