Who Are the Best 3 WRs in the NFL? Titans' Receiver A.J. Brown's List is STUNNING
You're going to be hearing a lot about A.J. Brown in the coming years. A highly touted 4 Star recruit out of Starkville, Mississippi, he took Brandon Walker's tender heart and curb stomped it by committing to Ole Miss, where after three stellar seasons playing alongside his boy D.K. Metcalf went in the second round to the Titans. His rookie year was incredible, with 52 catches for 1051 yards (a stunning 20.2 YPC) and 8 touchdowns.
A.J. recently went on the Bus with the Boys (THE BOYS), and there was a very interesting conversation regarding his thoughts on the top receivers in the league. 
Things started out normally when he put Julio Jones at #1. Then things went a little off the rails. #2 Amari Cooper, #3 Calvin Ridley, and then according to Brown, there is a BIG drop off.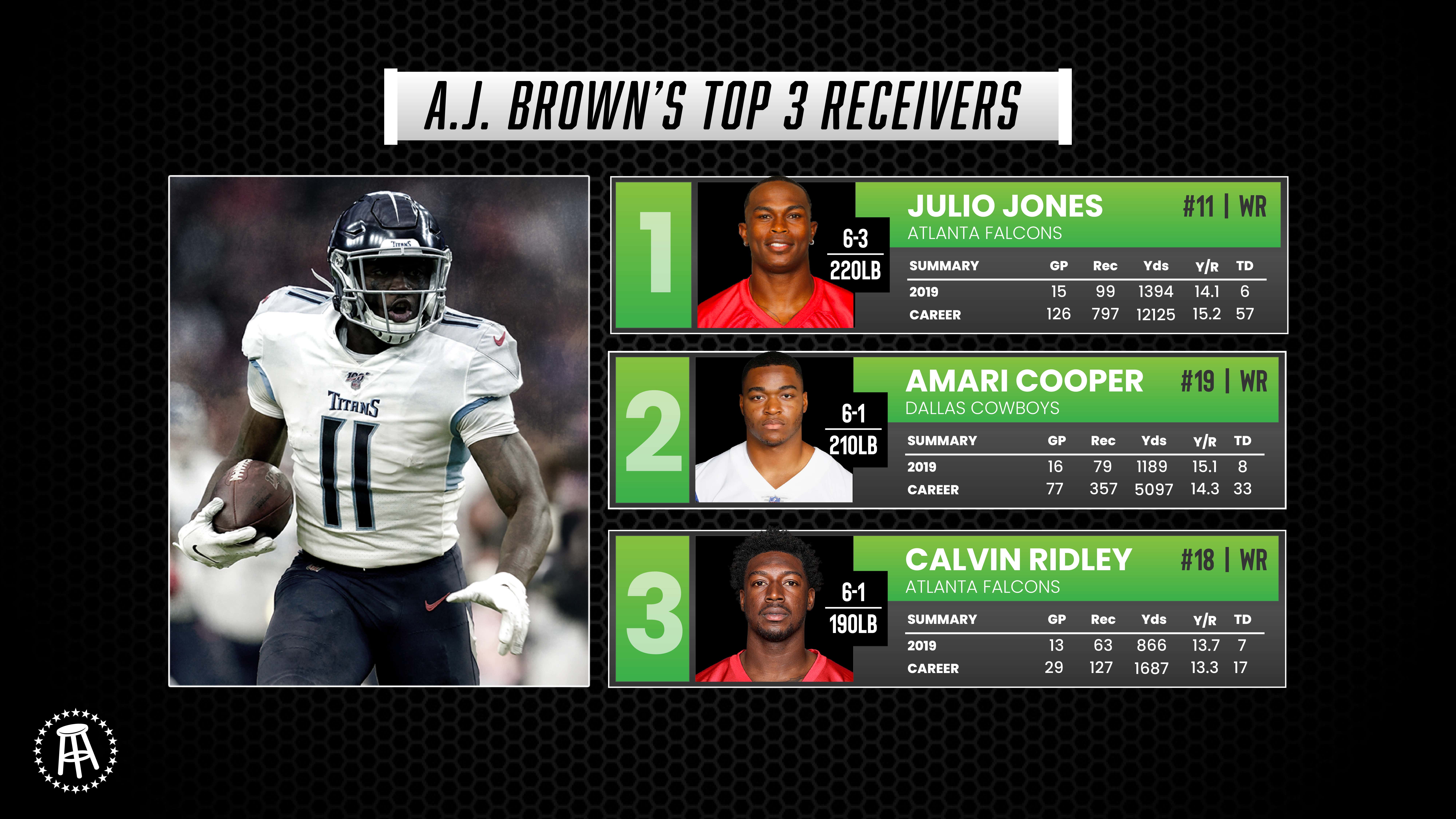 "Nobody is checking Amari Cooper when he [doesn't] want to be checked," he said on the pod. "Trust me. His route running is stupid. Can't nobody check that dude. " 
A.J. then went on to say that if Amari didn't shy away from big games and wanted to be the best right now, he could be. 
BIG EYE EMOJI. 
That, sir, is an unpopular opinion, EVEN coming from a biased Cowboys fan. But hey, I'm also no talent evaluator either. 
His thoughts on Calvin Ridley? 
"His routes are just like Amari Cooper. Nobody's checking those guys. Route running is how you get open." 
So not DHop, not Michael Thomas, not Tyreek Hill and definitely NOT OBJ. 
"Is Odell Beckham Jr. a top 5 receiver?" Taylor asked.
"Um, I don't know," A.J. responded.
That's a polite hell no. 
"What about Michael Thomas?" Taylor followed up. "A lot of talk that he runs a bunch of slants and stuff-- easy ball routes. And he's got Drew Brees."  
"Exactly. He gets like 15 targets a game. That's crazy." 
A.J.'s thoughts on receivers are nearly as defined as his abs.
Taylor then probed A.J. about Deandre Hopkins, and his answer does not disappoint.
"I like Hop, but he's a different type of receiver [than the other three]. I put him and Michael Thomas in the same category, you just throw those guys the ball and they're going to catch everything but they're not going to go out there and just route somebody up. But those first three guys (Julio, Coop, Ridley), they're going to get it done." 
Folks. I've seen a ton of wide receiver rankings and never ever in my life have I seen Calvin Ridley or Amari Cooper in the mix at top 5 let alone top 3. 
And I thought Taylor and Will's fast food take was controversial. Drop your top 5 receivers below in the comment section and for more of this honest conversation with a future superstar who's going to be LIGHTING up your fantasy team, watch the full podcast below.