Last Night In The NBA: The New Look Sixers Dominate, Shai Gilgeous-Alexander Rules, The Rockets Fell Apart And More!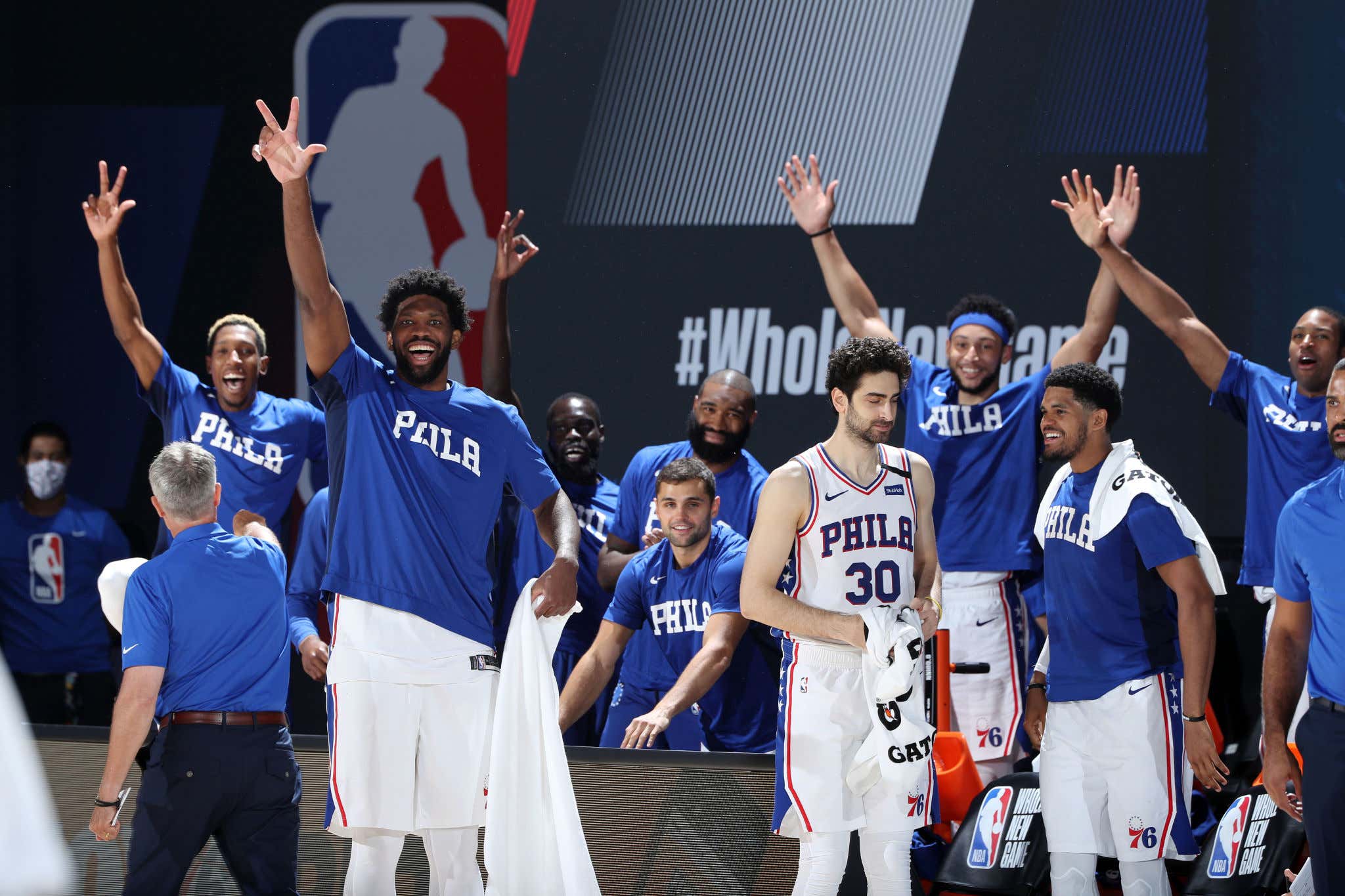 Joe Murphy. Getty Images.
Good morning everybody and welcome back to another edition of Last Night In The NBA where we bring you up to speed on everything that went down from the night before in the Association. It was Day 3 of scrimmages and depending on who your favorite team is Friday was either a great day or extremely frustrating. Sure these games are fake but that only matters if your team doesn't play well. If you saw dominance, it's OK to get excited about it. That the whole point of these fake games. The good stuff is real and the bad stuff isn't. Obviously with baseball going down yesterday maybe you missed the games, so here's what happened.
Memphis Grizzlies (0-1) 83 vs Philadelphia 76ers (1-0) 90
Don't let the final score fool you, the Sixers had their absolute way with the Grizzlies basically from the jump. This thing was a blowout before they even broke a sweat. I'm pretty sure there was a 19-2 run at some point or something close to it, but this was a 36-16 game about midway through the second quarter. If I were a Sixers fan, I saw everything I hoped to see from Tobias Harris and his team leading 16/10 on 6-11 shooting
to Embiid looking to be in great shape to Ben Simmons thriving in his new role and even hitting a catch and shoot in rhythm three
The second unit came right in and continued the solid shooting and as we know shooting is going to ultimately be the question for the Sixers. They had a league average offense before the hiatus but an elite defense. If they can consistently make their outside shots there's no reason why they shouldn't jump IND into that 4/5 matchup. The score got close once the stars came out which is mostly whatever. When the Sixers had their normal guys in, they dominated. Period.
For MEM, not exactly the bubble start you were looking for. Especially when everyone is already ready to give up your 8th spot to either Zion or Dame. I'd say getting off to a 23/14% start with 7 TOs and 4 FGM isn't exactly going to cut it against a team with that much talent. To then back that up with a 33% shooting 2nd quarter with another 7 TOs, well no shit it was 54-28 at half. The paired that shitty offense with even worse defense, allowing PHI to shoot 51/46% with 7 3PM. What exactly did you think was going to happen with that type of effort.
Tough for this team to win if Ja Morant and JJJ are going to combine for 7-24 shooting, doesn't matter how good Valanciunas or Brandon Clarke are (who were both good in this game). Doesn't appear that their two best players are sweatin the loss though
they hope.
Oklahoma City Thunder (1-0) 98 vs Boston Celtics (0-1) 84
You can read my thoughts on the Celts here, from this morning's blog. So for this blog let's focus on the Thunder because they continue to be one intriguing ass team. Why? Their guard play is no joke. You watch was SGA did in this game it would have me so excited as a Thunder fan. This kid is going to be so good for so long. Really happy the Celts gave up on that for Kyrie fucking Irving's bullshit!
but it's obviously not just him. We know CP3 is a HOFer, and then Schroder is so much better than a lot of second unit defenders, he basically gets wherever he wants. That three headed monster is going to be a bitch for Western Conference defenses to handle. 
Aside from SGA, it was clear right from the jump that Steven Adams was going to manhandle the entire Celtics roster with ease. I'm talking grown man shit
it was almost like he was playing in an empty gym by himself. The Thunder also got legit production from their end of bench guys, and I don't know if that's more an issue of the Celtics terrible defense or that this team is legit deep as hell and can go to a wide variety of guys in a playoff series. I will say it was cool to see Andre Roberson finally back on the court after so long (909 days), even if it did make me mad he finally hit a three after being like a 27% shooter
Houston Rockets (0-1) 83 vs Toronto Raptors (1-0) 94
I think we're all curious as to how the Rockets will look in the bubble, and even though they were without Austin Rivers both Westbrook and Harden were active with Harden playing 25 minutes. He was generally the same old Harden
while Russ wasn't as efficient (5-12) and Eric Gordon struggled as well (4-11, 2-8). As a team the Rockets shot 14-48 from three and no other rocket other than Harden attempted more than 1 FTA. Danuel House Jr was a nice spark off the bench with 18, but for this team it all comes down to Harden/Westbrook/Gordon making shots. If they don't all play well at the same time the West is going to be a tough road for them.
But what we did see was some of the Rockets flaws. For example, against a team with legit size they got destroyed in the paint 44-28. Surprisingly it was a bloodbath in fast break points as well with TOR winning that 25-11. Despite all of that, this was a 1 point game leading into the final quarter, but then the Rockets had another Game 7 moment. They went 4-19 from the field and 0-12 from deep. That's the story of this team. When they make shots they can beat anyone in the league. But if they go cold, it's a wrap for them because they are so reliant on the three. Now to be fair it was all the bench players and Eric Gordon, but none of the Raptors starters played in the fourth either.
For TOR, I imagine for their fans it was good to see them play well against a good team, something they did not do during the season. Siakam looks like the same old guy, Ibaka looked fresh and this was all with no Gasol either. We saw their depth with 27 points coming from Terence Davis and Norman Powell off the bench and to me Terence Davis doesn't get enough love for the rookie year he's having. He's a legit weapon for them.
As a Raptors fan I'm pumped that this team picked right up where it left off and doesn't appear to have much rust as they begin their title defense. I get the sense people count them out when talking East contenders and I don't get why. They're proven. They have the top end talent paired with an elite coach. Seems silly to put too many teams in the East ahead of them.
And that's it! you're now caught up with everything that went down yesterday in Day 3 of scrimmages. We have a full slate of 6 games today headlined by the Lakers, Clippers and Bucks both being in action, but I think I'm most excited for DEN/NO. Either way another fun day of basketball is on the horizon, so let's have ourselves a Saturday!