Barstool Debates Rd. 2, Listener side: Dr. Lickadeez v. Big Ounce
The second round of the Barstool Debate bracket has begun and today's matchup from the listener side was one for the ages...We had Dr. Lickadeez face off against Big Ounce and they surely did not disappoint.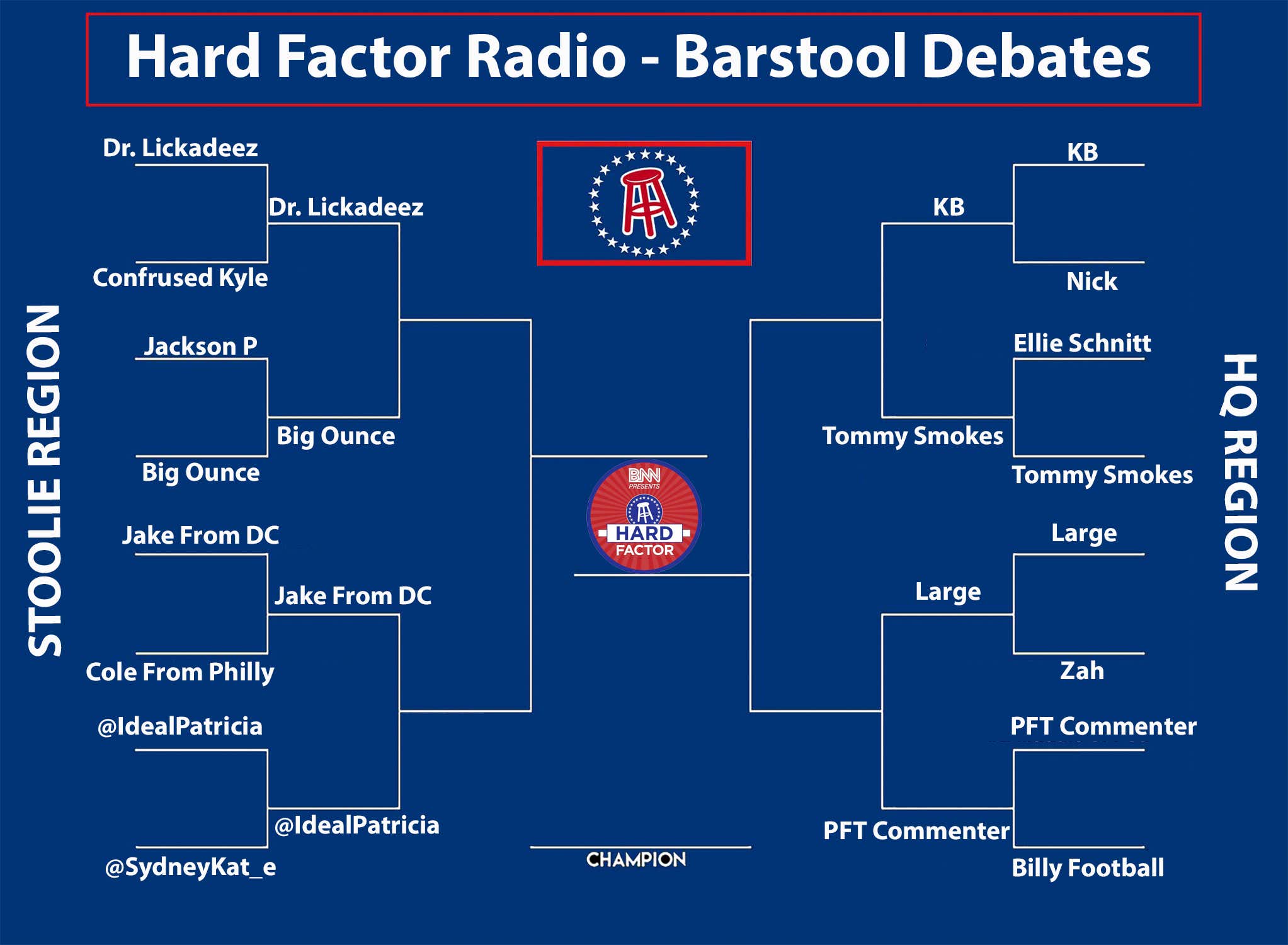 Two of the biggest standouts in the Hardo Hive went head to head this morning, in a battle of who can insult the other one better... While a debate was planned, one contestant's belligerency quickly stole the show.  
Round #1: Do you think schools should reopen?
Round #2: Do you agree with the new NBA Social Justice jersey policy?
Honestly, shit flew off the rails in this round.  So much so that it was impossible to find a clip that would make sense out of context and not include Dr. Lickadeez belligerent outbursts… You'll definitely want to listen back just for this round.  
Round #3: What's the best drink to get at a bar? 
Listen to the full show to find out who won by searching Hard Factor On-demand on the SiriusXM App.  Today's episode also included an interview with the man who trademarked nearly all the name change options for the Redskins.  
Tune in every Monday, Tuesday, Wednesdays, and Thursday at 11 AM EST for more Hard Factor Radio and the first debate of Rd. 2 for the HQ side.
Catch new episodes of the pod Monday-Friday.  Your daily dose of News Cocaine.  
SUBSCRIBE to the Pod
SUBSCRIBE to YouTube Page for full video episodes.
FOLLOW on Twitter/Instagram: @BarstoolNewsNet, @HardFactorNews, @HardFactorMark, @HardFactorPat, @HardFactorWes, @HardFactorWill