HUGE Coach Duggs News: Two-Time Champion Wrapped Up In Pay-For-Play Scandal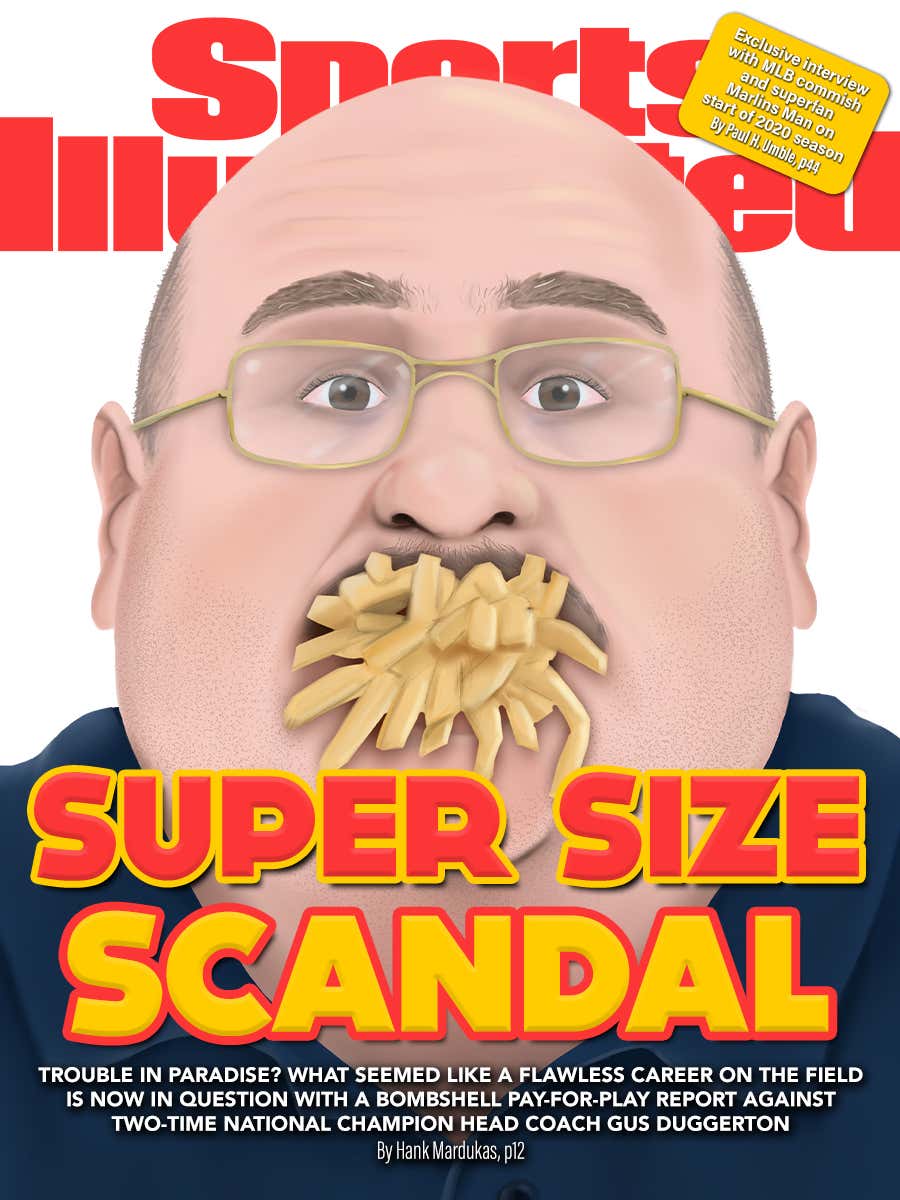 Just got this article and investigative report e-mailed to me ahead of Duggs' big decision tonight...
Take a look…
SUPER SIZE SCANDAL
The emerging issue of pay-for-play that may plague the sport's best mind
By Hank Mardukas

Cat (noun): a carnivorous mammal (Felis catus) long domesticated as a pet and for catching rats and mice.

It might be time for a cat to catch a rat because there has been a leak sprung by inside information that may take down the ship that is Gus Duggerton.

New bombshell information from an anonymous source claims that the two-time National Champion, and current head coach of Toledo, has been tied up in a pay-for-play scandal involving hundreds of thousands of dollars in restaurant gift cards, all thanks to an unnamed high-profile booster nicknamed "The Cat."

"While his coaching has lifted his teams to unimaginable heights, the success of Gus Duggerton on the recruiting trail is all smoke and mirrors," says the anonymous source. "For every five-star recruit landed, there is a paper trail of evidence that shows heavy booster influence from "The Cat," backed by a treasure trove of money tied to high-profile offers for endless burgers, donuts, and steaks."

In a leaked e-mail, the booster, who has followed Duggs to every one of his coaching stops, can possibly be seen promising the head coach gift cards that he could use as leverage to sign a high-profile recruit:

It's vague. What does Duggs "need" to get what he "needs" as a head coach? It's tough to say.

The question here is whether "The Cat" is referring to Tennessee quarterback and big-time recruit Stefan Cheah, or Steven Cheah, NFL reporter and friend of Gus Duggerton. The distinction is huge, but these tweets from the National Champion quarterback suggest the gift cards were likely for him:

That tweet, from 2017, is a stark contrast to what Cheah said a few years later, after becoming a Volunteer:

"You're telling me this kid, obsessed with endless broccoli at Red Robin, suddenly was just slinging around huge gift cards to premium steakhouses without a little help? It makes no sense," says the anonymous source. "'The Cat' has his fingerprints, or should I say paw-prints all over this."

Cheah, under scrutiny for his unearthed broccoli take, was unavailable for comment on the accusations of this new pay-for-play scandal.

What is even more troubling is that, when put together, the e-mail trail from "The Cat" suggests that Duggs stole some of the gift cards, intended for the recruits, and kept them on his own. Following a full audit, it would seem as though Duggs had used gift cards to purchase mass amounts of the following items during his various stints across the country:

TOLEDO (Toledo):
- $5,000 in gift cards used for root beer floats at Melty's
TALLAHASSEE (Florida State): 
- $3,500 in gift cards used for Publix chicken tender sandwiches
LOS ANGELES (Southern Cal):
- $1,200 in gift cards used for In-N-Out meals in one two-week span
- $800 in gift cards used for delivery of donuts from New York City
LUBBOCK (Texas Tech):
- $3,400 in gift cards used for Whataburger over the span of three months
KNOXVILLE (Tennessee):
- $11,00 in gift cards used at the Cracker Barrell general store
-- Purchases included a full pallet of MacFuddy's Pepper Elixir soda
-- Purchases also included 34 talking stuffed parrots

It's certainly troubling. Not only did Duggs possibly funnel money to recruits, but he even cut some off the top for himself. Is it possible that Duggs just happens to have an inside-man in the food industry with "The Cat?" Possibly, but it seems unlikely.

Rumors of a "show cause," whatever the fuck that is, being slapped on Duggs is already circulating.

But first, the NCAA wants to figure out the identity of "The Cat."

Who is this person? Are they influencing recruits to team up with Duggs at his stops around the country? Could Duggs' recent health issues have been used to cover up this emerging scandal?

One thing is clear, though, if the allegations of pay-for-play are true, "The Cat" is a problem that is going to get in the way of Duggs' legacy, especially with the potential Wisconsin dream-job on the horizon.

The dictionary definition of "cat" may now just mean one thing for Gus Duggerton: a major problem.
Wow. More to come tonight, I am sure Duggs and company will address the matter just past 8:30|7:30c on the Pardon My Take Twitch channel…
Will Duggs stay in college? Where will he go after this big report? Stay tuned…