My Pitch To Bring Miles Morales Into The Marvel Cinematic Universe
***THIS BLOG CONTAINS SPOILERS FOR 'SPIDER-MAN: HOMECOMING', 'SPIDER-MAN: FAR FROM HOME', 'SPIDER-MAN: INTO THE SPIDER-VERSE', 'AVENGERS: INFINITY WAR', AND 'AVENGERS: ENDGAME' - BASICALLY IF YOU AREN'T UP TO DATE ON THE MCU AND CARE ABOUT REMAINING UNSPOILED I RECOMMEND YOU DON'T CONTINUE***
The above tweet came across my timeline the other night, and it got my creative juices flowin a little! I'm a huge fan of the Miles Morales character in both 'Into The Spider-Verse' (a movie I've probably watched a couple dozen times since its release) AND Insomniac's 'Spider-Man' PS4 game, and after the successes of both, I feel like working him into the Marvel Cinematic Universe is a no brainer! 
We already briefly saw Donald Glover as Miles' uncle, Aaron Davis (aka PROWLER), in 'Spider-Man: Homecoming', so I feel like it isn't too far fetched to assume that it's in the plans to introduce him somewhere down the line - but I just so happen to think we're ready for that in-universe right now, so allow me to throw my Kevin Fiege hat on for a few minutes and give you my pitch....
At the end of 'Spider-Man: Far From Home', Peter Parker's identity is revealed to the world by J Jonah Jameson….
Obviously, this is gonna cause some problems for our friendly neighborhood Spider-Man, and I would think he'll have to go into hiding. I'm sure the Avengers could set up some type of superhero homeland security thing for him. Maybe he and Aunt May kick it in Wakanda for a few months like Bucky or something. Who knows.
In Peter Parker's time spent away from New York, the crime doesn't stop, but a NEW Spider-Man arises. Reports all over say that Peter Parker must be BACK, and in disguise, now wearing a different suit - but we obviously know this is NOT Peter Parker….it's Miles Morales. 
"Okaaaay let's do this one last time…."
I'd flash back to Miles getting bit at some point in the five years that Peter Parker was blipped away, and make him a few years younger than Peter still, but he should be somewhat age-appropriate to fight crime and I think it'd be cool if he were at least A LITTLE aware of how to use his powers when we first meet him, as to not pull and repeat too many moments from 'Into The Spider-Verse'. 
I think Peter eventually returning to New York to help Miles and become a bit of a mentor to him (much like Tony Stark was to Peter) would make for an amazing character and relationship arc for both of them, and then you can go even crazier from there, if ya want!
Sam Raimi (who famously directed the Tobey MaGuire Spider-Man flicks) just took over the Doctor Strange sequel - entitled, 'Doctor Strange in the Multiverse of Madness' - which is rumored to be batshit crazy…..annnnd if we're doing multi-verses, how about we give Tobey a call?! 
Put that mothafucka back in the suit! Call up Andrew Garfield and Emma Stone while you're at it, and give us 'The Amazing Spider-Man' and 'Spider-Gwen' in the Marvel Cinematic Universe! AND THENNNN, what's the next BIIIG tentpole event Marvel could give us, concluding multiple films' story threads, teaming up super-casts, and breaking into mainstream pop culture like 'Avengers' movies did?!
The Spider-Verse vs The Sinister Six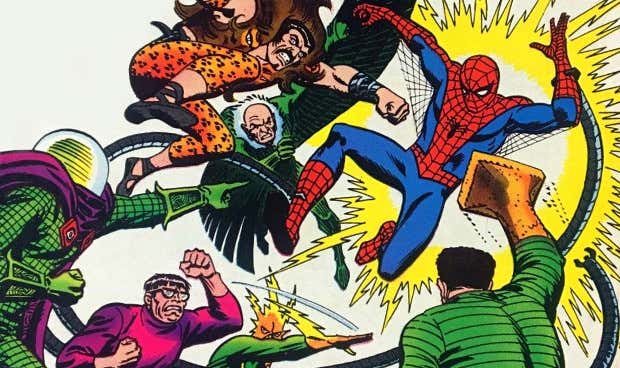 Spider-Verse: Tom Holland's Peter Parker, Tobey MaGuire's Peter Parker (maybe Peter B Parker depending on what he looks like nowadays), Andrew Garfield's Peter Parker, Emma Stone's Gwen Stacy, and an MCU Miles Morales. I'd maybe go with a lesser-known actor like Na-kel Smith, who blew me away with his first and only real acting gig in 'mid-90s'.
Sinister Six: Michael Keaton's Vulture, Jake Gyllenhaal's Mysterio, Michael Mando's Scorpion, Vincent D'Onofrio's Kingpin (from 'Daredevil'), Mark Hamill's Doctor Octopus (personal dream-casting), and an MCU Kraven The Hunter. I know Joe Manganiello has expressed intested in Kraven. Give it to him. Why not?
I think that would be AWESOME, and I don't know if it's doable, but I've now talked myself into desperately wanting to see it! So, yeah, please, Marvel - return my calls. Let's print some money here.