Darren Till Has Created A Website/Instagram Dedicated To "Making Mike Perry's Bum Ass A Misery"
Oh man. It's tough to see friendships deteriorate like this. First they came for Alex and Sofia, and now it's Darren and Mike! Sad!
For those who don't remember, this friendship started off about as wholesomely as you could imagine, all over a spa/spar misunderstanding...
I remember writing about that two years ago and saying that I wanted to see a sitcom starring those two and I meant it! I woulda funded it outta pocket it I could've - I just loved em as a duo! They cracked me the fuck up!
Well - it all went south when Darren Till said he'd raw-dog the "Platinum Princess", Mike Perry's now ex-girlfriend….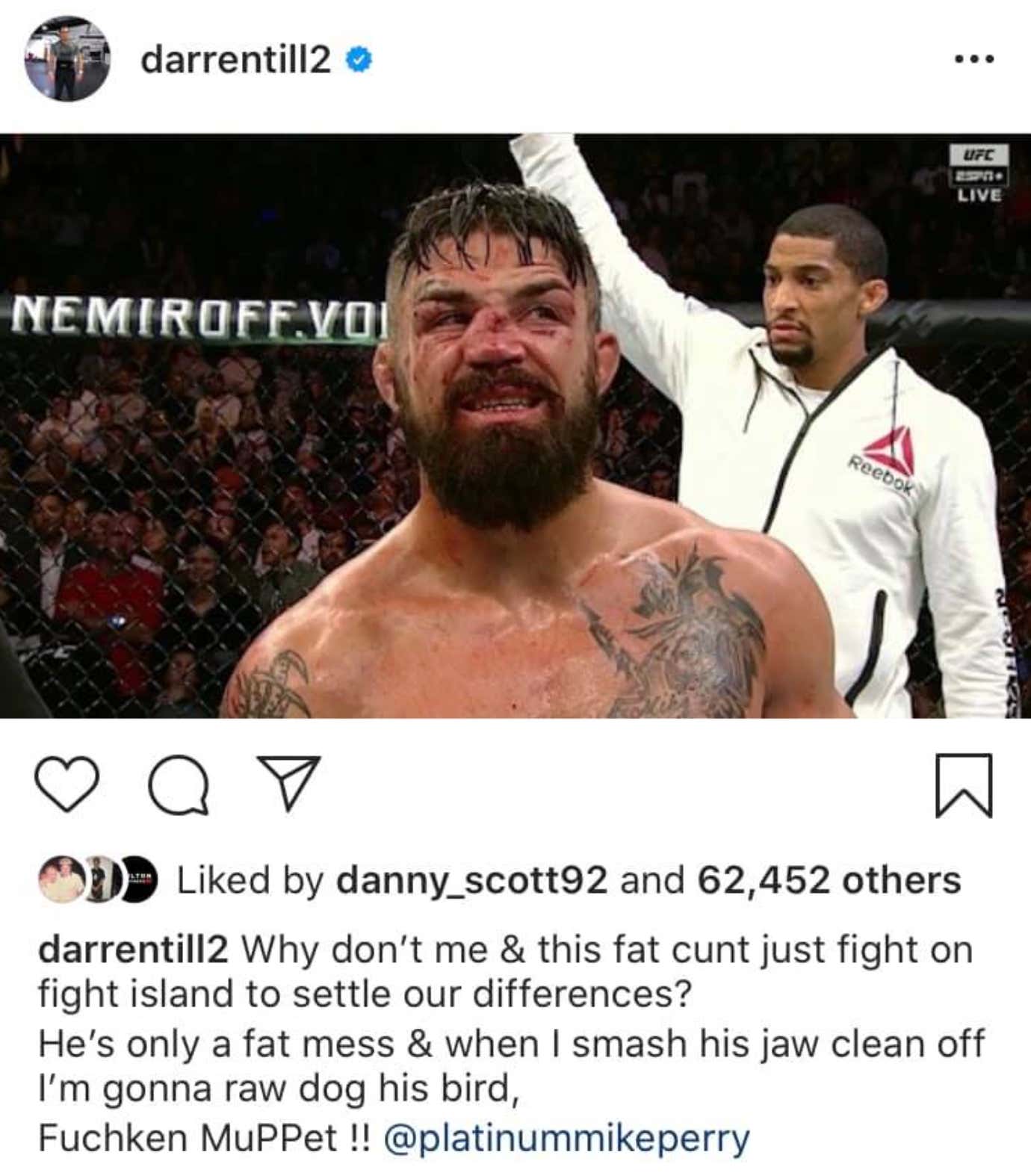 Mike Perry responded to that very rationally, saying he wanted to fuck up Darren Till's mom….
"I wanna fuck up Darren Till's mom, too – fuck Darren Till," Perry told MMA Junkie on Thursday. "I want to fight Darren Till. I want to fight him, then I want to jump out the cage like Khabib (Nurmagomedov) did and jump kick his mom in the face. Fuck Darren Till."

"He's a fucking piece of shit. He's a faggot. There's nothing wrong with being a faggot unless you just like sucking dick. That's cool. He likes to suck dick. That's why he wanted to go to the spa. Fuck him. Excuse my language if that's terrible, but I hate that motherfucker's guts. I don't like when people say certain things."
Darren Till fired back with a meme of Perry and the Platinum Princess/Perry and his new girlfriend (who will apparently be the sole member of his corner going forward), and Mike couldn't have taken too kindly to that either….
…..but it didn't stop there! Darren then set up this whole website - MikePerryIsABum.com - and Instagram page dedicated to making Mike Perry's "bum" life miserable, and you have to respect it! It's high level shit talk from both guys, and they clearly wanna settle it in the octagon at some point, so if Perry gets past Mickey Gall, let's have some fuckin fun! Let em fight! I know it's probably a step down for Till, but they've got beef! Just do it!