Goldman Sachs Clients Are Reportedly Furious That New Daytraders Are Crushing Them In Returns
The pinstripe suits are FURIOUS. They can't believe that they are getting beaten out by the DDTG & Robinhood day traders of the world. Just how bad are they getting beaten out by? Let's look at some charts via the good folks at Goldman Sachs. 
We'll start with just how big of an explosion day trading has become over the past few months: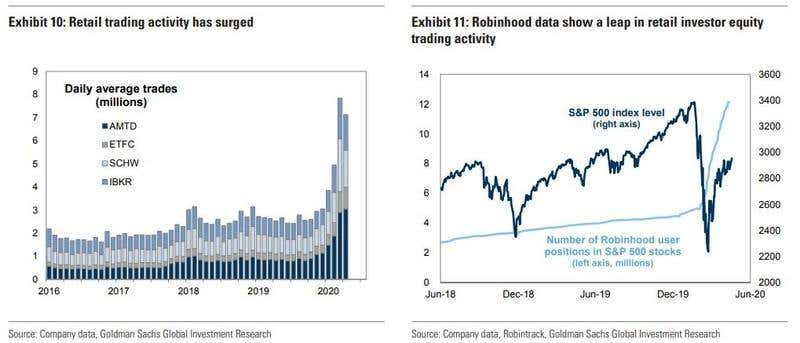 The craziest part is how well they are performing, specifically against hedge funds:
SOURCE-a basket of Goldman "retail favorite" stocks had outperformed not only the broader S&P500, but also Goldman's basket of most popular hedge fund stocks.
Retail trading favorites are outperforming the S&P500 by 13 points. 13!!!
How are they comparing to hedge funds? DESTROYING THEM.
the retail army is up almost 30% despite last week's rout, massively outperforming virtually everyone else, and as the Goldman chart below shows, since the start of 2019, retail is outperforming hedge funds roughly 3 to 1.
3 to 1! Robinhood & DDTG traders are out here beating hedge funds 3 to 1!!!! 
Since the March 23 low, our Hedge Fund VIP (GSTHHVIP) and Mutual Fund Overweight (GSTHMFOW) baskets have each returned 45%, outpacing the 36% S&P 500 rally by 900 bp. However, a basket of the most popular retail trading stocks (GSXURFAV) has returned an incredible 61%. As we highlighted in May, broker data reveal a tripling of retail trading activity as the market declined.
Just to reiterate how much the pinstripes are losing by:
Because instead of listening to Dave "Stool President" Portnoy, the self-proclaimed king of the Robinhood daytrading army, something they can do for free by just following his twitter account, they are instead paying Goldman a 2-3% commission for what? To underperform by as much as 1600 bps. And those that are not getting angry, they should be, because the conditions that have allowed Portnoy to take the other side of Warren Buffett's airline trade but to also outperform all of the "smartest guys in the room",
You can tell how nervous the pinstripes are as they've been charging absurd rates of their clients for the past however many decades to just be outclassed by the grown-up E-Trade baby. 
"We have Instagram influencers and now we have Reddit influencers," QVR's Benn Eifert told Bloomberg. "They post a trade idea in an option, in a single name, and within an hour you see hundreds of thousands of call options placed, which is totally insane."

Insane? Yes, but it's working, and who can blame them: the Fed chairman himself said he will do nothing to pop the bubble (which he can't see) with tens of millions of Americans out of work. That means that, all else equal, when it comes to market insanity you ain't seen nothing yet. Jim Bianco, president and founder of Bianco Research LLC, agrees, and says that it all comes down to the Fed's only mandate: never again allow a drop in stocks.

"That's why we're seeing a giant rush of small retail investors and everybody else into the market," Bianco told Bloomberg Television Wednesday. "When you go into the market, you go to the riskiest end of the market, so you buy bankrupt companies, you buy beaten down airlines, you buy cruise ships, you buy retailers because they will benefit the most from a support system where everything is targeted, and the markets will always go up."
All of this is really confusing to me, but I read it as "the only thing stocks do is go up." 
Up and to the right baby. Up and to the right.