Noted QB Expert Chris Simms Says Jarrett Stidham is 'More Talented Than Tua'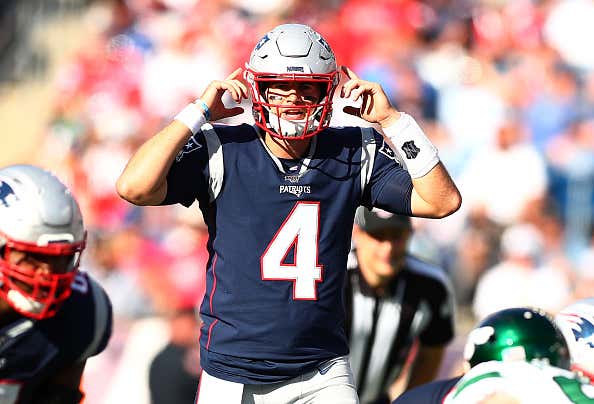 USA Today - Jarrett Stidham may have no bigger fan than NBC Sports NFL analyst Chris Simms. Simms, who drew comparisons between Tony Romo and Stidham, explained why he also ranked Stidham as the NFL's 33rd best quarterback of the 40 in the list, which omitted Tua Tagovailoa altogether.
"(Stidham is) more talented than Tua," Simms said during an appearance on WEEI sports radio. "(Tua) is a creation of Alabama. You don't think Jarrett Stidham, or like Justin Herbert would have set the world on fire if they got to play with four, first-round receivers and two, first-round tackles?"
Stidham' supporting cast, whether at Auburn or Baylor, was never quite as elite as what Tagovailoa had at Alabama. ... But Simms saw enough NFL-caliber throws in Stidham's tape. And, apparently, he found Tagovailoa lacking. Alabama made life easy for the 2020 No. 5 overall pick, with the quarterback acting as a distributor to the elite talents on the team.
"Stidham to me, of the guys I have in the 30s, he has the biggest potential to make a big-time jump."
I'm not sure how many blogs I've written lately to promote Jarrett Stidham-positivity the last few weeks, but I'll admit it's been a lot. I've been promoting this guy like it's my job. Because it sort of is. And sometimes the choir needs to be preached to.
In my defense, how could I not, when the world had been giving me so much to work with? Stidham draws praise. Stidham is working out with Julian Edelman. Stidham is leading workouts with a half dozen teammates. Skip Bayless called him the next new Brady back in August. It's been like getting carpet-bombed with good news dropped by Rainbow Brite characters pooping glitter missiles of hope and strafing us with bullets of optimism. 
And the latest is Chris Simms, that noted talent evaluator who I'm pretty sure has a Nobel Prize in judging quarterbacks. (Don't look it up; just trust me.) Now, have Patriots fans had problems with Simms' judgment in the past? Have I had problems? You might say there's been a disagreement or two. 
Me in 2014 - Has anyone ever destroyed his chance to advance his career faster than Chris Simms did here? This is like a political candidate coming out in the middle of a debate saying he hates God and freedom or something. This is Dale and Brennan farting in the middle of a job interview. ... [N]othing disqualifies you faster than saying Brady isn't a Top 5 quarterback. By definition, anyone who puts five guys ahead of him is automatically not fit to evaluate football talent in any capacity.
But that was a long time ago. Water under the bridge. Agree to disagree. Bygones, long gone by. 
What I can get behind is that Simms is stating him opinion that Stidham has more talent than Tagovailoa, a prospect who, if he didn't have a history of injuries, would be considered one of the most naturally gifted quarterbacks to come into pro football in a generation. Not to mention a guy with a history of leadership and clutch plays in big moments that compares with anybody's. A healthy Tua is as close to a can't-miss, NFL-ready, plug & play player as his hard-to-evaluate position produces. And here we've got Chris Simms, with his impeccable credentials, saying Stidham has more skills. 
We can't be sure, obviously. But it is objectively true that Tagovailoa had much, much better talent around him. I'll add to that he was a perfect system fit in Alabama and Stidham was a most imperfect fit at Auburn, with their ground attack that relied on so many fakes and throws off of play action, that by the time Stidham was able to get into his set, he'd have no time to go through his reads. It was a program suited to a run-option threat, not a pro style pocket passer. And so I'll remind you again that when Auburn head coach Gus Malzahn took over the playcalling late in the year, the result was 56 points against Purdue in their bowl game. In the first half. 
So you'll have to forgive me if I'm feeling good about the Patriots future, short- and long-term. And for judging Simms so hard in the past. The important thing is that he has grown and learned and gotten smarter over time.