Which Playoff First Timer Are You Most Excited To See?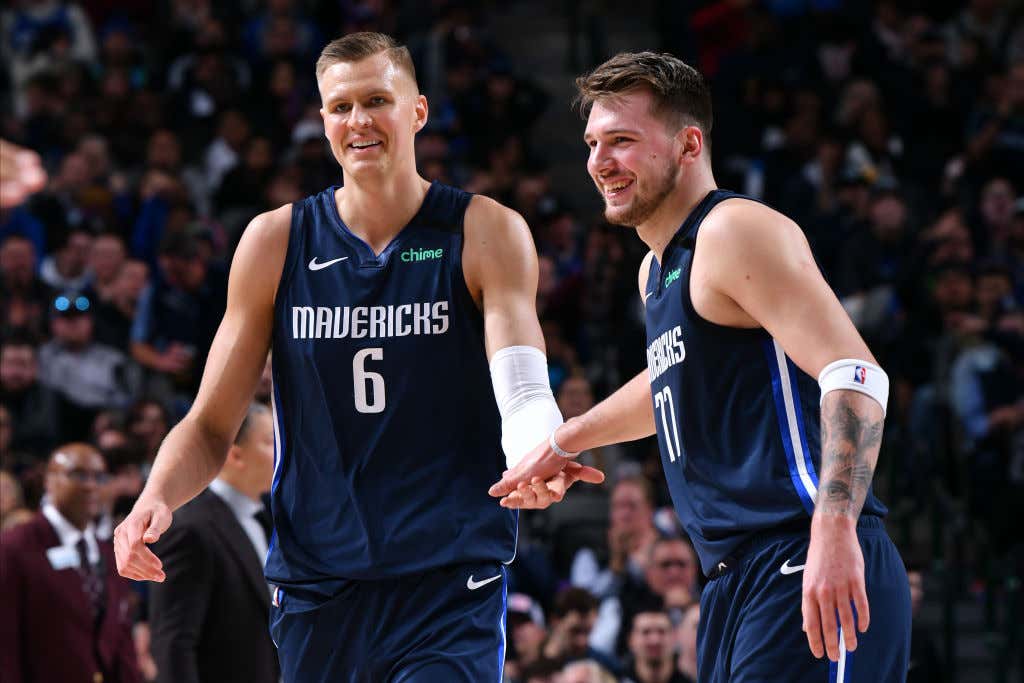 One of the beauties of the NBA coming back is we are officially going to see some playoff debuts of some of the league's best talent. Players that one day might run the league, but before they get there they have to get their first taste of playoff basketball. As we know, once you get to the postseason everything goes up a level which and that will certainly be the case this year with everyone being at 100% health. So of the 22 teams that will be invited to Orlando, which firs timers are you most excited to see? Here's my list
Luka Doncic & Kristaps Porziņģis
KP stats: 19.2 points / 9.5 rebounds / 1.7 assists / 2.1 blocks 
Luka stats: 28.7 points / 9.3 rebounds / 8.7 assists / 1.1 steals
I think this has to be the leader in the clubhouse no? I mean if the Mavs somehow stay as a 7 seed despite being 40-27, they have themselves arguably one of the most lethal 1-2 combinations that opposing defenses will have to deal with. We know Luka is special, what he's done at his age in his first two years is basically unheard of. But people sort of forget about Porzingis I feel like because it's been so long since we've really seen him do anything but his 51 games this year showed he is very much back to being the force on both ends he was before tearing his ACL. Together they've been pretty unstoppable
It'll be interesting to see how they both handle their first taste of playoff basketball. Can Porzingis be the consistent #2 scorer? Will Luka's lack of outside shooting be a problem? I think they for sure have the highest ceiling of any other first timer.
Ja Morant & Jaren Jackson Jr
Ja Morant stats: 17.6 points / 3.5 rebounds / 6.9 assists / 0.9 steals
Jaren Jackson Jr Stats: 16.9 points / 4.7 rebounds / 1.4 assists / 1.6 blocks
The surprise team of the West, if they do find a way to sneak in as the 8th spot they're for sure going to have their hands full with LeBron, but honestly they've been proving people wrong all year so why not think they can take a game or two. Remember when coming into the draft people thought Morant's game wouldn't really translate? Boy was that wrong. I really am interested to see if JJJ's outside shooting translates too once defenses tighten up. Did you know he makes 2.5 a night and shoots 39.7% from three? 
We know Morant isn't going to shy away or be too intimidated by the moment, and as we know if you ball out in the postseason it takes you up a level. I can't wait for the possibility of seeing Morant do just that.
Zion Williamson & Brandon Ingram
Zion stats: 23.6 points / 6.8 rebounds / 2.2 assists / 0.8 steals
Brandon Ingram stats: 24.3 points / 6.3 rebounds / 4.3 assists / 1.0 steals
A lot of people I'm sure want to see the Pelicans make the playoffs for Zion because well….he's Zion. I'm someone who agrees with that, but also I'm very intrigued to see Brandon Ingram on this stage. If you want to talk about players who took legit leaps in 2019-20, Brandon Ingram is very high on that list. He assumed the role of a #1 option max player and turned in one of the best seasons of any wing player this year. Not only that, but the dude wants a max deal this summer from NO or someone else in RFA. Let's see how he handles the pressures of the playoffs, especially when it comes to that efficiency. He shot 46/38% with 2.4 3PM during the year. Plus, if they make it in 8th over MEM, we get MEM/LAL which writes itself. 
TJ Warren
TJ Warren stats: 18.7 points / 4.0 rebounds / 1.4 assists / 1.1 steals
You may be asking yourself what the hell TJ Warren is doing on this list because he certainly does not have the star power/media attention as some of the other names in this blog, but any Pacers fan will tell you TJ Warren is extremely important to any postseason success the Pacers might have. That's even more true with Oladipo still working his way back. Did you know TJ Warren is the Pacers leading scorer and put up 52/37% shooting splits? You never saw him play because he went from dogshit in PHX to a Pacers team who doesn't get much national love, but this dude is really really good and is only 26. That 4/5 matchup could very well be a tossup series, and why couldn't Warren show he's the best player in the series? If he balls out and Oladipo looks more like 2019 Oladipo, you combine that with a stud in Malcolm Brogdon and two legit bigs in Sabonis/Turner, well the Pacers might have something wouldn't you say? 
Luguentz Dort
Lu Dort stats: 6.2 points / 1.9 rebounds / 0.7 assists
I realize I'm probably the only person who is not an OKC fan that is excited about Lu Dort's playoff debut, but I can't help it. Us Sun Devils stick together. But here's the thing, Lu Dort has basically played his way into a starter on this team. He's like a Marcus Smart-Lite in that he has great size that can guard multiple positions. Well in the playoffs, defense matters. If we see a HOU/OKC playoff series, having elite wing defenders like Dort is going to be crucial for OKC. I'm not excited because I think he can go nuts offensively, but I am excited to see him try and defend the best of the best in high pressure situations. Love me some Lu Dort and any OKC fan will agree.
De'Aaron Fox & Buddy Hield
De'Aaron Fox stats: 20.4 points / 4.0 rebounds / 6.0 assists / 1.4 steals
Buddy Hield: 19.8 points / 4.8 rebounds / 3.1 assists / 0.9 steals
You can maybe sense a trend by now with these young bubble playoff teams, but if the Baby Kings are able to make their way in they certainly have some entertaining talent to watch. I think Fox is ridiculously slept on when talking about the best young guards in the league, and Buddy Hield can get so hot in a blink of an eye that he could very well steal a playoff game or two. This isn't even factoring in Bogdanovic or Bagley either. Can't you see given all the bad blood between LAL and SAC that in the Kings first home game of that series Buddy Hield goes nuts for like 9 threes and they steal it? Fox being way too quick for any LAL guard to stay in front of? Admit it, there's some intrigue there.
Devin Booker
Devin Booker stats: 26.1 points / 4.2 rebounds / 6.6 assists / 0.7 steals
You could absolutely include someone like Ayton here if you want, but if we're talking Suns the one player I'm most excited to see in the playoffs has to be Devin Booker. All the talk he's had about finally making the playoffs, well if he's able to pull it off I want to see how he responds on that stage. He's paid like a franchise player well let's see if he's truly of that caliber or just someone who can put up legit numbers on a lottery team. I feel like Booker is another type of player that if he has it going, he can 100% take over a game by himself. His offensive arsenal is that unstoppable. He's improved essentially every season, and I think it's time we see what he can do when games truly matter. 
Tyler Herro
Tyler Herro stats: 12.9 points / 4.0 rebounds / 1.9 assists / 0.6 steals
It sort of feels like Tyler Herro was built for postseason basketball. I love all the shit talking, I love the fact that he can light it up from three at a moments notice, and if him and Duncan Robinson can provide that consistent outside shooting combined with Jimmy Butler and Bam doing their thing, the Heat are a little scary. There's just something about how Herro plays that tells me he will thrive in the high pressure moments the playoffs bring. That's a dude with zero fear and will talk all the shit in the world as he's raining threes on your face. 
So that's my list. I'm sure there are other first timers that I'm not thinking of, which is why if there's someone you're pumped to see once this shit starts up again lemme hear it.