Former Patriots WR Reche Caldwell is Shot and Killed in Tampa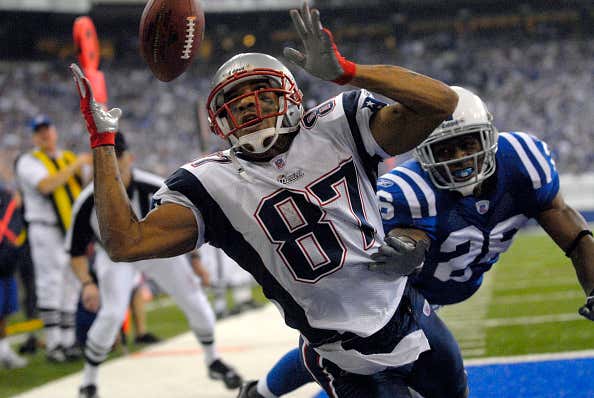 TMZ - Reche Caldwell -- a former NFL wide receiver who played with Tom Brady -- was shot and killed in Tampa on Saturday, his mother confirms to TMZ Sports.
He was only 41.
Caldwell's mother tells us ... Reche -- real name Donald Caldwell -- was getting ready to take his girlfriend out on a date when he went back inside his home to grab a jacket.
Reche's GF says the former player was "ambushed" by a "couple of people" who jumped out of bushes trying to rob him.
We're told Reche was shot in the leg and chest -- and someone called 911.
Unfortunately, the injuries were so severe, Caldwell's mother tells us Reche died in the ambulance on the way to the hospital.
"He was a good person who smiled all of the time," Deborah Caldwell tells us.
"He tried to help everyone he could. He was the type of guy who would take his shirt off his back and give it to you."
Good God, this is beyond comprehension. As I'm writing this, there seems to be no more information about how or why Reche Caldwell could be shot to death in his own home. Whether this was a robbery or a targeted killing or a random act of violence or some combination of any of those. All we know is that a man in the prime of his life walked into home for a moment and his life was ended in cold blood. "Senseless" doesn't begin to describe it. But it's all we've got. 
For those who don't remember, Caldwell was drafted by the Chargers in the second round out of the U. of Florida before coming to the Patriots in 2006. If you do remember him, you might be surprised to be reminded that he only spent one season in New England, because for that one year, he was the best receiver on the team. He led them in every major statistical receiving category: targets, receptions, TDs, yards. 
As a matter of fact, he'd be remembered today as the leading receiver on a Super Bowl champion if the Patriots defense, ravaged by injuries and the flu after a cross-country flight to San Diego in the Divisional round, could've made some stops in the AFC title game at Indianapolis. But they couldn't hold onto a 21-3 first half lead or a 3-point lead with under 4:00 to go. Had they held on, there was no way in this reality the '06 Bears would've beaten New England. And Caldwell would be remembered as a champion as well as a good receiver who was respected by his teammates and popular with Pats fans for the brief time he was here. And for the huge plays he made in crucial moments that wild win over the Chargers:
But in the grand scheme of things, being remembered as a good person who smiled all of the time, who tried to help everyone he could and would take his shirt off his back and give it to you, is all that really counts for anything. 
Here's hoping the people who did this are brought to justice and that Reche Caldwell and his loved ones can find peace.