Happy 15 Year Anniversary To Mr. Koo's Wild Ride Vs. The Yankees And Randy Johnson
I'm not one for anniversary blogs unless they are 5 or 10 year increments after they happened or involved legendary moments. But Dae-Sung Koo hit off of Randy Johnson checks both of those boxes resoundingly.
For all the bad shit that has happened in Flushing over the years that KFC and I cry about, there have been some truly amazin' moments as well. The Miracle Mets of 69 going from negative to positive like Biggie, the 86 Mets getting blessed with an unbelievable 10th inning rally that ends with Bill Buckner becoming a household name, and of course Big Sexy's blast. However, I'd venture to say Mr. Koo getting a hit off Randy Johnson in a lefty-lefty matchup as his heels touched the outer border of the batters box may trump all of those in terms of unexpected moments. The 69 Mets slowly built a team while being stuck in misery. The 86 Mets were a wagon of guys that DGAF that strung together hits off of pitchers that were equally nervous pitching for a franchise that seemed cursed at the time. And we always heard that if Bartolo ever connected on one, that he'd give it a ride.
Yet Mr. Koo's wild ride against Randy Johnson is just as preposterous now as it was back then, considering The Big Unit was a little more than 2 years removed from winning the Cy Young, had caught a body while pitching a year before that (granted a bird body but a body nonetheless), and the fact Koo used to stand as far away from home plate as the rules would allow without any intent to swing the bat because he was a reliever that had no interest in getting a hit.
That guy getting a hit off of one of the most dominant pitchers in baseball history was crazy enough. Him going full Benny The Jet and essentially stealing home on a sacrifice bunt like a mouse in the house is maybe the craziest thing I've seen in my life and goes wayyyy beyond That's Baseball Suzyn. 
Was Koo clearly out at home?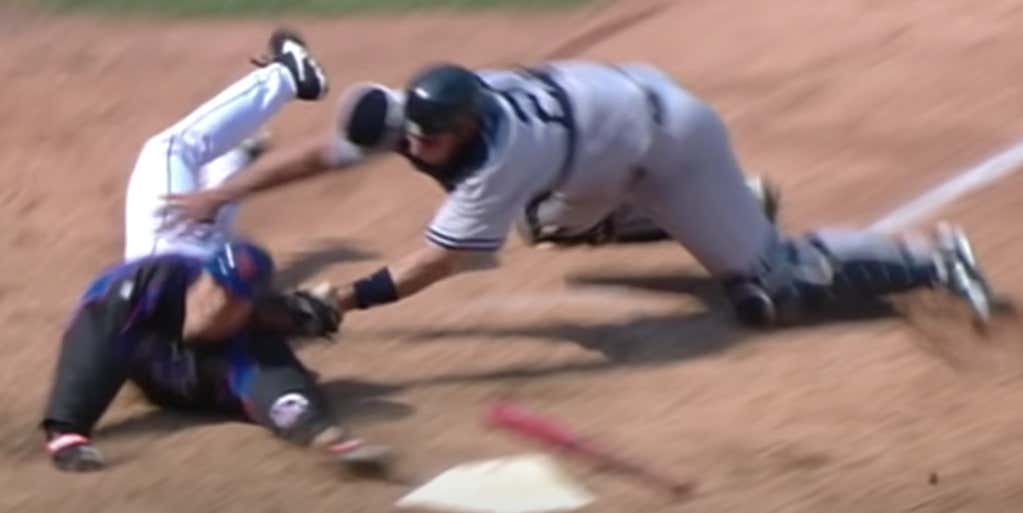 Who's to say? Well I guess the umpire as well as the review guy could say and both said he was SAFE. So that's the answer I'm sticking to and telling me otherwise would be like telling a 5-year-old kid Santa doesn't exist.
Legend has it Mike Piazza told David Wright he'd donate a million dollars to charity if Koo got a hit there, which is why Wright was pointing at Piazza after the hit. In my personal fan fiction, Koo was waiting for someone to offer a million dollars to charity when he got a hit because Mr. Koo is a charitable man that loves helping others even more than he loves helping his team.
So God bless you Mr. Koo for all you did for Mets fans, the charity that Piazza no doubt donated to, the incredible journey around the bases, and for being asked to be called Mr. Koo. If you don't mind, I am going to choose to believe you are an NC Dinos fan and are loving this 12-2 start on Dinos Island as much as me and the rest of the idiots at Barstool are.