Nothing But Respect For This 4-Star WR Who Released The First Top 50 List In Recruiting History On Twitter Last Night
One of my favorite things about college football Twitter is recruits tweeting out their top (insert number here) lists of schools they are considering going to. Up until yesterday, I thought I had seen it all. 
Stay tuned for my top 28 list. Coming soon! Recruiting is still open.
On Friday, I will be dropping my top 22 list. 
I think the highest number I saw was somewhere in the 30s. At no point did I think I'd ever see a "top 50" list. Wanna know why? Because I had never heard of Michael Trigg:
Boom. A top 50 which includes schools from Ohio State to Rhode Island. Hell yeah, brother. I don't even know what school this is?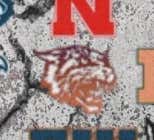 Imagine not making this list? Mississippi State has got to be punching air right now. Same with Texas and Michigan. May be time to retire their football programs. If you can't make the top 50 of a 4-star recruit, why even bother continuing to field a team? I mean Rhode Island made it for christ sake.