NFL GM Pop Quiz! Over The Next 5 Years Who Would You Rather Have: Lamar Jackson Or Kyler Murray?
Let's first start off with dismantling a myth that is still alive with novice-NFL fans: Kyler Murray is in fact very good. Yeah, he's small and whatever, but the guy can play. I know, shocking that a #1 pick is good, but I wanted to get that out of the way before we go any further with this conversation. 
If you need any proof on the ability of Kyler Murray, just watch this play:
Murray, on the move, stopped in his tracks and threw a ball 50+ yards, partially across his body, while having a defender in his face. The receiver caught the ball in stride as well. I'm not sure there are many NFL QBs who can do that at the moment outside of Patrick Mahomes, Aaron Rodgers, Russell Wilson, and Lamar Jackson (maybe Dak & Deshaun Watson). 
This got me thinking. If I was starting an NFL franchise today and could pick any QB for the next 5 years with his current contract situation who am I taking? The big question is how much are you willing to spend on your QB? 
Here we can clearly see the benefit of having a QB on a rookie or below-market deal. Having more cap space to develop the rest of your roster is massive. 
The candidates:
Patrick Mahomes: You'd get arguably the best QB in the league for 5 years, but 4 of them will cost you ungodly money. He's worth it, but the rest of your team is going to take a hit. 
Deshaun Watson: Watson's situation is the same as Mahomes. You'd get 1 more year on the rookie deal before having to pay him a hefty dollar. You could pick up his 5th-year option, but you then risk a holdout. Reports are that he will get north of $40 million a year.
Lamar Jackson: Lamar has 2 more seasons on his rookie contract before the Ravens will have to decide to re-sign him or pick up his 5th-year option. You'll get the league MVP for 2 seasons at a 5.6 million dollar cap hit overall. That's a steal, although you'd have 3 of the seasons paying top dollar. 
Kyler Murray: Kyler has 3 more seasons on his rookie deal before the 5th-year option presents itself. That is a steal, but your cap hit over those 3 seasons is going to be just under 30 million. 
Joe Burrow: 4 seasons on rookie deal. We don't know his exact contract details yet, but you can expect 4-years, 36-million or so. 
My gut told me that I'd go with Kyler over Lamar for the next 5 years just based on the money you'd save. If you project both of these guys to get contracts that average around $40 million per year, the next 5-years would look like this:
Mahomes: 165 million
Lamar: 125.6 million
Kyler: 110 million
You're only paying $15 million more for Lamar, which isn't as bad as I first thought. That's the value of finding a QB late in the 1st round instead of at #1. Taking a look at 2019 stats, you'll see Lamar clearly outshined Kyler: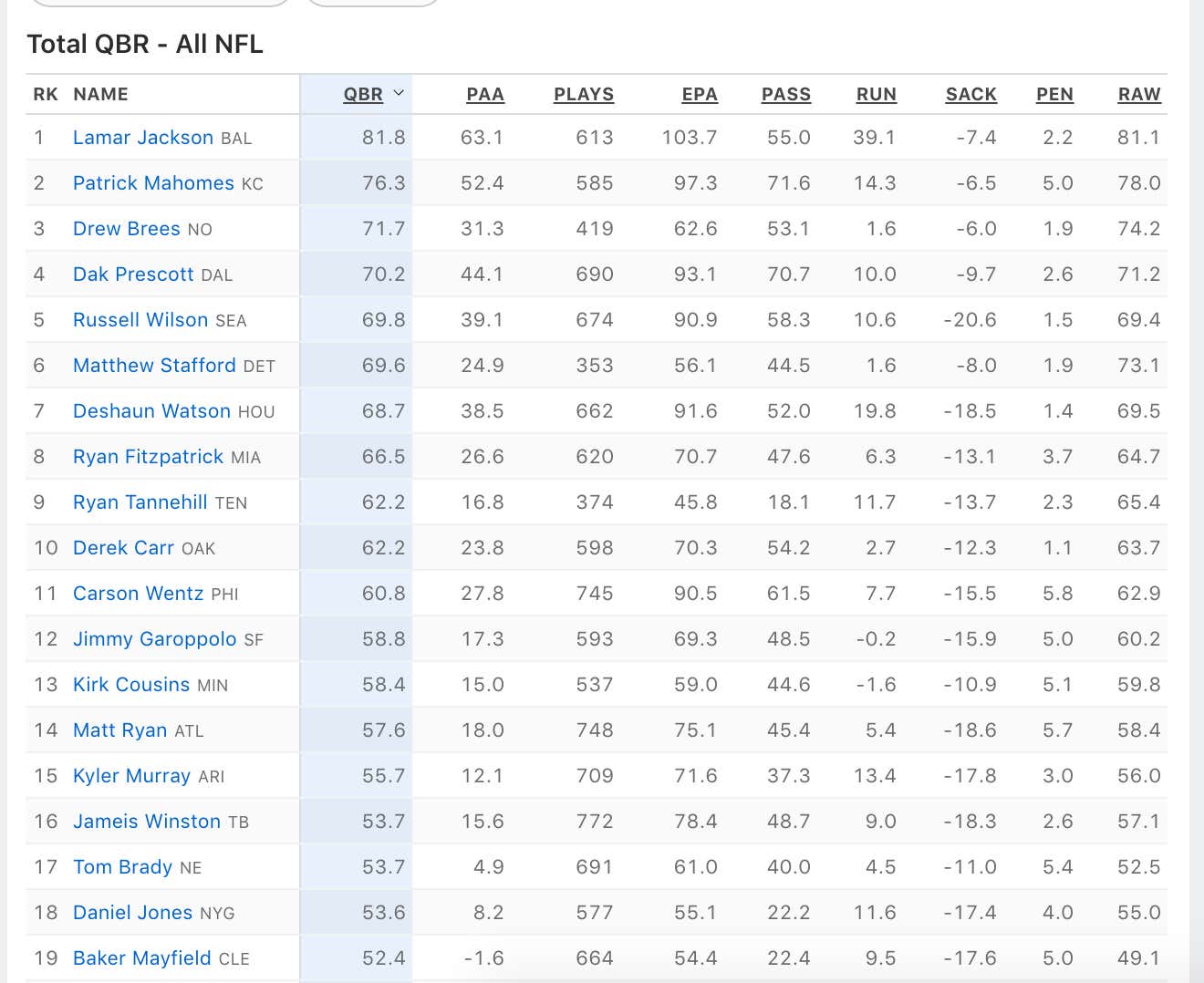 The same goes for Football Outsider's stat DYAR:
Kyler's numbers will improve, but will they get to Lamar Jackson level? That's the question you'd have to weigh before making your decision. I came into this thinking I was going to say Kyler Murray, but the more I look at it, Lamar Jackson may be the correct answer.