Even In A Pandemic We Have A Mother's Day Brawl At Red Lobster Because Karen Couldn't Wait For Cheddar Biscuits
Oh you thought a little global pandemic would prevent a Mother's Day brawl at Red Lobster? Well, think again my friends because you don't know anything about York, Pennsylvania then. Let me tell you, as someone who grew up in York, this is the least shocking video I've seen. People from York (those who were born there, live there, die there, you know who I'm talking about) fucking love the chain restaurants there. You go down Route 30 and it's a line out the door for some cheddar biscuits. 
But ole Karen here wasn't going to have it. There's a 100% chance this person sends her kids to York Suburban, maybe Central and thinks she runs east York Red Lobster. That's why she's ready to throw hands that there's a delay. Who cares about coronavirus? Who cares about a shortage of workers. She needs that Red Lobster ASAP. 
Just an A+ opening to the video with 'call 911 somebody' followed by the GET OUT scream. That's how every Red Lobster fight needs to start. Strong move by Karen out of the gate holding onto the door for dear life. I like to call this move the Jazzy Jeff knows Uncle Phil is coming. 
Naturally, NATURALLY, she starts screaming about getting a refund. That's 100% the easiest thing to guess about this. The line was too long, way too long of a wait and she wanted a refund. But the real MVP here is the other Red Lobster worker who starts doing the 'it's not worth it.' Everyone needs the 'not worth it' screamer in the group during a fight. 
Finally this guy. What a move! The mask/hat throw down combo followed by a flex. What's the end goal here?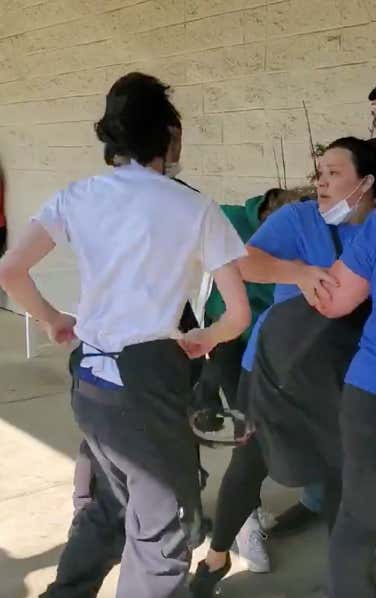 Shout out York, PA hometown to Live, John Kuhn, Bruce Arians and me.