It's A Little Weird That Michael Jordan Still Hates Charles Barkley Because He Told The Truth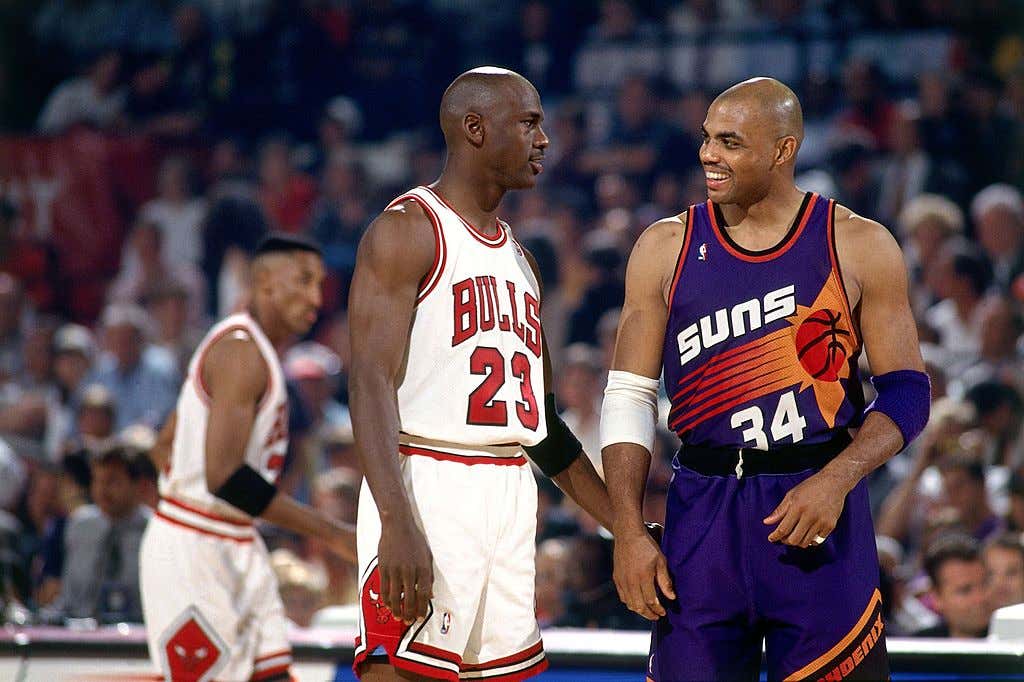 (ESPN) - Basketball Hall of Famer Charles Barkley admits he's still "really, really sad" about the fact that his longtime friendship with Michael Jordan deteriorated years ago because of critical comments Barkley made about the way Jordan ran the then Charlotte Bobcats franchise.
But Barkley doesn't sound optimistic about a reconciliation.
"The guy was like a brother to me for, shoot, 20-something years," Barkley said on Tuesday's Waddle and Silvy Show on ESPN 1000 in Chicago. "At least 20-something years. And I do, I feel sadness. But to me he's still the greatest basketball player ever. I wish him nothing but the best. But, there's nothing I can do about it, brother."
As someone that loves and respects a good old fashioned grudge, this situation is a little weird to me. If there's one thing we've come to learn about Chuck during this TV days, it's that he tells the truth. You might not like what he says, but there's no bullshit involved. He might not always be right, but he's not exactly the type of guy that's going to go on TV and say nice things about someone just because they may be friends. I've always respected that about Chuck. Well this whole ordeal stems from a quote he had in 2012
"I think the biggest problem has been I don't know if he has hired enough people around him who he will listen to," Barkley said Thursday on "The Waddle & Silvy Show" on ESPN 1000. "One thing about being famous is the people around you, you pay all their bills so they very rarely disagree with you because they want you to pick up the check. They want to fly around on your private jet so they never disagree with you. I don't think Michael has hired enough people around him who will disagree."

Barkley, who is a TNT analyst, did not mince words when evaluating his friend's performance in the front office.

"I love Michael, but he just has not done a good job," Barkley said. "Even though he is one of my great friends, I can't get on here and tell you he's done a great job. He has not done a great job, plain and simple."
I mean where's the lie? Jordan became part owner of the Bobcats in 2006 and the majority owner in March 2010. Here's their win total every year since he got involved
2006-07: 26
2007-08: 32
2008-09: 35
2009-10: 44
2010-11: 34
2011-12: 7
2012-13: 21
2013-14: 43
2015-16: 48
2016-17: 36
2017-18: 36
2018-19: 39
2019-20: 23
Barkley made those comments in March 2012, which was the season the Bobcats won 7 games. A look at their draft history isn't that pretty either. It's not that outrageous of a claim for someone whose job it is to talk about the league/teams/GMs etc. Was Chuck just supposed to lie and say everything is great? Maybe he was a little out of line to talk about the people surrounding Jordan since he probably doesn't know them, but his overall point wasn't that crazy. He told a story about how he advised Jordan to take Brandon Roy over Adam Morrison, but all of Jordan's guys agreed that Morrison was the guy. Newsflash, he wasn't (to be fair Roy had injury issues so it's not like Chuck was "right" either). 
If there's one blemish on Jordan's resume, it's his work as an executive. Everything ranging from taking Kwame Brown to what's happened with the Bobcats/Hornets. If it were any other person and not Michael Jordan, that executive would be getting killed. It's not exactly a new idea that super successful/famous people surround themselves with "yes men". Nobody wants to disagree with you when you're Michael Jordan, and that's especially true when it's your friends. That's all Chuck is saying and time has proved him right. 
Now maybe there are some deeper issues that the public doesn't know about and that's why Jordan is still holding his grudge. That's entirely possible. But if it's really all about what Barkley said in 2012? I didn't know Jordan was so soft and insecure. So he's not the GOAT basketball executive, that doesn't take away from what he did as a basketball player. It's a completely different world. It just seems petty to be mad all these years later because Chuck told the truth and was ultimately right. Is it a pride thing with Jordan and that's why he can't squash the beef? 
I thought Barkley summed it up pretty nicely the more he talked about this beef with Jordan
"But I thought that was one of the reasons we were great friends. Like, 'I can ask Charles anything and I know he's going to give me a straight answer.' But part of my job [as an analyst] is, because I can't go on TV and say 'Another general manager sucks' and then just because Michael's like a brother to me say 'He's doing a fantastic job.' That would be disingenuous."

Barkley said part of his job as a broadcaster is to sometimes be critical of people and teams he likes personally. A former 76er, Barkley compared his rift with Jordan to one he has with a current Sixers star.

"Joel Embiid hates me because I call him lazy. Which, No. 1, I'm like, 'Dude, you got to get in shape to play basketball.' They don't make him practice. It's like, well, he's got bad legs. That's not how you get your legs better. You work out and get your legs better. Get him in the pool or something like that. But he's a great kid, but I'm like, 'Yo, man. You got to get in shape to play basketball.' So I'm going to do my job no matter what."
He might say some outrageous shit on TV, but he's always been brutally honest. There's no agenda when it comes to Chuck's hot takes and that is pretty rare. I dunno if Jordan expected some sort of special treatment from a guy he was friends with during their playing days, but either turn your franchise around and stop making bad basketball decisions or realize all Chuck was doing was telling the truth and bury the hatchet. From the sounds of it though according to Chuck, that won't be happening anytime soon.