The Party Don't Stop in West Chicago. Another Weekend Another Raging Twerk Fest
A good friend of mine had a dad who used to wake us up on Sunday mornings (3 in the afternoon) ripping open the blackout shades yelling at us "you can't live to party, and you can't party to live." Words of wisdom I think applies here.
Last Weekend - 
Last weekend was up for grabs on the West Side and in West Ridge. Titty shows, Orthodox Jew wedding blowouts, 1,000 person benders. For an area getting absolutely crushed by this virus, fatality-rate wise, you couldn't tell by the looks of things.
That 1,000 house party last weekend got even more interesting this week as news came out that it took place in the home of a Chicago Fire Department commander. Her son was one of the jabroni's that threw it. 
Chicago Sun Times -   The Galewood townhome where a packed party was held over the weekend is owned by a Chicago Fire Department commander who also is among several firefighters being investigated over an unrelated online video.

Ald. Gilbert Villegas (36th) confirmed Matthews also owns the townhome in the 2000 block of North Narragansett where the party was held.

A video of the Saturday night party, streamed live on Facebook, showed dozens of young people crammed into the home — and hardly anyone wearing face masks. In the midst of the coronavirus pandemic, which is hitting Chicago's African American community especially hard, Mayor Lori Lightfoot has called the gathering "foolish and reckless."

Villegas has blamed Matthews' son for hosting the party. The son had a set of keys to his mother's building and was able to disarm the townhome's alarm system, the alderman has said. It is unclear whether Matthews knew he was planning to hold the event; she couldn't be reached for comment.

A videographer who was at the party, Tink Purcell, streamed it on Facebook for about 24 minutes. Purcell has since told the news website The TRiiBE that the party was organized as a memorial to two friends of hers who were lost to gun violence.

Her son has since apologized and said he didn't understand the importance of social distancing during the COVID-19 pandemic. "Every single person there that put themselves at risk, puts the next person, and the next person they come into contact with at risk," Lightfoot said Monday. "That's why, for me, that scene is so distressing."
Can you imagine the ass whooping this kid got? Deservedly so. Chicago Firefighters do not play around. Especially for making them look bad at a time like this. 
This weekend was primed for more of the same. Whenever the weather looks nice on a weekend in Chicago it usually spells bad news. Quarantine or not.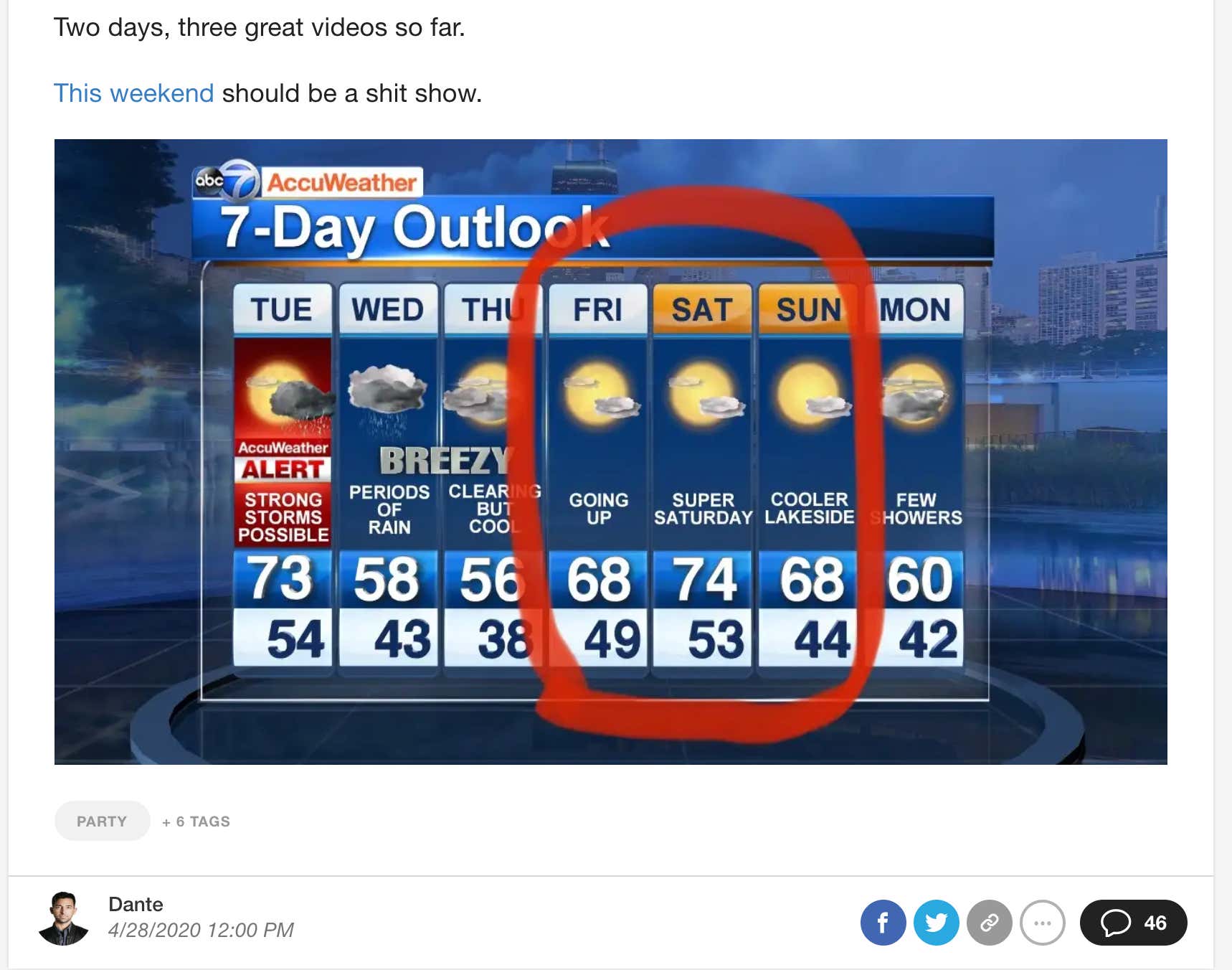 The city was prepared and issued warnings.
WGN -  Newly appointed Chicago Police Supt. David Brown said officers have learned of six parties planned for Saturday night after "parties were all over the city" Friday. CPD said no arrests were made, but they were dispersed.

"We are aware of six parties tonight," Brown said. "Non-complainant will result in citations, fines and arrests."

The press conference was held Saturday near Springfield and Adams after police learned of a planned party nearby tonight.

The mayor said while she is more anxious than anyone to open back up the city, officials are relying on data and science to determine when more steps need to be taken.

"We will shut you down, we will cite you and we will take you to jail," the mayor said. "Don't make us treat you like a criminal."
But that didn't deter the party squad.
TMZ - Their defiance defies logic, but here it is … another super-unsafe party in Chicago in the midst of a still untamed pandemic.

A throng of folks hit the streets of West Chi-Town Saturday night for a rager. A woman twerked on the hood of a car as the crowd roared its approval.
Insider info here. If you play Chicago juke music anywhere within city limits a dance party will break out. Doesn't matter if you're in a library or at a funeral. The people here get up and shake their ass. Chicago house, ghetto house, whatever you call it. You might not think you know it but you do. "The Percolator" = Chicago Juke/House. 
Before I even clicked play on that video of the girl bustin' it on the hood of that beater I said to myself "I bet somebody was playing Jammin' Gerald."
And wouldn't you know it?
 As if it didn't get crazy enough with the party, a fight erupted right on the street, and it was the opposite of social distancing.
WGN- Police have shut down multiple parties this weekend as the weather warms up.

After holding a press conference Saturday on the West Side to address rumors of at least six planned parties, Chicago police broke up two parties Saturday into Sunday. Police said they also shut down multiple parties Friday night.

"Going to a party during this pandemic is reckless and the height of foolishness," Mayor Lightfoot said.

People were dancing in the street near Lexington and Albany Saturday night, CPD said.

Police broke up another party at Jackson Boulevard and Campbell. No arrests were made at either party. Around 150 people were reportedly present at each one.

"We lost officers to the COVID-19. For a silly party, you are risking first responders' lives," CPD Supt. David Brown said. "Think about that."
As if Chicago Police don't have jobs hard enough, they have to add twerk fests to the stuff they have to worry about.