It's Put Up Or Shut Up Time For Baker Mayfield After Browns Have Another Good Offseason
They did it again, folks, the Browns have won another offseason!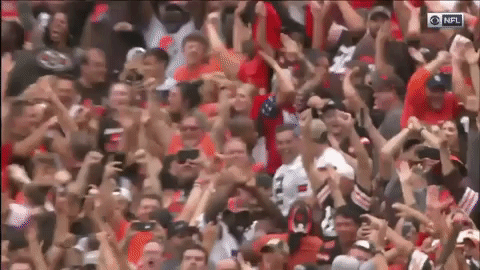 But, will they find a way to absolutely puke all over themselves for the second regular season in a row?
(NOTE: The Bucs probably won the offseason, but admitting that doesn't help my story)
Well, the answer (and this is dumb of me to assume Kevin Stefanski will be a good head coach, but there is no chance he will be as lost as Freddie Kitchens was) all comes down to one guy: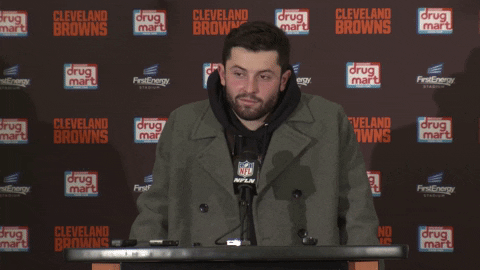 His offensive line? Should be fixed. The signing of Jack Conklin and drafting of Jedrick Wills at #10 overall give Baker protection on both sides that he has longed for since the horror-show that was last season.
His weapons? Plentiful. Nick Chubb is joined by Kareem Hunt again, Odell Beckham Jr. and Jarvis Landry return, a great-sized WR3 in Donovan Peoples-Jones could be a late-round steal, and the team is loaded at tight end as free agent Austin Hooper joins David Njoku and massive rookie target Harrison Bryant, the best tight end in college football last season.
This is a dream scenario for a quarterback. He has almost too many targets, but, luckily, that's for Kevin Stefanski to figure out.
Kevin Stefanski did a wonderful job at getting Kirk Cousins to play at an elevated level last season, even amidst this...
Stefanski needs to utilize the weapons in Cleveland much better than Kitchens did. Nick Chubb and Kareem Hunt should, and I believe will be, the backbone of the team. There's the point in not letting them work. The same goes for the tight ends, especially David Njoku, who, when back from injury, was cast off by Kitchens' offense that was so deeply rooted at times in 11 and 01 personnel with either one back and tight end or just a four-wide receiver set. It was a major departure from what made Baker Mayfield have the best rookie quarterback season of all time in terms of touchdown passes. There's no question that Baker's accuracy was down and his offensive line had him rattled, but Kitchens was a major problem in holding the quarterback back from what made him successful.
I don't expect that from Stefanski.
The amount of 12 and 22 personnel the Browns are going to run is fucking exciting, especially with the talent at the skill positions they possess. All of those long-developing plays, with infinite-step dropbacks, behind a swiss cheese offensive line equated to a complete fucking disaster last season. To never see that shit again will be a breath of fresh air on its own.
So, again, assuming the coach isn't a dunce and the offensive line is better, it comes down to Baker Mayfield.
His best skill is his accuracy. He can sling it with the best of them, and he will have his moments with interceptions, but the difference of seven more interceptions and five fewer touchdowns paints the entire picture. He has to be better, he has to be more accurate, and he has to see his options. If the coaching and offensive line truly held him back (for now I believe it did, but a lot of the issues are ones he will need to fix on his... it was a healthy mix), this season he should be in the clear to regain the form that showed people so much promise.
I am not sure how many games to expect the Browns to win this season. After last season, I've learned to once again have no expectations, but if the team plays to its talent level, they should win games. But we've learned with the Browns that it is always easier said than done.
In terms of question marks, the defense remains a bit of a mystery, especially whether or not they're done upgrading...
The biggest question is in the EDGE department. Will Olivier Vernon remain with the team? Will they do this?
At this point, I doubt it, but the fact there was interest indicates they want to bolster the position. (I love the signing of Adrian Clayborn, by the way, as a rotational pass rusher… in terms of getting pressure last season, he was up there with the best) The same could possibly be said about the linebacking department, one that is super fucking weak and probably the weakest position group on the team. Goodson has been described as a good backup, though Mack Wilson and Sione Takitaki showed some promise, especially the former, in their rookie seasons.
The most intriguing group is the young defensive back unit, led by a bunch of guys from Denzel Ward to Greedy Williams and rookie Grant Delpit. They have a chance to be a stud group of playmakers and I'm excited to see them flourish this season.
Speaking of the draft let's end on that… The Browns, on paper, did great! Everyone with the exception of Steve Cheah had them in the B+ to A+ range, mostly with the coveted "A" position (Cheah gave them a B-?).
General manager Andrew Berry seems less than concerned with Jedrick Wills moving to the other side of the line. He protected Tua's backside in Alabama and will do the same for the righty Baker in Cleveland.
Grant Delpit would've been a Top 15 pick if not for his injury last season and was a fucking steal in the second round…
You could say the same for defensive tackle Jordan Elliott, who will bring much-needed depth to the line…
I already mentioned that I am amped for Donovan Peoples-Jones to flourish away from what held him back at Michigan, so why not focus a little on Harrison Bryant, the rookie tight end. The 6'5" tight end was a surprise for the Browns who didn't expect him to be available late in the draft. Stefanski loves his tight ends and he fits the system very well…
Finally, Jacob Phillips, another SEC and LSU kid, comes in to play linebacker. I am curious how much we see of him this season with a weak position group. He will be an interesting piece to balance out Mack Wilson with, both have strengths that are opposites of the other's weakness (Wilson the run, Phillips the pass)…
…overall I am more than pleased with the offseason the Browns had, especially following last season's debacle. But, here's the thing…
NONE OF THIS MATTERS UNLESS…
Baker Mayfield fucking delivers. I believe in him. But the time is now to step up.
P.S. - Win or lose, at least they'll look good again on the field!