The Carmen Electra Greatest Hits Mixtape
As promised in yesterday's Pulitzer worthy piece on "The Worm's" female hitlist-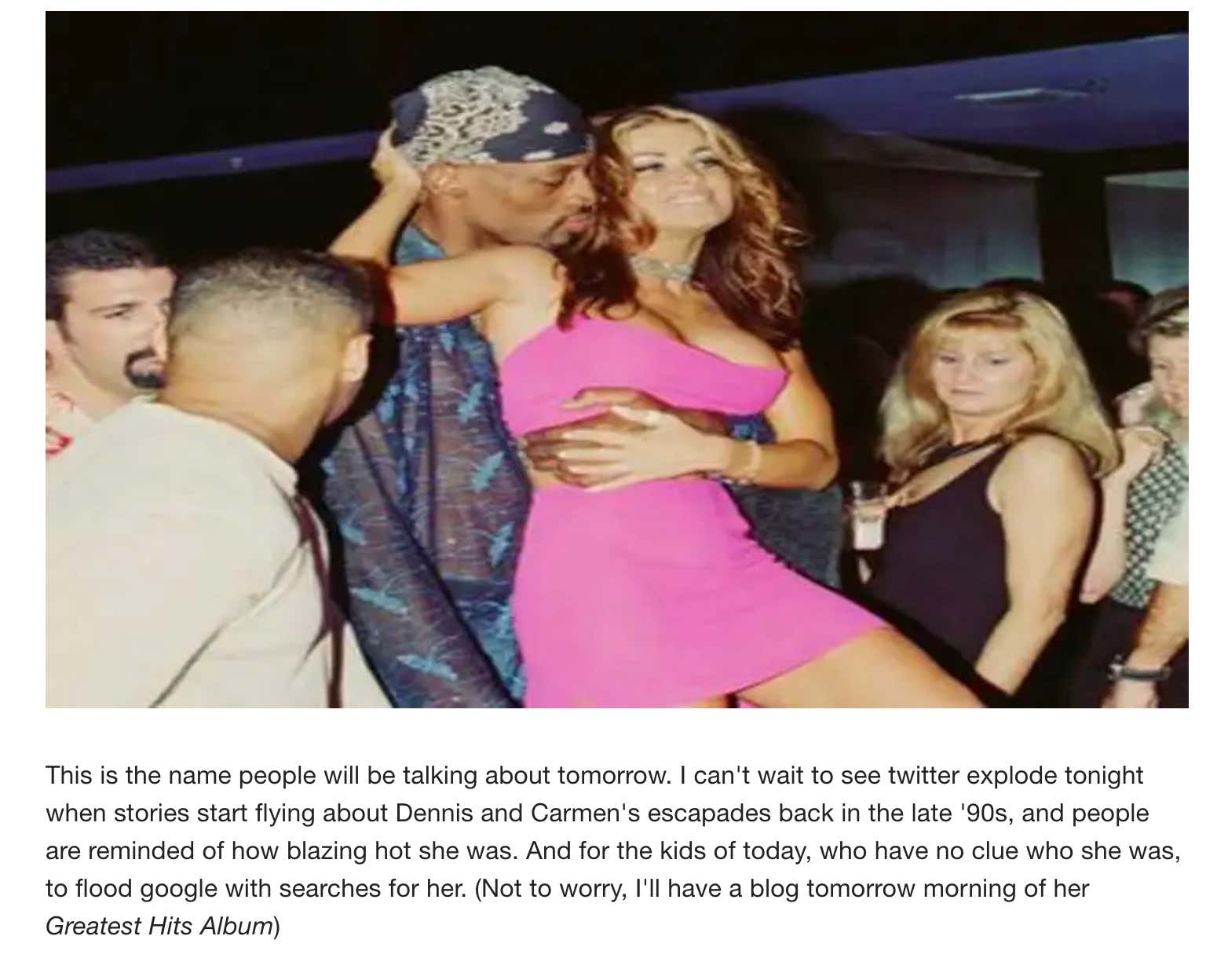 Nostradamus?
I'm aware we just woke up 20 times with the woman. Bear with me though please. Don't do it for me. Do it for Carmen.
Key takeaways from last nights The Last Dance episodes:
1- MJ might be more of a grudge guy than Portnoy.
2- These guys were SO lucky they lived/played/fucked in a time before cell phone cameras and social media.
3- I might have to do a deep dive on "The Bad Boys" Piston's teams because ESPN didn't do them true justice last night. The fact that John Salley and Isaiah, two of the nicest guys on the planet, were the only ones ESPN could get to talk about the rivalry on a documentary that features Justin Timberlake (why?) and two Presidents, speaks volumes as to what huge assholes those guys were and still are. 
I mean 30 years later and Bill Lambeir and MJ still hate each other's fuckin guts.
Now that is a grudge.
And for good reason. All these guys did was instigate shit and play dirty to break the Bulls mentally. Like Cobra Kai.
The best part is they genuinely relished being considered villains. It made for great competition and great theatre. Unlike the cream puff, buddy-buddy bullshit in the game today.
The Bird/Magic 30 for 30 did a better job showing how tough the '80s Pistons really were. Also, their own 30 for 30, even though it was obviously biased.
4- Carmen Electra was in a league of her own in 1998. Period.
If you didn't have this poster on your dorm room wall in the 2000s were you really even in college?
Let's go behind the music with Carmen Electra.
Howard, please start us off.
Bio - Celebrity performer, singer, and dancer Tara Leigh Patrick renowned as Carmen Electra is of Cherokee, Irish, and German decent which can obviously been judged through her exotic skin color. Plus her unique face and sexy body, her beauty becomes even more complete, so it's reasonable that Carmen was ranked 10th of the 100 Sexiest Women by FHM Taiwan (2001) and #59 in Stuff magazine's "102 Sexiest Women In The World" (2002). This 5' 4" (1.63 m) in height was born in White Oak, Ohio near Cincinatti, USA, on April 20th, 1972, and is the youngest of five children in her family.
(A quick aside here. I feel like if you have Native American blood in the mix 99 times out of 100 you're gonna wind up with an absolute smokehouse)
Before becoming popular, Tara formerly worked as a dancer at Kings Island Amusement Park in Ohio. 
Wtf is Kings Island Amusement Park you ask?
Check out this electric homemade review video to answer your question.
Concerning her dream, Tara took her first big step moving to Minneapolis, where her sister and half-sister lived. In order to support her finance, she did some modeling for Target department stores. In 1991, she moved to Los Angeles, California, and within one week met singer Prince. For the reason that Prince told her she looked like Bizet's Opera Carmen, Tara took it as her new name as she combined it with Electra from Sophocles for her last name after a goddess, and so she started to use Carmen Electra as her popular name. 
What a fucking opening line. Just a whole different level of game. 
In 1992, soon after meeting and auditioning for Prince, Carmen was signed to his Paisley Park Records label, marking the start of a short-lived and unsuccessful singing career. From that time Prince took her under his wing and began describing her as "this new girl out of Cincinnati." She was also promoted with ads in Rolling Stone and on MTV, but the success wasn't there.
So in the least shocking news of all time, we owe it all to the late Prince for discovering Carmen Electra, and naming her, since she was then known as Tara Patrick. Not to be confused with Tera Patrick (who has a very impressive body of work herself)(NSFW).
Nobody and I mean nobody had a nose for uncovering hidden "talent" like Prince did. Not even the nose. 
Nobody had half the game that he did either.
(Look at this apology note from him Carmen still has saved to this day)
First off, do you have your own letterhead emblazoned with your own quasi-sexual orientation symbol? I highly doubt it.
Secondly, look at that handwriting. Snooty people have their own word for that. It's called "calligraphy". 
I doubt your girlfriend/wife still has the birthday or Valentine's day cards you gave her this year nevermind a, "Gonna apologize without actually apologizing because I am dripping in swag letter" like Prince's here.
Also, how many of these do you think Prince wrote in his 57 years on this Earth? 1,000? 10,000? Have you ever seen his resume?
(That just gave me a great idea to do a Rodman-like resume feature on Prince in the near future. Might have to start a cocksman HOF series)
You just got pregnant looking at this
Check out his label's press release on her-
Her first single-
Despite the fact that she was under Prince wing, Carmen's first album wasn't a success at all. Even worse, by 1993, her success began to fade or might be in danger of vanishing, so that she decided to disappear instead. One year after her break, during which her career was the typical story of the flare that finally died, the name Carmen Electra had been forgotten. To end that, in 1995 she started appearing in various television programs before in March of 1996 she took a huge step forward and posed nude for Playboy besides did a Playboy video called "Playboy Cheerleaders," in which she sings the show stopper "2-4-6-8."
(LINK TO VIDEO FOR RESEARCH PURPOSES)
This was the point where Carmen started to find herself and got a boob job done while also made appearances on the Nickelodeon show ALL THAT. After all, she got her big break as she joined MTV's Single Out audition and was announced by MTV's senior vice president Lisa Berger on October 4, 1996, that she'd been selected to replace Jenny McCarthy on MTV's innovative show "Singled Out." So, on February 10, 1997, she became the co-Host of the show.
Wait. Carmen Electra was on All That? 
And Good Burger the movie apparently.
Also, kids today don't know what it was like coming home from school and watching Singled Out with Jenny McCarthy and then Carmen Electra. What a show. Take a trip back in time-
Her 1st show -
Singled Out Spring Break
Jenny & Carmen
From that time Carmen had been in many TV and movie appearances. Her more often appearances on TV and big screen, indeed, led her to the door of her first movie "Good Burger" (1997) where she played a small role that surely handed her a part in the famous TV series "Baywatch" (1997-1998) for which she was signed on to replace Pamela Anderson(NSFW). When the producers didn't throw her a life preserver at contract time, Carmen made the video "The Chosen One, Legend of the Raven," which co-starred fellow Playboy nudie, Shauna Sand Lamas(NSFW).
You're probably asking yourself, "why the hell does Legend of The Raven ring a bell?
(NSFW LINK TO THE CHOSEN ONE, LEGEND OF THE RAVEN FOR RESEARCH PURPOSES ONLY)
Next, Carmen went on appearing in one of the bigger movies of 2000 "Scary Movie." In 2001appeared in the remake of the 1970s TV show "Starsky & Hutch" (2004). Last of all she also regularly performed with the exotic dance troupe "The Pussycat Dolls."
As for her personal life, Carmen achieved lots of infamy because of her on-again, off-again marriage to basketball star Dennis Rodman, whom she married in a quick on November 14, 1998, in the "Chapel of the Flowers" in Las Vegas, Nevada, while he was drunk. The couple then divorced on April 6, 1999. 
If you somehow didn't get enough of these two already, here's another shameless plug for last night's blog.
Carmen's next husband, musician Dave Navarro, is the lead member of the rock band Jane's Addiction. Married on November 22, 2003, the couple documented their courtship and marriage on an MTV reality show in 2004 entitled "'Til Death Do Us Part: Carmen + Dave". Unfortunately, the "Till Death Do Us Part" spell didn't work effectively for the couple as the pair later on July 17th, 2006 publicly announced their separation after only three years of marriage before then having their divorce finalized on February 20th the following year.
(Fun fact- Dave Navarro fucks. Master musician. Master chick getter. Look at just some of the names- Kari Wuhrer, Jayden James, Nicole Bennet, Lexus Locklear, Brittni De La Mora, Jessica Jaymes, Kendra Jade, Brittney Skye, Jenna Jameson, Taylor Wayne, Anna Nicole Smith, Tami Donaldson, Kelly Carlson (Kimber from Nip Tuck), Stormy Daniels, Margaret Cho (wait, wtf?), Sasha Grey, Amie Nicole, Daisy De La Hoya, Brooke Haven, Jenny Spain) 
As for Carmen's dating resume. Not the greatest. 
Mia Isabella -1990
Prince 1990-1991
Dennis Rodman -1998-1999
Fred Durst - 1999
Tommy Lee - 1999
Vin Diesel - 2000
Leonardo DiCaprio - 2000
Dave Navarro - 2001-2007
Joan Jett - 2006-2007
David Spade - 2006
Colin Farrell - 2006-2007
Rob Patterson 2007-20012
William S Tribbell - 2008
Simon Cowell - 2012-2013
Jamal Rashid - 2013
Max George - 2013
Ryan Lochte - 2013
She's been relatively quiet since. In 2018 Dennis Rodman, told Page Six that he still  shares 'a special bond with her.'
"If the opportunity were to pop up today, and if I saw Carmen, I would probably ask her to marry me again. have been debating about that the last couple years. I would ask her to marry me again."

Rodman said that he still sees Electra 'every once in a while,' but they 'don't really' talk about their time as a married couple from 1998 thru 1999, sticking to chatting about 'everyday things.

"We have a real relationship," he said.
She just celebrated her 48th birthday on April 21st. 
This woman is 48!
We'll end this with one of Carmen's strongest tracks. Featuring Howard Stern. Enjoy-
BONUS TRACKS -
(NSFW LINK FOR RESEARCH PURPOSES 1)
(NSFW LINK FOR RESEARCH PURPOSES 2)