Alright, Lets Talk About What The New York Football Giants Might Do In Tonight's NFL Draft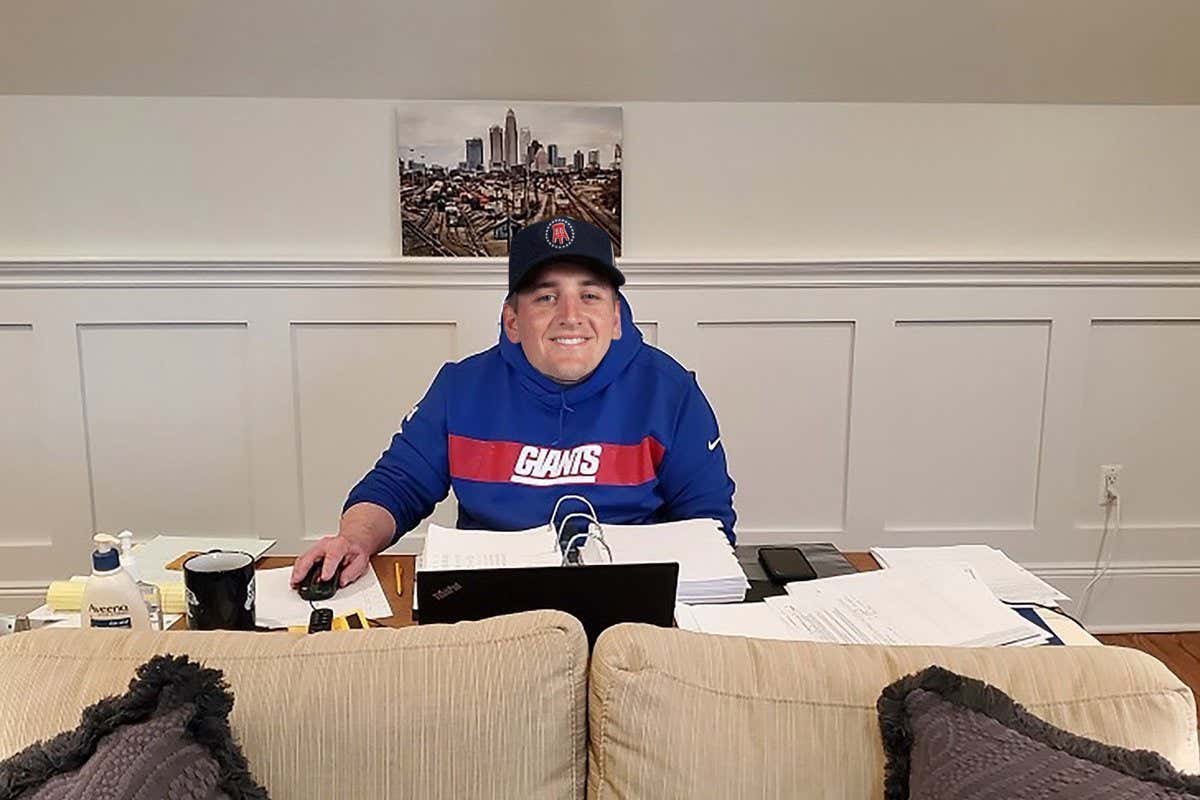 We made it Giants fans! The NFL Draft is FINALLY here. And it couldn't come a minute too soon. 
While I love the draft, enjoy reading mocks, may or may not get a little horny at the sight of trade rumors, and get a hearty laugh at a good Dave Gettleman meme, I was starting to lose my mind with all the reports that were almost definitely smokescreens and Giants fans eating each other alive over players they like because the last few seasons have caused us to lose our minds. Usually all that noise is in the background because we have a shitload of sports going on and aren't on strict orders to stay locked away in our homes. But 2020 clearly doesn't give a fuck about any of our happiness or well-being.
I could try to go into a deep dive about all the prospects we have read about nonstop on mock drafts, regurgitating all the scouting reports I didn't fully understand. But you aren't reading my dumbass for game tape breakdowns. That's Steven Cheah's field of expertise check out Steve's final mock draft here and join him, myself, and plenty of special guests from both inside and outside of Barstool onThe En Eff El Draft Presented by Mack Weldon TONIGHT at 8pm EDT.
I will fully admit that I am an idiot when it comes to all this draft stuff. But so are you, every other fan, and pretty much everyone on the planet because figuring out which of the hundreds of kids in their early 20s are going to be the best football players after a few years of games at all different level of competitions is a very inexact science. 
However, that hasn't stopped my dumb brain from thinking it knows how these guys are going to pan out based on the nonstop barrage of draft tweets from the last few months. Here is how I have things laid out in my medulla oblangata.
Dream Scenario: Chase Young Falls To Us At 4
I clearly don't think this will happen and still get irrationally angry that winning a meaningless Week 15 game that the Giants could have easily lost is the biggest reason the Giants won't land the consensus best pass rusher in the draft. But you also have to remember that the three teams drafting before the Giants are the Bengals, Redskins, and Lions. There is no combination of teams I want in front of Big Blue more that could allow Chase Young to get to four outside of maybe the Browns or Jets.
But the Chase Young dream probably died during that fateful Week 15 game, with Landon Collins almost playing the role of a double agent to ensure his issues in coverage would be hidden by Chase Young causing havoc off the edge for the rest of Collins' contract.
At least Danny Dimes looked fucking awesome, right?
Likely Scenario I'd Be Happy With: We Stay At 4 And Draft An Offensive Tackle 
Did you know that Dave Gettleman has never traded down in the NFL Draft in all his years as a GM? If not, congrats on avoiding every single Giants discussion on the internet or TV for the last 4 months. Did you also know that Dave Gettleman likes big guys up front that he calls Hog Mollies? If not, congrats on avoiding every single Giants discussion on the internet or TV for the last 24 months.
While I may be a big man with slightly less athletic ability than these guys, I have no clue which of them is going to be the best pro. I've read a bunch of different scouting reports that you guys have probably read and to my basic #outsider fan brain it seems like Jedrick Wills Jr. and Tristan Wirfs are the two most likely to get selected by the Giants here, with Wills having the most All Pro potential and Wirfs being the athletic freak. I would be pretty happy with either of these guys based on what I've seen/read and I thought I was indifferent on which the Giants would take. But when rumors broke that the Dolphins may trade up to 3 for a tackle (which has to be bullshit, right), I was worried about losing Wills to Miami. So I guess he's my number 1 guy.
Seemingly Less Likely Scenario By The Day That I'd Be Happy With: We Stay At 4 And Draft Isaiah Simmons
As much as we've complained about the Giants offensive line, and in particular left tackle, over the last few years, the defense hasn't exactly been crushing it. Simmons definitely jumps off the screen as a playmaker, even though most of the time the screen I am watching him on is a YouTube highlight reel designed to make him look awesome. But he fits the exact versatile profile Joe Judge wants to bring to the Giants from the Pats:
A player that can cover, tackle, blitz, and just be an unbelievable wild card on defense fits that scenario I guess, right? I can only imagine the damage BB HC of NEP could do with a guy like this.
Snack break!
You know what was just as impressive as all those crazy numbers? This tweet after Simmons put up his 40 time.
For the uninclined:
From a blogger's perspective that loves entertaining players, I'm sold.
Obviously if the Giants take Simmons, the tackle position is still a glaring need and there would likely be some sort of law broken since the Giants appear to be against taking linebackers in the first round the last 3 decades or so. But if the draft is as deep in tackle prospects as we've been told, you have to think that there would be a pretty decent option for the G-Men to select with their 2nd round pick. Especially since the secret to drafting a good player in the second round is apparently by simply picking 36 overall.
The mock drafts have cooled on Simmons to the Giants lately, even though they are worth less than the digital paper this endless blog is printed on. But I am starting to think we won't see the Giants go Simmons.
Ideal Scenario I'd Be VERY Happy With: We Trade Down And Draft Isaiah Simmons Or The Tackle We Wanted Anyway
I feel like this plan only works if a team in the Top 10 like the Dolphins, Chargers, or Panthers trade up to get a QB and the Giants don't fall out of range of whatever guys they like while also getting a good pick for their troubles that they can use to go after a receiver (which is apparently crazy deep), center, safety, linebacker, pass rusher, or a tackle if they go Simmons who seems to be consistently getting picked in the later half of the Top 10 in those mock drafts I keep disparaging for no good reason. 
Joe Judge being a member of the Patriots who never met a pick they didn't want to trade back from make this feel like a distinct possibility if Sal Pal is right.
If a time traveler from 20 years in the future arrived today and told me that Becton or Thomas ended up being the best tackle in the draft, I'd believe them. I'd also ask them when this coronavirus bullshit would end so I could stop losing my mind and the next 20 Super Bowl winners so I become rich like Biff. But I'll honestly be fine with a slightly lesser tackle if the Giants scouts like him and we get some sort of haul back. This is the part of the blog where I put Man Mountain Mekhi Becton's ridiculous 40 run.
Also I know there are a zillion different things that happen during every NFL season that results in the final standings. But the Lions tying the Cardinals in a game they had no business tying, thus giving the Lions a better pick in terms of trade value has low-key been driving me nuts since Week 17 ended. Fuck ties.
Nightmare Scenario: Draft Derrick Brown
Please God, no more defensive tackles. I know some people think Derrick Brown may be the best player in the draft. But Leonard Williams just signed his franchise tender with the Giants and everyone remembers he was the best player in the 2015 draft according to a million different scouts and Jets fans. Is this me trying to spinzone the Leonard Williams situation all these months later while trying to talk through the fear of Gettleman overruling everyone in the Zoom and taking a DT? Of course!
I'm also not going to mention the report of the Giants potentially trading up to draft a tackle because it's probably bullshit and more importantly I need to be in a mentally good place for tonight.
WTF Scenario: Draft Jeff Okudah
I feel like every other transaction the Giants have made under Dave Gettleman has involved adding a cornerback. So maybe this shouldn't be such a shock. But there have been multiple high picks used on DBs the last few years and the Giants biggest signing of the offseason was James Bradberry. Okudah sounds like a stud and I absolutely loved when he roasted this reporter.
But unless Okudah can block our young QBs blindside, I guess we will have to let a potential shutdown corner land somewhere else.
Scenario We Don't Speak Of: Drafting Justin Herbert
There is a 99.99999% chance this is all just a smokescreen to try to get teams to trade up to 4 for Herbert. But I've learned to expect anything with Dave Gettleman as GM and we all remember he had turns on Gettleman voice a raging hahhd ahhn for Herbert at quawahtuhback. I have fallen way too much in love with Daniel Jones to think about our time being over already because of some stupid report.
OK, this blog is starting to get too dark, too depressing, and it was too long about 4000 words ago. So I will leave you with this. There are two reasons you should believe the Giants are going to do the right thing tonight and this weekend, no matter what you may think that may be.
Believe in Joe. Believe in Abby. Believe in the Judges (and if you want to believe in Gettleman, that's fine because his drafts haven't been bad and he HAS to have at least one more monitor somewhere in his house. He's the GM of a goddamn New York football franchise).