Predicting How Each Team Will Screw Up Their Pick During Tonight's Virtual NFL Draft
Finally, we have something to watch on our TV again tonight. Not only that, but we have the NFL Draft - excuse me a virtual NFL Draft. It's going to be a shitshow, no doubt about it. Hell, there was a problem in the trial run right off the bat. So with that in mind I decided to run through the first round and predict how each pick will go terribly wrong. 
1. Cincinnati Bengals - Joe Burrow refuses to play for them, says his hometown is now New Orleans
He's officially become Jeaux Burreaux and refuses to leave Louisiana. He refuses to say Athens or Ohio ever again and pulls an Eli forcing his way to New Orleans. It would be the peak Cincinnati way to lose a quarterback. 
2. Washington Redskins - Quite simply, they draft a quarterback
3. Detroit Lions - IT Director in the Winnebago gets hacked, causing outages for the entire team
The Lions stuffed their IT guy in a Winnebago at the GM's driveway. We're talking about the Lions though. If you don't think they get hacked and mayhem ensues you don't know the Lions. I refuse to believe this goes smoothly. 
4. New York Giants - Dave Gettleman leaks his big board
Oh my beloved Giants. 100% chance we get a Vlade Divac situation here where Gettleman goes live and his big board is behind him. I hate how the Giants have drafted since oh roughly Ahmad Bradshaw. This is going to be a mess. 
5. Miami Dolphins - Pass on a QB with injury concerns, settling for someone else, said QB becomes legend of the game
Not like the Dolphins have a history with this, right? 
6. Los Angeles Chargers - Says the uniform release was a hoax, will wear old uniforms
The only possible way the Chargers can screw this up. They get rid of these. Not even draft oriented, but the only way they can screw this up. 
7. Carolina Panthers - Decides to draft a running back, going all in on giving money to running backs
I'm just going to defer to Trill Withers here: 
8. Arizona Cardinals - Kliff Kingsbury has porn on his computer screen
Nothing wrong with being a porn guy, but I could see Kliff being a porn guy. Remember he was linked to Holly Sonders 
There has to be a guy caught with some porn on their computer. I refuse to believe this won't happen. 
9. Jacksonville Jaguars - Miss their pick due to the front office getting into a Twitter fight with their players
The Jags apparently love fighting on Twitter with their players. If you don't think they get caught up in a Twitter spat, you're lying. 
10. Cleveland Browns - Pretty simple here. 
Just google 'Browns draft picks since 1999.' Then laugh. 
11. New York Jets - Enjoy this minute and 36 seconds 
While you're laughing from the Browns, keep it going with the Jets. Just a beautiful back-to-back teams here. 
12. Las Vegas Raiders - Jon Gruden turns the camera on and goes back to ESPN mode, welcome to Gruden's film room 
Really this might be a combo of Joey and Frank Caliendo taking over here. Wouldn't shock me one bit. 
13. San Francisco 49ers - Spends the entire time on air deciding whether or not Jimmy G is the QB of the future, again
The 49ers were linked to Tom(pa) Brady, because of course they were. They can't help themselves from second guessing whether or not Jimmy G is the true answer for the future despite having him locked into a contract. 
14. Tampa Bay Bucs - Accidentally pulls up Steven Cheah's mock draft version 4 and picks blindly off of that
Maybe they are lagged behind. Maybe they just need a second opinion. Who else would they turn to besides Steven Cheah? Congrats to Mekhi Becton! 
15. Denver Broncos - John Elway sees a tall quarterback on his sheet, stares with delight for 15 minutes
It's not a secret that John Elways loves tall quarterbacks like George Costanza wants to fuck a tall girl. Imagine his delight when he finds out Jordan Love is 6'4" or Justin Herbert is 6'6". 
16. Atlanta Falcons - After spending weeks talking about trading up, they trade back blowing all the momentum they had
The Falcons are doing everything possible to move up in the Draft. Well, they probably could have not won games down the stretch, but here we are. The Falcons, the same team that had a lead and blew it, will 100% have a bunch of momentum to trade up only to trade down. 
17. Dallas Cowboys - Jerry Jones has no idea how technology works, accidentally gets Dak on Zoom while talking shit 
I want nothing more than this to happen. It's 100% what I'm cheering for the most tonight. Dak and the Cowboys is one of the most intriguing storylines out there. Franchise tag, is he the real deal, will he hold out, all that good stuff. Well, you know Jerry Jones will be talking shit about him all night and still trying to draft Johnny Football. 
18. Miami Dolphins - Frank the Tank writes a song about how miserable he is and how much the Dolphins suck when they pass on a QB again 
Than I suffer. 
19. Las Vegas Raiders - Gruden voice I'll tell ya, kickers win the game. The Raiders have a history of drafting a kicker in the first round and it worked. Let's go with the goggles kid from Georgia
The Raiders took Janikowski in the first round, the Raiders will take a kicker in the first round again. 
20. Jacksonville Jaguars - Said player from earlier fight now takes over the draft selection hacking into the computers
That pick from earlier? Going to go out on a limb and say a Jags player that's insulted via Twitter finds a way to ruin this pick. Just see it happening. 
21. Philadelphia Eagles - Refuse to pick a WR creating riots in Philly
22. Minnesota Vikings - I mean, they couldn't even get a pick in time correctly in person
Let's go and fuck this up, Philly! We're all cheering for you to do this. Eagles fans might riot if they don't draft a WR. Would be a shame if they refused to take one. 
23. New England Patriots - Trades the pick to Tampa Bay because why the hell not
What? Was I going to make some lame cheating joke? 
24. New Orleans Saints - End up with an IT guy in the background, NFL calls a questionable ruling taking away their draft pick
The Saints have had a great history with questionable calls! 
25. Minnesota Vikings - Mike Zimmer tosses his computer through a window, still has no idea how technology works 
If we're ranking coaches that have zero clue how technology works, Mike Zimmer is the heavy favorite. No doubt he's on edge from missing their first pick, the computer freezes and we get a Ron Swanson situation on our hands. 
26. Miami Dolphins - The Miami Dolphins draft Jalen Hurts! 
Congrats Jim! Dolphins landed an Alabama QB.
27. Seattle Seahawks - John Schneider is confused by having 25 TVs in his house now, he starts watching 25 shows at once, completely forgets about the Draft
Do you know how awesome 25 TVs would be? I have 3 in the basement and when I put the 3rd one in I was frozen for a few minutes. Just felt so in control of everything. 25 TVs just toss on whatever you want and get lost in time. 
28. Baltimore Ravens - 'You know, I actually do think Lamar Jackson should be playing WR' - Harbaugh listens to old comments and drafts a REAL quarterback
Harbaugh starts scrolling through old comments on any Lamar Jackson blog ever on Barstool and thinks they some good points. Time to draft a REAL quarterback and not a gimmick. 
29. Tennessee Titans - Known Barstool fans, the Titans are mesmerized by how awesome our NFL Draft show is tonight. Completely ignoring the Draft, FOR THE BOYS
That's right we have a show tonight #EnEffElDraft and the Titans fucking love Barstool. I could see them getting caught up in the skits, the jokes, the analysis and just forgetting their pick. It's late in the night at this point. They get a little loose while Joey is doing an impression.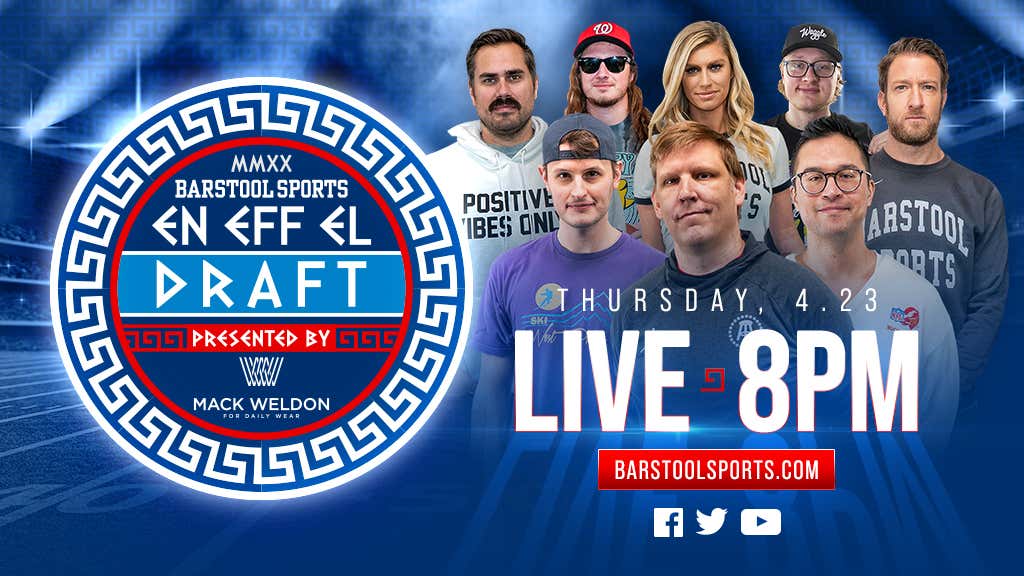 30. Green Bay Packers - Team gets duped by thinking Jordy Nelson is coming out of retirement, refuse to draft a WR
Similar to Philly here, GB fans are salivating for a WR. But everyone is starting to come out of retirement. What if Jordy Nelson pulls it to come back for his best friend? And the Packers take some boring DT. 
31. San Francisco 49ers - How many running backs is too many running backs? 
Low key the Niners keep bringing in running backs to their roster. I guess that's what happens when they pass the ball 4 times a game. Hey, De'Andre Swift or Clyde Edwards-Helaire is sitting there!
32. Kansas City Chiefs - Andy Reid spends the entire time in a Hawaiian shirt eating burgers with his Super Bowl trophy, doesn't give a shit about the draft
Tonight is going to be awesome as we have a huge show planned. Make sure you tune in: