If The Packers Don't Give Rodgers Some Weapons, I'm Going To Lose My Mind
I don't know how to be any clearer: the Packers REALLY need receivers. Davante Adams cannot be the only WR Aaron Rodgers trusts, and Aaron Jones can't continue to carry like 80% of the team's touchdowns. It's basic math everyone can agree on, Brian Gutekunst included,
"He's [Rodgers] really focused on doing something here, legacy-wise. I really appreciate that. Certainly, we're going to try to do everything we can to put guys around him to accomplish those things."
And with a class filled with talented wide receivers, this is the year to fill that need. 
"It is a deep class, but I don't think you can just count on things and wait and expect to get a really good player. So, if there's a guy we think can play and can help us, I don't think we'll wait too long."
This is the shit that makes me love Gute. He was a little slow to pull the trigger early for a wide receiver back in 2018, but he's learned his lesson and now he's ready to roll. That confidence and aggressiveness is exactly what the Packers usually-conservative organization needs at this very moment. Desperately. 
Let's not forget there was a point this past season where Rodgers' go-to (Adams obvi) was out for weeks thanks to turf toe, and the receiving corp consisted of Geronimo Allison, Marquez Valdes-Scantling, Jake Kumerow, Allen Lazard and on the TE front, Jimmy Graham. And let's definitely not forget the week leading up to the Raiders game when Adams, Allison, MVS, and Graham all missed practice and things were so bad the organization had to bring in Ryan Grant just to have someone out there. Fucking terrifying. Sure, Rodgers ended up having a perfect 158.3 day, but who could've seen that coming!
The week-to-week WR uncertainty has got to stop because, frankly, it's too stressful. So which one of these guys is gonna get the job done? 
Justin Jefferson -  LSU
It's possible that maybe, just maybe, JJ will still be on the board come the 30th pick. Unlikely, but possible. 
Realistically, he'll probably end up in San Fran or Denver, but this juke (and the 4 first half tds vs. OU) is enough to make a girl dream. 
I mean, Good LORD!
Denzel Mims - Baylor
Ok, ok, so Jefferson at 30 is a bit of a reach - just a smidge - but Denzel Mims is for real. I can't quite put my finger on it, but there's something about him that makes it easy for me to visual him teaming up with Adams.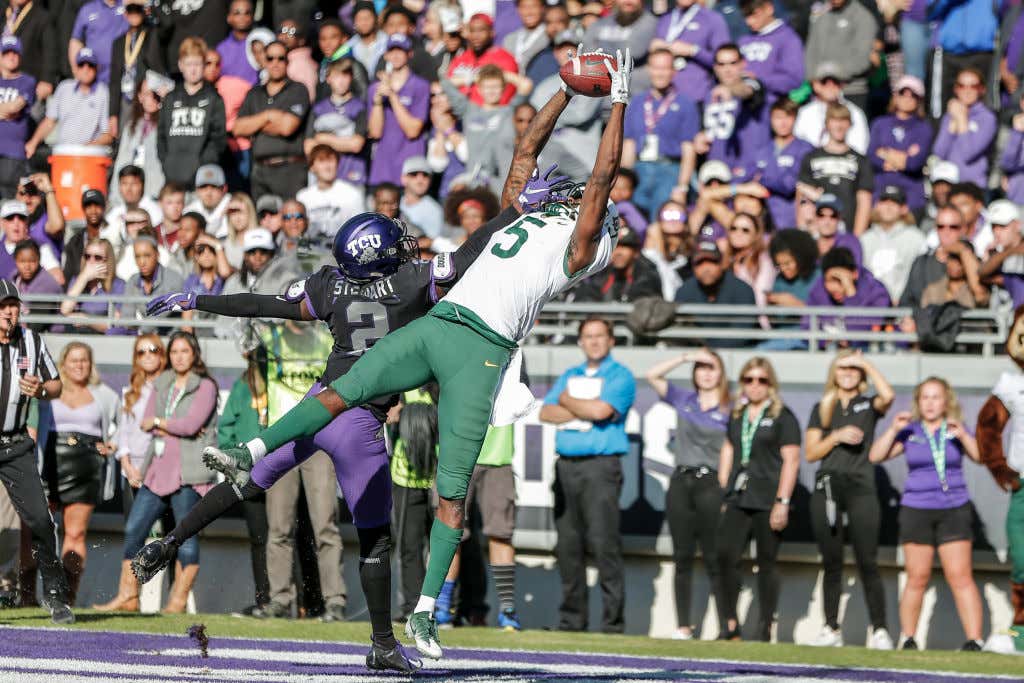 Maybe it's because he clocked the third-fastest 40 (4.38) amongst receivers at the combine, as well as the fastest WR cone time? (Lol, jk, you think their cone time matters that much to me? I'm a fan, not a scout.) Or maybe it's how he absolutely destroyed corners at the Senior Bowl by creating big-time separation? 
I don't know, but there's something special about Mims. And I have no doubt his small-town, Texas boy mentality would fit in perfectly in Green Bay, which is more than he can say about Philly…
"I've been to Philadelphia one time… The experience I had, I was very scared. I wasn't familiar with the whole city, and it was a lot going on. You see a lot of people that look scary. I'm not a part of that, I don't like that. So I mean, I had a bad experience, you could say, going up there for the first time. But I feel like if I just go there more, and I just get familiar with it, I could have a great time."
Brilliant, just brilliant! What do you do when a team is interested in you, but you have no interest in them? The correct answer is you talk to your daddy, Archie Manning. But if your father isn't a Manning, the next best thing to do is to gently insult their city. I like you, Denzel Mims.
Tee Higgins - Clemson
On paper, Higgins looks absolutely ridiculous. In his last two years, he averaged over 1000 yards and 12 touchdowns a season. He also tied the school record for most tds, joining a pretty impressive group of DeAndrew Hopkins and Sammy Watkins. He's 6'4", 216 pounds and people have said he reminds them of A.J. Green. 
People, not me. I don't see him as a game-changer. Yes, he's a pretty solid red zone target, but e's not particularly fast and he has a hard time getting separation. (Yes, I'm a bit of a separation whore. If ya can't create it at the college level, ya probably won't create it at the pro level.) 
Michael Pittman Jr. - USC
I'll be honest, Pittman is on here namely because Peter King is convinced the Packers are taking him. 
"Professional receiver. Most have him in the second round. But the Packers don't pick again till 62, and they see a solid but unspectacular disciplined route-runner and competitive 50-50-ball player."
At 6'4", 223 pounds he's a big, athletic target for Rodgers, but whatever King sees, I don't. There doesn't seem to be anything remarkable about him and it looks like it's going to be tough for him to create any real separation in the NFL. (See above Higgins note on separation.) You can have the hands, but if an opponent is always on your ass, what good is that?
Brandon Aiyuk - AZ State
This guy screams big-play potential. He could have a couple 40-50 yard plays and a couple of touchdowns to match… OR his mediocre hands could keep him relatively silent. Aiyuk may be the best after the catch receiver in the draft, but I'm clearly not as enthusiastic about Aiyuk as a lot of people are for one very specific reason: consistency. 
With Aaron Rodgers taking the snaps, I'm not necessarily interested in a guy who may have a big impact here or there; I'm looking for a guy he can trust on every single play, a guy who can consistently take the pressure off Davante. Yes, big plays are sexy and incredibly fun to watch, but the Packers don't have enough options at the position to pass over a player who could provide routine 6/7 yards gains in favor of a guy who might occasionally have a big game.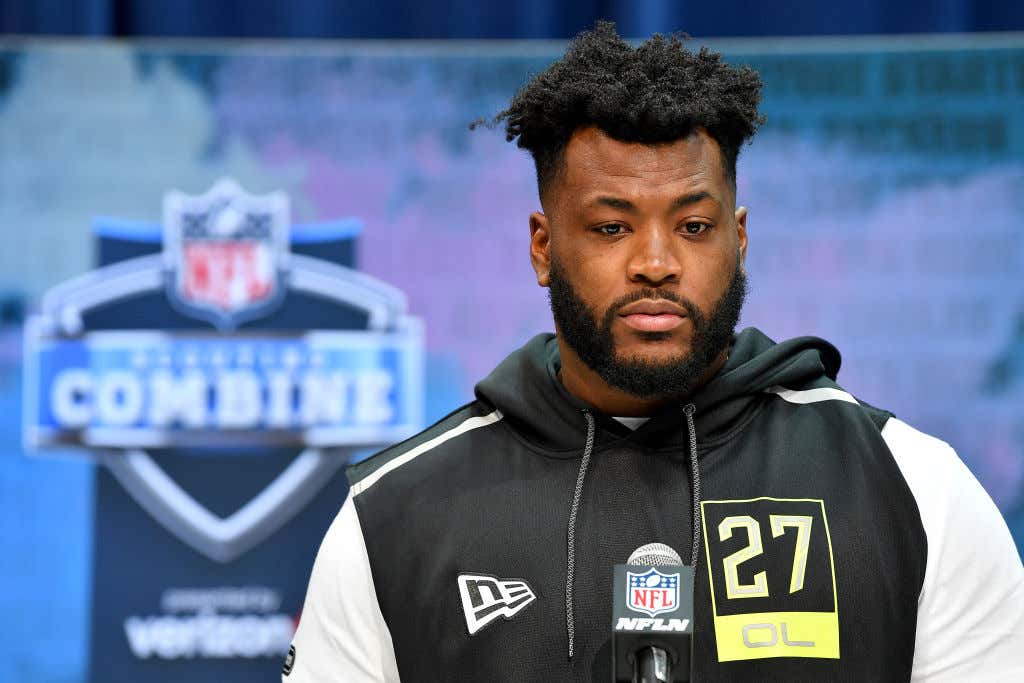 Let's be honest, Gute will probably end up taking a tackle the team also needs. And if that happens, he doesn't need to worry about his next move because it's already been signed and approved by his QB: 
This a best-case-scenario here. Screw potential and possibility and bring back Rodgers #1 guy. Jace Sternberger will give him his number back (he should have never had it to begin with - too soon), and together 12 and 87 will get the job done. 
#JordyBackToThePack