Jay Glazer Says He Has "Big Breaking National News" That He Will Reveal Tonight And We Already Have Our First Odell Beckham Trade Rumor Being Floated
If Jay Glazer says he has breaking news that is going to be national headlines around the country, I believe him yo. You don't become best friends in real life with Michael Strahan and fictional partners on a TV show with The Rock unless you are legit. Plus Jay would beat my fatass up if I called him a a liar. 
I think it's safe to say we can take Jay at his word after last offseason when he said his one bold prediction was that Odell Beckham Jr. would be traded, followed by everyone saying he was wrong, followed by Odell getting traded and Jay telling the entire internet to suck his dick in the kindest way possible once the deal went down.
Now I don't know if it was coincidence or not, but this #MooseBomb regarding a possible Odell trade dropped this morning on WFAN.
Mike Zimmer is reportedly looking to replace noted disgruntled receiver Stefon Diggs with Odell Beckham, huh?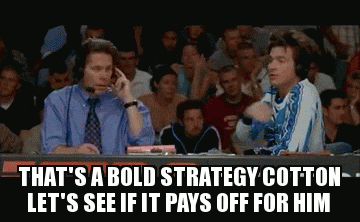 I'm not sure if Minnesota wants to make this deal, has the cap space to make this deal (if Kirk Cousins were smart, he would figure out a way to negotiate his zillion dollar contract to count as a $0 cap hit), or if this is all just a load of bullshit. What I do know is that there is no chance that Marc Malusis, who I love as a longtime FAN listener, is scooping Jay fucking Glazer with a massive NFL trade.
This report pretty much calls the #MOOSEBOMB a dud.
With this Glazer tweet pretty much killing any chance of Jay's news being a trade:
I started this blog before the tweet came out but had to jump on a call, hence why I thought it could be a transaction
So now what could Glazer's news be? A team is moving to London? The NFL season is being cancelled (PLEASE GOD NO)? Robert Kraft is going to buy the Mets (PLEASE GOD YES)? Based on the "Not news to be making fun of" it could have something to do with a player, owner, or coach's health or sexuality. I'm not sure the answer, but I know I'll be listening to whatever the hell Fox Football Now is tonight at 11 PM ET.
Also the #journos saying that Jay should break the news once he gets it should shut the fuck up. What's the point of breaking news if you can't promote whatever project you are working on? Have you ever heard the phrase "Knowledge is power"? Jay knows that's the case and is ready to slam an Ace down tonight while also promoting his show to a bunch of people that have nothing better to do with their lives than watch and wait for this national headline to break.
P.S. If by some chance this is a ruse by Jay to get eyeballs on his show, which I honestly don't think it is, he should be thrown in jail for a blatant breaking of Quarantine Ethics. We are a fragile nation right now and anything less than a gigantic trending topic will be terrible for our collective psyche and Jay Glazer's reputation.