100 Images From A Full Month At Pinehurst
On March 17th I packed my bags and fled New York City. The writing was on the wall: COVID-19 was taking over. So I pondered where the perfect place to be locked down might be. Spearmint Rhino wasn't open so I tried again. 
Pinehurst seemed like a great answer. Boy was I right. The following is a look at my past month in Pinehurst, North Carolina through 100 images.
1. If you've never been to Pinehurst, this is a great look at how the clubhouse serves as a hub for seemingly infinite golf. Here's all that after an evening storm.
2. The first golf I played, Pinehurst No. 1; the 18th green in morning fog as I walked to the 1st tee. 
3. Here's Pinehurst No. 2 from the air. The flagship course features an old school and genius architectural characteristic: tee boxes in very close proximity to greens. Here you see 1 green beside 2 tee (top left), 7 green next to 8 tee (middle right), and 16 green beside 17 tee (middle left). 
4. The 7th fairway at Pinehurst No. 4. If you look closely you can see my pushcart heading away from said fairway. 
5. Putter Boy sits alone on the typically packed putting green at dusk. 
6.Pinehurst No. 1, somewhere on the front nine.
7. Pinehurst No. 1 from the sky. 
8. 18th tee at Pinehurst No. 2. 
9. 18th green at Pinehurst No. 4 at sunset.
10. The 6th green at Pinehurst No. 4 overlooking 13 fairway (short of the pond) and 14 green (across the pond). 
11. Same general spot on Pinehurst No. 4 but from the air. 
12. My favorite spot on Pinehurst No. 2, the 13th green overlooking the shared waste area between 13 fairway (right) and 14 fairway (left). 
13. Another cool intersection at Pinehurst No. 2. If I don't detail which holes these are, it means I forgot.
14. This is what's behind all these shots.
15. The 7th green at Pinehurst No. 2. An evening storm created this awesome twilight sky.
16. The Cradle, from above the 1st tee, as I meander aimlessly with really no purpose at all. 
17. The crowd moans as yet another putt misses low in front of a low afternoon sun on 12 green at Pinehurst No. 2.
18. Putter Boy during the day. Flowers poppin' in the background. 
19. Opening for business in 1901, and typically buzzing with life this time of year, the Carolina Hotel has been closed for weeks due to COVID-19. 
20. The entrance to the Carolina guarded by benches and "closed" signs. 
21. The view down Carolina Vista Drive making the short trek from the Carolina Hotel to the Pinehurst Clubhouse.
22. Me, alone in my golf cart, making said trek. 
23. An empty, quiet Carolina Hotel with one less lonely Riggs (shoutout Biebs). 
24. The driveway taking you up to the Pinehurst Clubhouse. An anticipatory drive if there ever was one. 
25. The Pinehurst Brewing Co. on a sunny, 72-degree afternoon, is completely empty. Closed except for takeout.
26. Arriving at the Pinehurst Clubhouse.
27. 17th green on No. 2. Did portrait mode do it again or did portrait mode do it again. 
Notice: This was day 2 of the trip; things were significantly more brown than more recent shots.
28. Just me and Putter Boy, my first night at Pinehurst.
29. It's the little things. I'm a HUGE fan of the pins & flags at No. 2, so I shoot them a lot. Get used to it. 
30. Cool droner showing four holes: No. 2's 14th (far left) and 13th (middle left) holes and No. 4's 1st (middle right) and 18th (far right) holes. The little boomerang green at the bottom is the No. 4 course's practice green.
31. 18th green on No. 2 with Payne in the background.
32. Now Payne's view.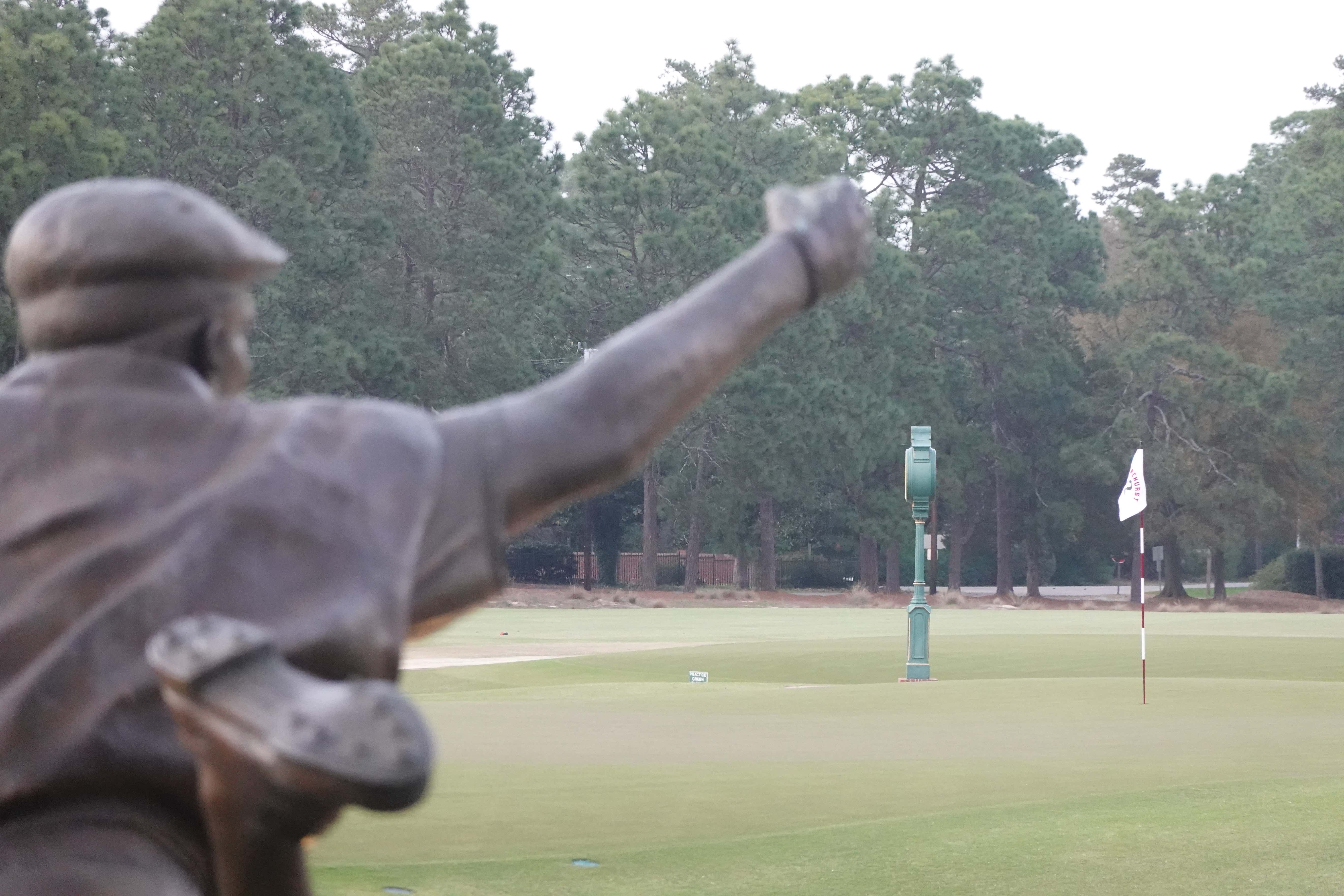 33. Walking alone up the 18th fairway on No. 2. 
34. Who remembers this spot?
35. That was the 13th green on No, 2, again. Now, from the 8th tee box on No. 2, you can see the flags on both 16 and 17. 
36. It's the little things, and I think Pinehurst may do them better than anywhere else. The tees, from a course which I'll make you guess, are exquisite.
37. Here is a photo of a man filming himself playing golf. 
38. It's the little things. Pinehurst also nails the scorecards.
39. Here on the Thistle Due, Pinehurst's 18-hole putting course, each tee welcomes you with 2 logo'd cup holders. 
40. Pinehurst's general tees.
41. The 10th at Pinehurst No. 6, an oft overlooked track. 
42. 18th on No. 6 — They have nine and a half golf courses!
43. The No. 2 tees. Fire. Flames.
44. Shoutout to our friends at the Veterans Golf Association (VGA). Fantastic work they're doing for veterans who love golf and for both veterans and golf in general. Check them out!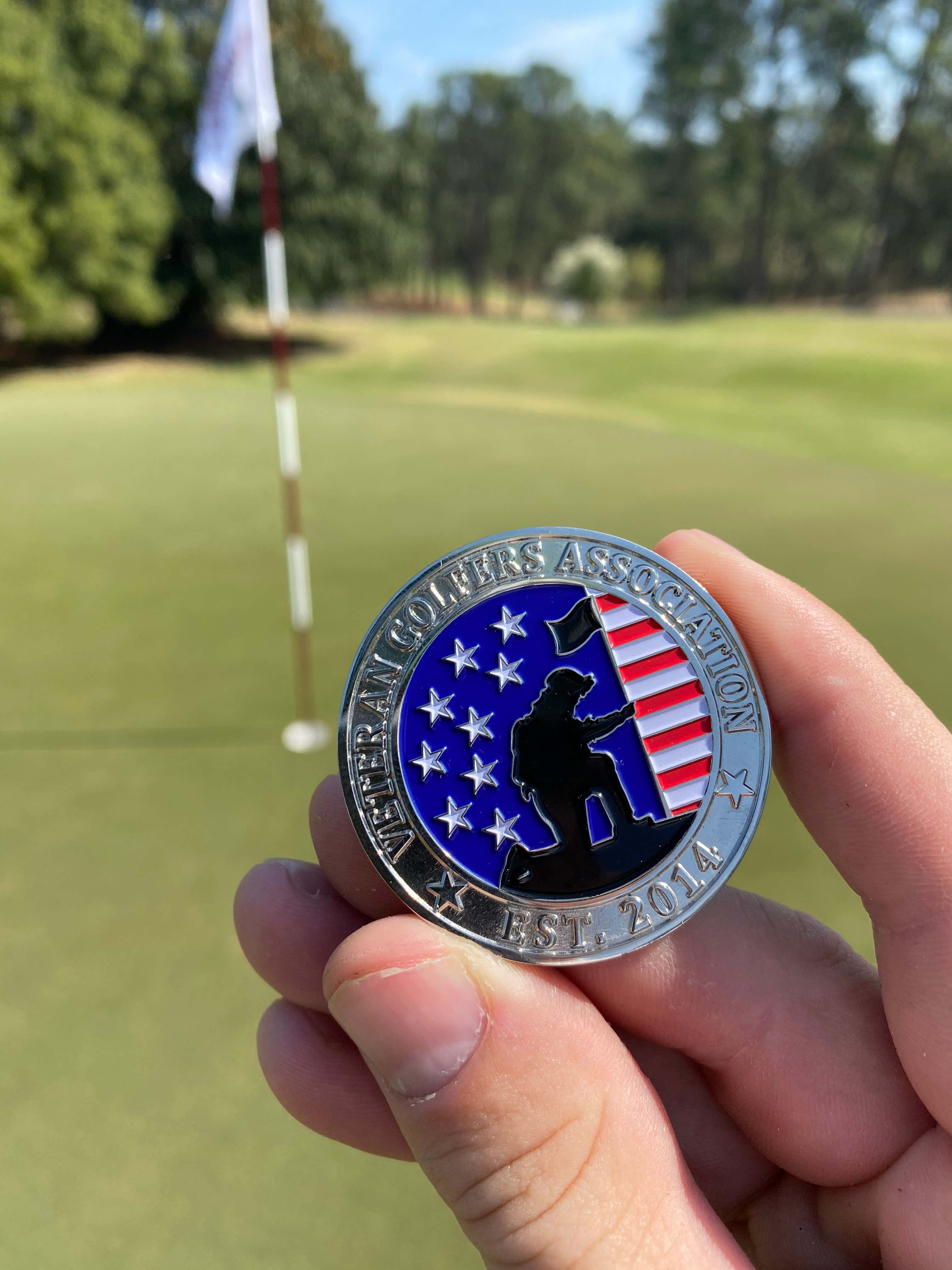 45. Had to try the transfusion here (8.7). This one on the 6th tee of No. 4.
46. The 4th green on No. 4. Them white dogwoods tho. 
47. I love these rugged walking paths. This takes you from the tee to the fairway on 5 at No. 4. 
48. It's the little things. The tee signs/huts on every course are sweet, but especially on No. 2. 
49. A train rolls by the 1st green of the Cradle. If you didn't know now you know. I LOVE trains. Dad and I used to build an electric toy train throughout the basement as a kid. Don't think I've ever found something as thrilling. 
50. Delicious. Refreshing. Has alcohol. I love you. 
51. A quiet Pinehurst Village with Pinehurst Resort's infinite golf in the distance. 
52. Pinehurst did an incredible thing a few weeks ago. They offered up dozens of special "items" for auction to raise money for the hundreds of employees who lost their jobs due to the COVID-19 closings. Stoolies helped a bunch, donating more than $50,000 to the cause, and Pinehurst raised about $300K total. Awesome. 
53. A man films himself golfing on the 4th hole of Pinehurst No. 2. 
54. 15th green, No 2. As you can probably tell, I'm often the last person off late in the day and sprint around No. 2. It's as spiritual as it sounds. 
55. 4 holes intersecting at No. 2: The 2nd green (bottom right), 5th green (bottom left), 4th tee (top left), and 6th tee (top right). 
56. Believe it or not, if you go just a fraction long on the 3rd hole of No. 2 you can end up here. Bad spot. Confirmed. 
57. The stars here a bit clearer than the stars in NYC.
58. Courses No. 3 & 5 sit across the road. Golf really is everywhere 'round here. 
59. The 1st and 2nd greens at Pinehurst No. 3. Under 5,200 yards from the tips, this 1910 Donald Ross original will eat your lunch thanks to the greens. Very fun cou
60. Empty Adirondack chairs overlooking the 3rd green at the Cradle. This area's typically bustling late in the day with sauced up golfers chirping other sauced up golfers.
61. The sign greeting players at the Cradle at dusk.
62. Walking down the 16th fairway of No. 2, you get your first glimpse through the trees of the clubhouse and what awaits you on 18. 
63. I mean are these MacKenzie Sunday bags serious? Yes they are like 600 bucks and yes I will absolutely purchase one before this is all over. 
64. It's the little things. Each course has these signs as you approach the first tee denoting which course you're playing. Simplicity is king.
65. The AWESOME approach on the reachable par-5 2nd hole on No. 4. 
66. Another reachable par-5, the 9th is Gil Hanse's "great hazard" template. Just a huge, wasty, sandy area across the middle of the fairway roughly 300 yards out from the tee. This view is from the 10th tee looking back down the 9th hole.
67. The Punch Bowl 3rd hole on the Cradle is probably the course's most fun. Lots of ways to play the 50-60 yard tee shot, and balls rolling back towards the pins off the bowl generate serious buzz among the spectators grabbing drinks at the Pinecone above.
68. It's the little things. I'd venture you can guess which course features these benches.
69. Nice. This aerial shows the 18th green (middle) and 1st tee (right) of No. 2. You can also see to the left how the Thistle Due putting green and Cradle work to complete the landscape surrounding the clubhouse. Such an iconic scene all around.
70. The classic Donald Ross crowned greens on No. 2. You get a good peek at this (the 18th green) as you make your way from the range to the 1st tee. You find out quickly what awaits you out there.
71. A view of 2 green on No. 4 from behind. Look at all the humps and bumps that make this one tricky. Most can get it near this green with 2 good shots; then the battle starts. 
72. Here you can see 4 different flags in one shot on No. 4. I believe this is 8 green (main flag), then the 5th green (next farther back, right of the tree), then the 6th green (just between the tree and the main flag), then the 12th green (off in the distance left). 
73. From the 1st green on No. 4 you can see clearly back to the clubhouse and down 18 fairway. Love how despite seeing golf EVERYWHERE, and feeling a bit chaotic, you can peer through the trees and still orient yourself.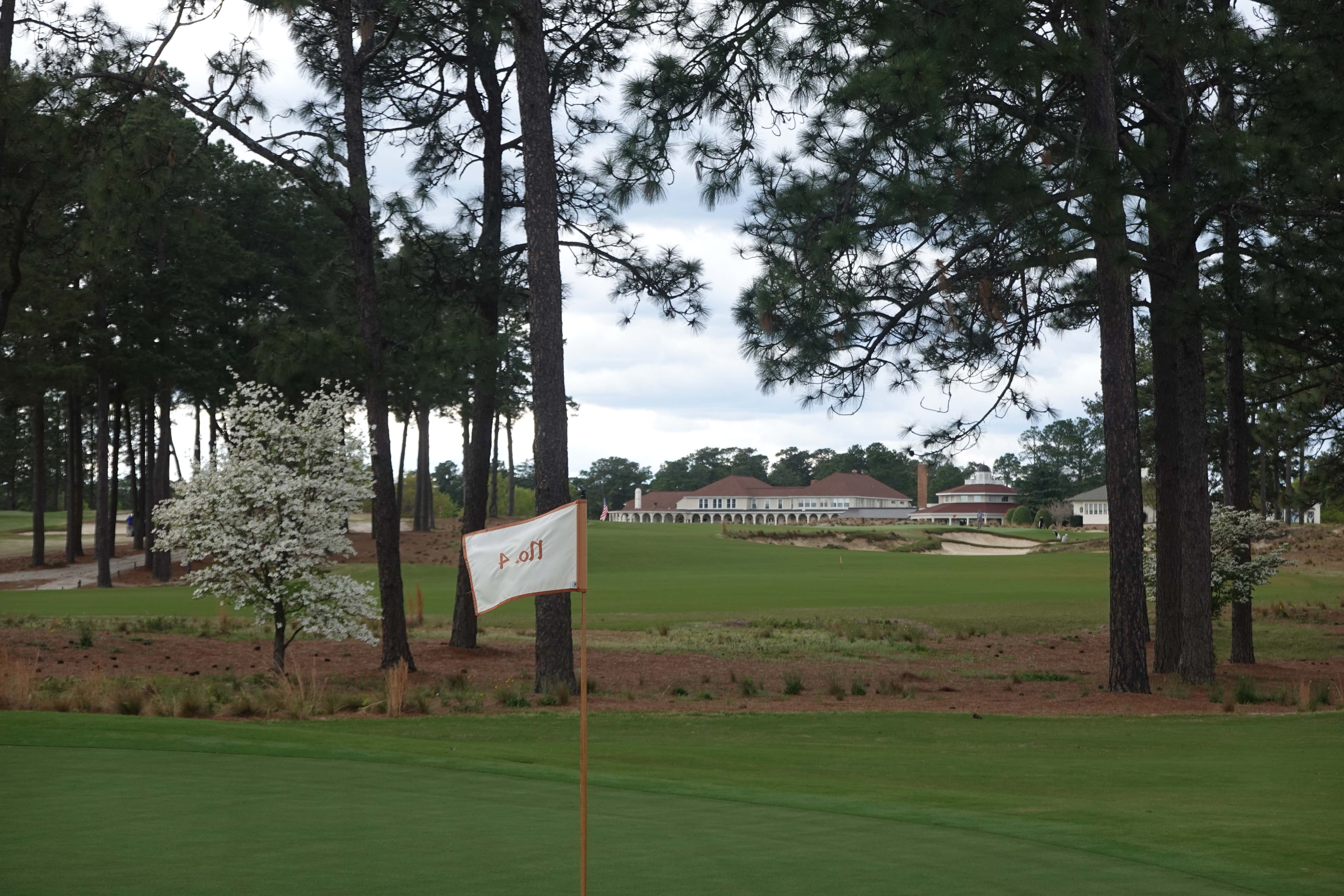 74. I've hit a lot of bad shots on camera, so this rare good one has to be posted. Going live on 18 tee needing par or better to break 85 on No. 2 and win my over/under bets with a handful of Stoolies, I canned this one for birdie to post 83. Imagine posting 83 and reacting like you won the U.S. Open. 
75. Conversely, the tracer captured this one sailing violently into the trees right of 1 tee on No. 2. Narrator: "He did not win this over/under."
76. Snuck over one day to Pine Needles. Donald Ross track 10 minutes down the road. Solid. Real solid. This is the 4th hole. Stunning how much good golf is in such close proximity. 
77. Oh and drove over to a little place called the White House one day. Met the Vice President of the United States of America and interviewed his chief of staff. Would've been real cool to have a suit but when I was packing a month ago I didn't consider a White House trip in the itinerary. Looking back that was a mistake.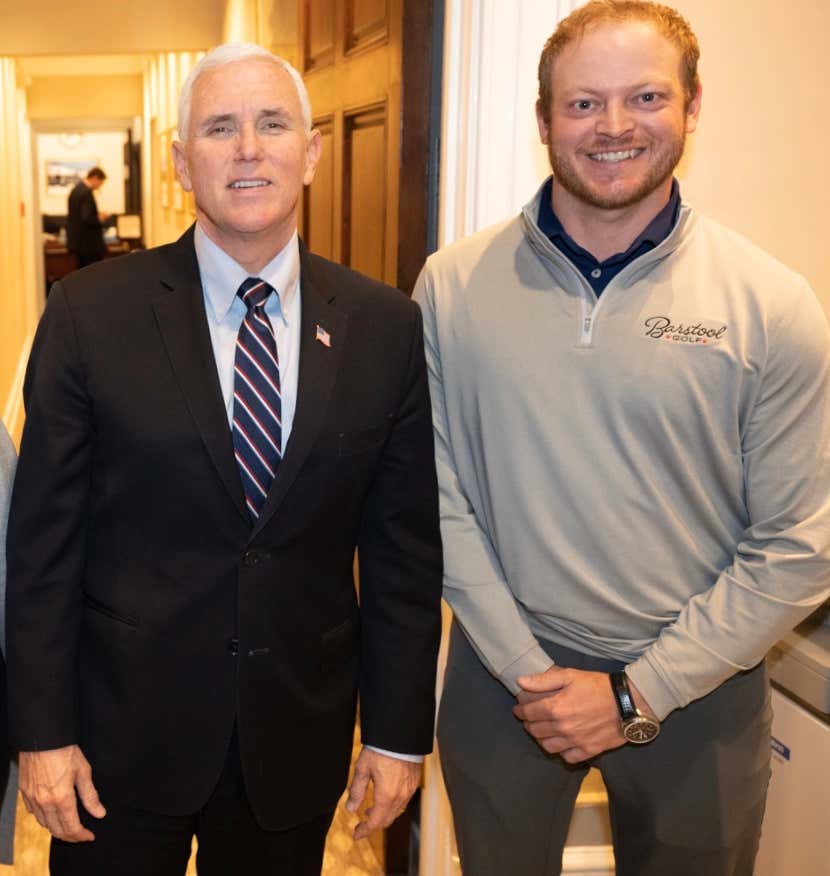 78. Trees.
79. This hat's off the charts. 10/10. Had to post.
80. Amid all this, I've created an online nemesis in 6-time major winner and lead CBS analyst, Sir Nick Faldo. He just woke up one morning and decided he was going to roast Briggs every day.
Who's Briggs?
I'm Briggs. 
81. Also been Zooming like everyone else in the world. Always nice catching up with the boys. Also have gotten to catch up with country megastar Jake Owen...
82. And 25th-ranked golfer in the world Matthew Fitzpatrick... 
83. And some mean guy on twitter who won one golf tournament one time, Max Homa... 
84. And PGA of America CEO Seth Waugh...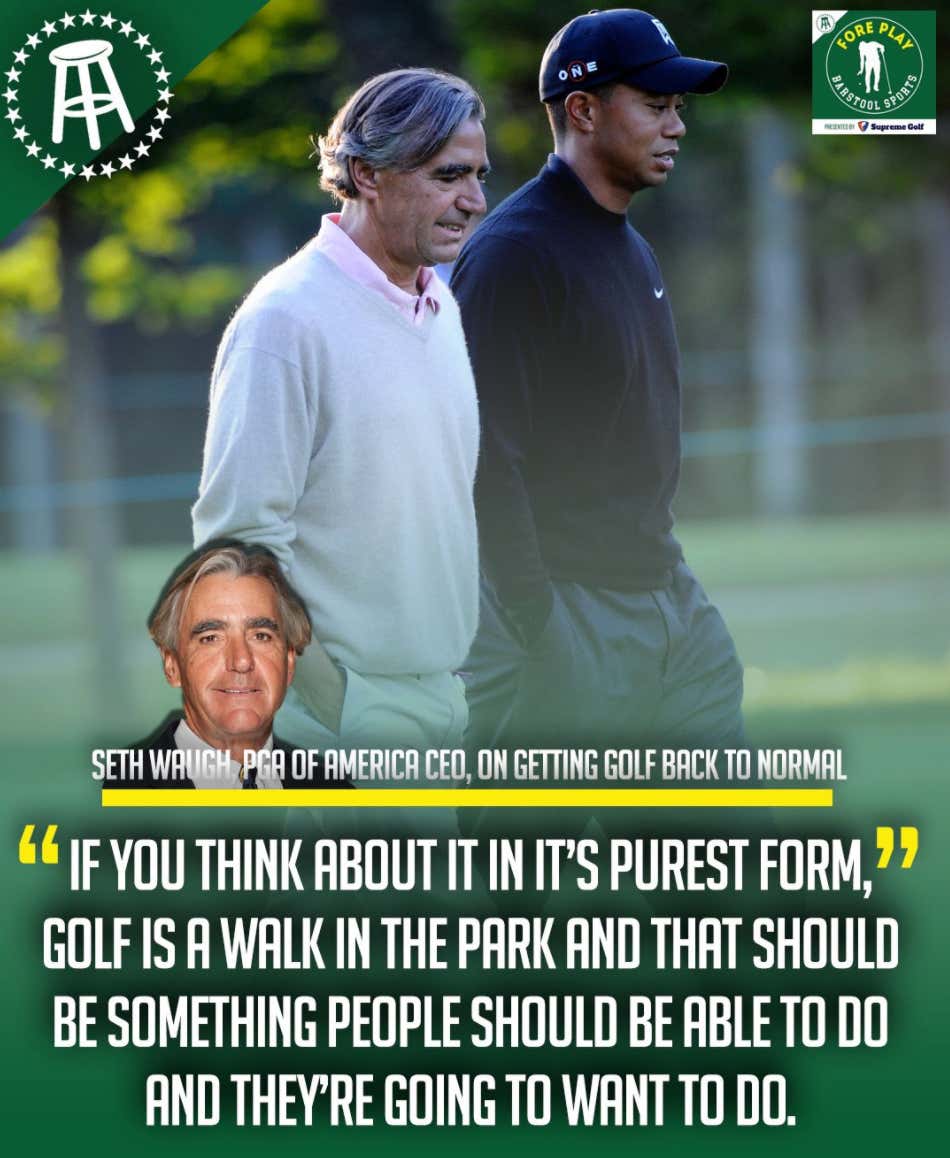 85. And 'Canes defenseman Brady Skjei...
86. Back to golf. Also snuck over to Dormie Club one day. Coore/Crenshaw. They never miss.
87. Another from Dormie. Best gu
88. Another from Pine Needles.
89. Pinehurst No. 7. This is the 18th hole as you stand on the putting green.
90. The first green on No. 2, looking back towards the clubhouse. 
91. The 4th tee on No. 2.
92. View of the back of the 8th green on No. 2 from the 9th tee box. Long is death. Left (to your right from here) is death. This is a really good look at what makes Pinehurst No. 2 Pinehurst No. 2, at the famous nature of Donald Ross' crowned greens.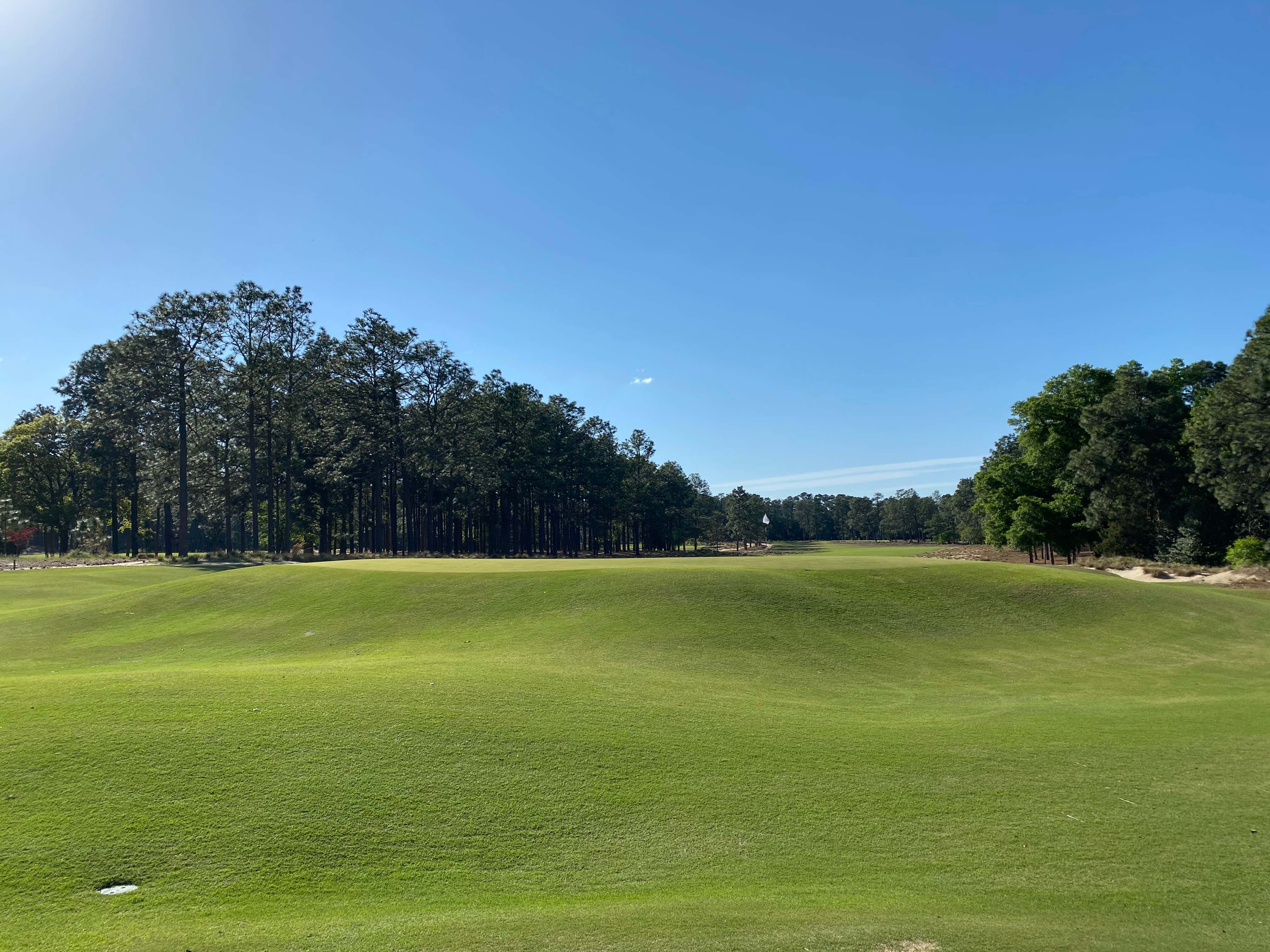 93. Look just to your right and this is what you face on 9 — about 185 yards to that back left pin from the blues. Got maybe the size of an ironing board to land it on to keep it on the proper shelf. God speed.
94. Went over to True Spec at Pine Needles the other morning to check out the fitting experience. Here is Ryne reacting to the breakdown of my putting stroke like he just found out his dog died.
95. The pins and flags on No. 4 are all world as well. This looking down over 13 (many people's favorite hole) from the 6th green.
96. The girlfriend (who's a heroic nurse, everyone clap for them right now please) drove down when she had several days between shifts. Played her first 9 holes ever on the Cradle. The beauty of it is literally anyone can play and have fun.
97. Pinehurst Brewing Company. 
98. Pinehurst village droner.
99. Times are tough for millions, if not billions, right now, and Pinehurst is no different. But the world will get through this, places all over the world will return to glory, and a place like Pinehurst will be popping again, as it more is here. 
100. Thanks for following along. Stay safe everyone.