10 Cups For A Title: The Ballina-Cup Semifinal Recap and TONIGHT'S Championship Preview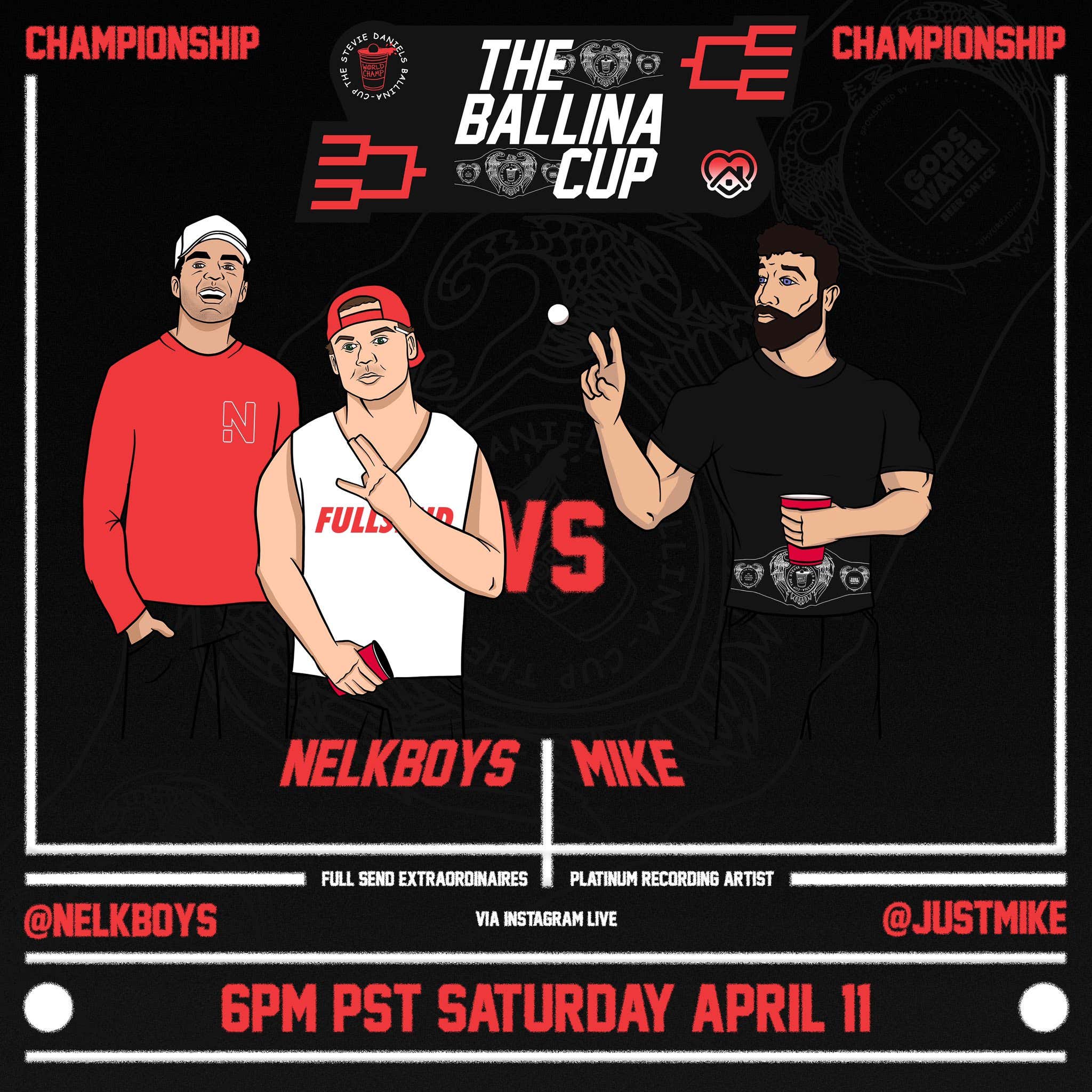 Make sure you follow @theballinacup on Twitter and Instagram for live updates for the rest of the tournament. 
Initially, there were 23,000+ brackets entered at the beginning of the tournament. With one match left, the front of the pack has separated themselves. There is a 16-way tie heading into tonight's final between: Chris, Lex, Swivz, NewMoney, Evan E, Kevin, Cole, Allix, Ngann, Ryan Chase, Dan Cratty, Cole, Kyle Lueck, Brooke, Colin Cunningham, and Marley Guzdek. Congrats to all of you, and may the best beer pong bracket extraordinaire win.
**REMINDER: All brackets must have been submitted BEFORE the first game on April 3 at 9 PM PST. Any bracket that was submitted after was disqualified.**
Two teams. One dream. That's what we have here tonight when a Ballina-Cup Champion will be crowned. It was an action-packed semifinal round, so let's refresh a little bit before the title match preview: 
Semifinal Recap
Nelk Boys def. Trevor Bauer (2-1)
The match started off with Trevor Bauer continuing his mind games. With the virtual beer pong experience, it's impossible to do "eye-for-eye," so the opponents went with Rock-Paper-Scissors. Bauer won this after getting his opponent to tell him he was throwing scissors, and that was that. It was the Reds pitcher and Pardon My Take recurring guest who won Game One, but the Nelk Boys evened things up in Game Two. They then took that momentum into the final game and held off Bauer to clinch their spot in the title game:
Mike def. Danny Amendola (2-0)
The commissioner made some pregame comments that included his lack of sexual activity for the duration of the tournament and that his opponent, a Super Bowl Champion, was much better-looking than him. But according to Mike, "Sexy doesn't win championships." Well, they may win Lombardi Trophies, but they clearly don't get you a Ballina-Cup title. Mike was not messing around in this match, as he swept Amendola to earn the final spot in the title game of his own tournament (definitely not rigged!). So, the semifinal round was not one for the athletes to remember, as both Bauer and Amendola were bounced. 
Championship Matchup
Saturday, April 11, 6:00 PM PST: Nelk Boys vs. Mike
As we have mentioned in previous blogs breaking down this tournament, Mike is going to once again be the heavy favorite in the title match tonight. He has a perfect record, literally. Six games, six wins, three sweeps to make it here. As for the Nelk Boys, they certainly aren't afraid to talk trash, but to their credit, they have backed it up to be within one game of a championship as well. So, that has led us to this: a best-of-three beer pong match for the Ballina-Cup Championship. Hope you can join us later tonight.