"When You Live In The Doghouse, What's The Worst They Can Do? Put You In A Smaller Doghouse?"
Whenever I get a notification from any one of my bosses, I know it's probably bad. They only ever text me if I mess something up. A mistyped title, stolen photo, lack of tik tok ideas, etc etc. Not that I expect them to be my friends but a simple "hey how ya doing Ethan" from time to time would be a nice change of pace. I guess that's my own fault.
This, however, was a rather humbling text exchange, I won't lie.
Then again I never lie. When Dave asked me how many blogs I had written over the holiday break back in December/January, I gave it to him straight, he fired me. Sure, I was able to work out an arrangement to still blog and go into the office but that's beside the point. Still, a tough look after you have this DM convo with Big Cat.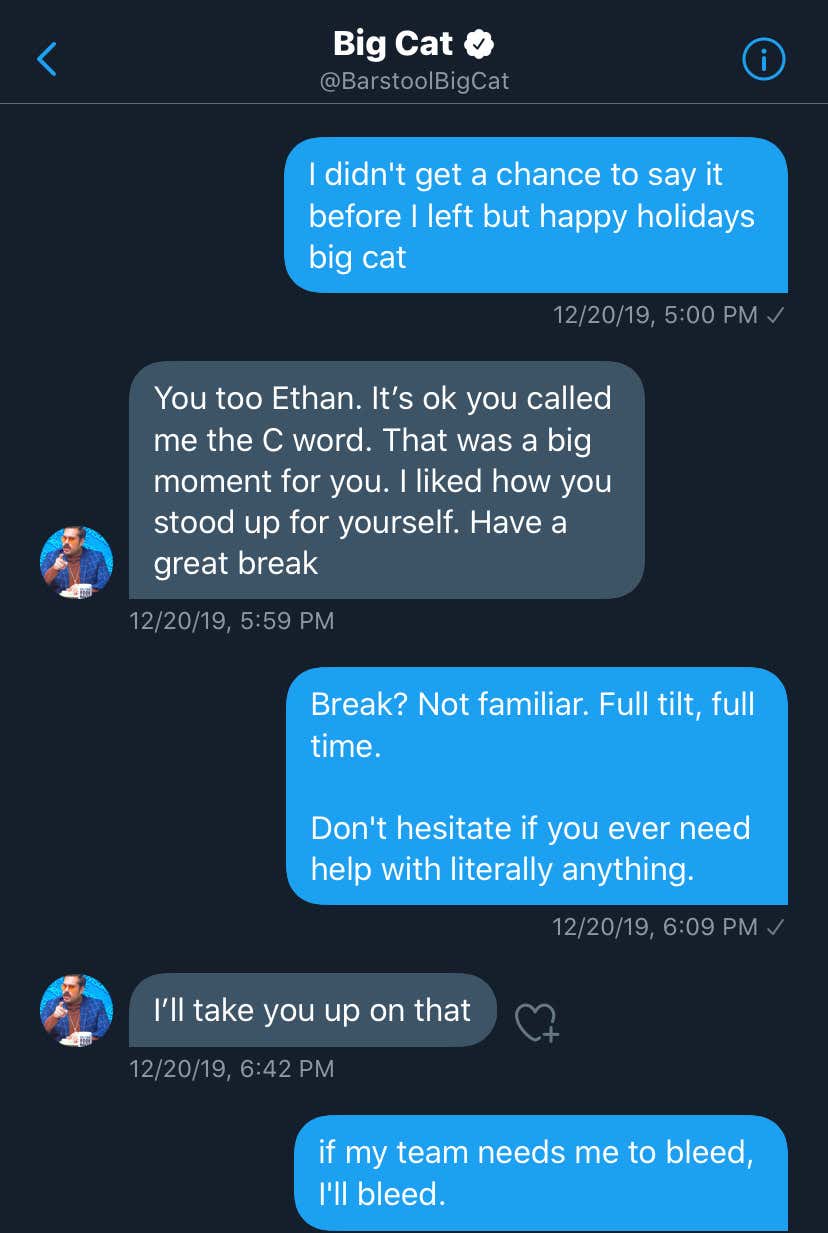 After that exchange with Dave following the break, I was putting up better blog numbers than before, trying to earn a seat at the proverbial table. Dave even got to the point where he was "considering" paying me again. Huge. I was on the right track but then this whole quarantine thing happened and for some reason, I'm not as productive at home.
Being the truthful guy I am, I have no problem admitting to you guys that I've been slipping. My numbers have taken a bit of a nosedive since I've been at home. I got complacent.
Thankfully I have gotten a plethora of chances from my bosses. They believe in me. This tweet was a real eye-opener. They obviously see something or else I'd be back at American Eagle slinging denim again. It made me realize that I'm disappointing them and I hate disappointing people. 
So here I am writing this blog to tell you guys that Honest Ethan will certainly make things right. I don't lie. Never have, never will. This whole thing made realize that I have to do more. Getting complacent was the exact opposite direction I should be going. It doesn't matter if I'm getting paid or not. So I will be blogging more than ever to make up for my mistakes. 
A wise man once said "When you live in the doghouse, what's the worst they can do? Put you in a smaller doghouse?". Those words have never been more true than they are right now. Now it's time to see how I do with my back against the wall.
You can't kill a dead man.