Pardon My Take Asks Scott Van Pelt the Golden Quarantine Question: When Are Sports Coming Back?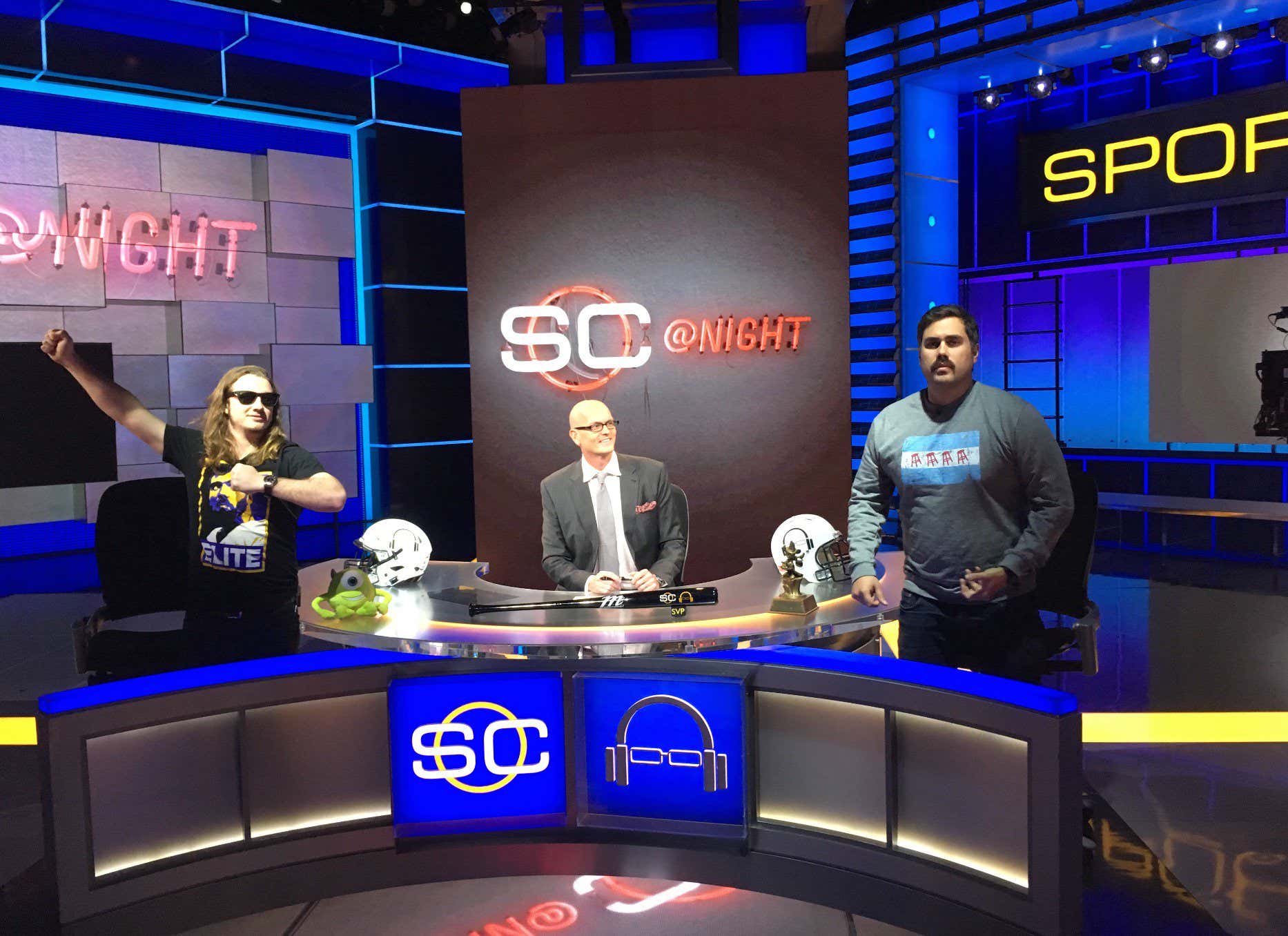 It's Wednesday, which means another fantastic mid-week edition of Pardon My Take is available. Mr. Cat and Mr. Commenter welcomed recurring guest and ESPN SportsCenter host Scott Van Pelt to the show to discuss a myriad of topics: what March Madness would have looked like, Stanford Steve, The Masters, and more. But aside from all that, Mr. Cat and Mr. Commenter asked SVP one of the top questions on every sports fan's mind: when are sports coming back? (Spoiler alert: he has no idea. Nobody does.)
Mr. Cat: Where are you at mentally, and also, just when do you think sports are going to be back? Because we've dark days, we've had light days, I had a day where I canceled everything until 2022. Now I'm thinking, oooohhh, June's gonna be popping. Where are you at with that?
SVP: I'm like you, it's a roller coaster. I always say I'm optimistic because it costs the same, but I told Jeff Passan the other day, that's true, but I can't find the money to pay for optimism right now. I mean, it's the whole "Testing, and we've got to get tested, and we need a vaccine, but the vaccine won't be here until God knows when. And then, can we test? Who do we test? More people that are sick need to test... Well, we shouldn't waste it on a bunch of athletes." True, I agree with that. But the new baseball thing that broke on Monday night with Passan on out show, the idea of games: cool. But think about this, fellas, honestly. It's exciting to say "WE'RE BACK! SPORTS ARE BACK!" Well, like two days into baseball with stadiums you don't know where they are, with no fans in the stands and guys sitting eight feet apart in the bleachers, people are going to go like, "This blows! I don't like this."
Mr. Commenter: It's going to be great for foul ball guy, though. He's going to clean up in terms of the home runs that he catches.
Mr. Cat: Well, at least we can complain about it. We need something to complain about. 
Mr. Commenter: Now, what if they do bring back, let's say like, the NBA, MLB comes back, all the golf tournaments start being played, like, early August. Is there going to be enough hours in the day to cover every single sport that's out there?  
SVP: No, no. But but who will care? Because it's just that the orgy of sports will be such that people will just like, just gluttony, just grabbing for whatever you care about and like. No, the stuff will get ignored. Amazing things will happen and no one will even know, because they'll be obsessed about the thing that they're most interested in. But I don't even know if that's going to happen. And I mean, the thing about doing SportsCenter every day is I keep pushing back against this fear that I'm going to be having on guests asking some version of, "Hey Jeff Passan, Hey Woj, Hey Adam Schefter, when are we going to have sports?" They don't fucking know! So, I don't want to put people in a position to ask questions they don't have a clue about. And yet, we all kind of want to know, is there anybody giving you any indication of what's going to have to happen for us to play? And it seems like everything comes back to, well, "We have to have all these tests." Well, when does that happen? Does anyone know? 
Mr. Cat: Well, okay. So, here's why you should keep asking that. And that's why I asked you when you think sports would be back. It's like the old fashioned, when you're a kid, and mom says no, so then you go ask dad. If you ask enough people, when is sports coming back? Someone will say, like tomorrow. And I'm like, fuck, yes, let's go.
Just thinking of the hypothetical of the "sports orgy" SVP hinted at that we could potentially get this fall is amazing to ponder. And he brought up a great point, where amazing things could be happening on a weekend in November, yet it wouldn't get as much attention as if it were to occur during a normal sports calendar. Tom Brady moves the Bucs to 10-0? Well, that's at the end of the rundown of the show, because Tiger won back-to-back Masters Tournaments, the Yankees won the World Series, and Spiral Ham just won the Triple Crown. 
Could this all become reality? Who knows. Of course, the health of everybody is the most important thing at stake here. Should things trend up on that end and the curve gets flattened, then we can hopefully get our sports back sooner rather than later.