It's Pretty Crazy To Think Of All That Could Change In The NBA Based On How They Finish This Season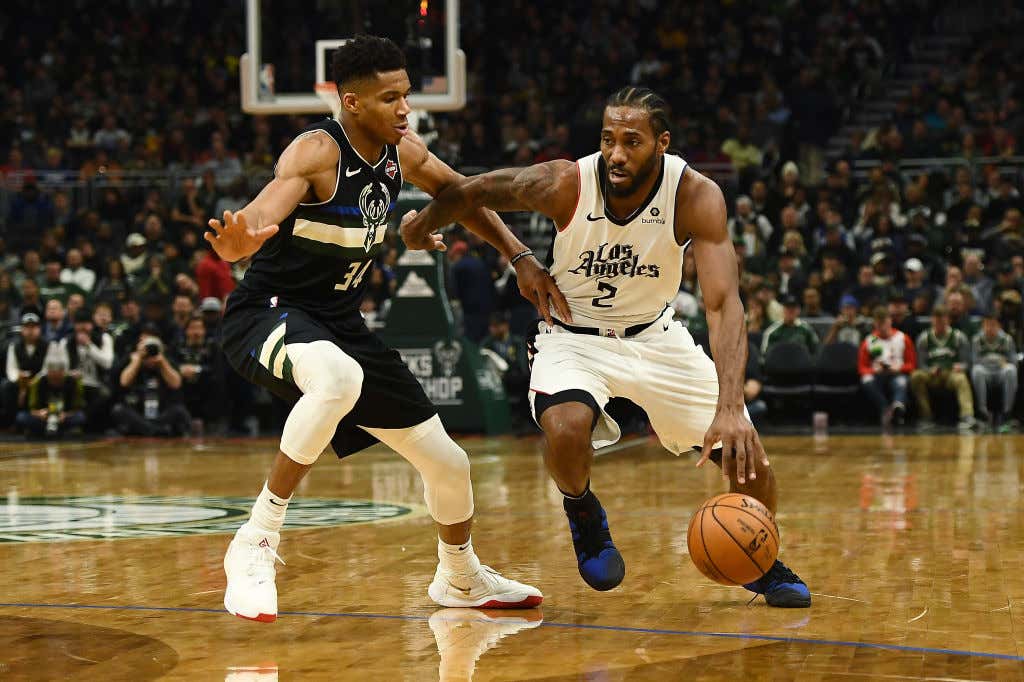 I feel like I'm not alone when I say that I don't care what the plan ends up being if it gives us basketball again. Shortened playoffs, a weird tournament in Vegas, doesn't matter to me. Just give me something. But then I started to think about all the ripple effects that might happen based on what the ultimate decision is and honestly it's pretty crazy. So many teams have a ton on the line in this all important postseason when it come to the future of their franchise. Players have decisions to make about their options in what is going to be a down free agent market and most likely a lower salary cap so that's going to impact things as well in terms of what a team can do moving forward. With so much on the line this is probably why you hear everyone talking about how no matter what they have to find a way to finish the season. Allow me to explain, we'll start with the players
Player Options
Here are some of the names of big time free agents that hold a player option for this summer
Gordon Hayward - $31M
DeMar DeRozan - $27.8M
Otto Porter Jr - $26.8M
Anthony Davis - $25M
Andre Drummond - $25M
Evan Fournier - $17M
Kelly Olynyk - $12M
I think of that list, really the only lock you can assume is AD staying in LA. But there are some serious questions about the other guys on this list. For example, no way Hayward gets that $31M on the open market this summer and this is coming from someone who is clearly a Hayward stan. Ideally, he takes a longer term extension for a lower number, but I think that's wishful thinking. Let's say there is a weird playoff format and the Celts get bounced early and Hayward struggles, would that potentially make the team hesitant for any sort of long term deal? If that's the case, knowing he's going to opt in, do they try and trade him later this summer?
The there's DeRozan. Rumors are swirling that he hates his life in SA and frankly they haven't been all that great without him. Reports suggest that if he's not going to get a max offer from them then he'll turn down his player extension. But what is his market? Can he get that same $27M per from someone else? The teams that are going to have max space aren't really all that good outside of MIA, but they don't need a SF. I guess someone like DET could be in on DeRozan or maybe CHA/NYK. If you're SA and you want to start your rebuild, that's going to be tough if someone like DeRozan just says fuck it and opts into that player option because of the free agent landscape. If he opts out, do they then move LaMarcus Aldridge as well? 
If you're the Bulls, are you down if Porter Jr opts in? I mean you aren't exactly going anywhere so you may as well just turn the team over to Lauri/LaVine/White. But he's another guy that most likely won't see that type of money on the market seeing as how he's played just 29 games in two years in a summer where teams are going to have to live with a lower cap. That's a kick to the dick potentially in their rebuild.
Team Decisions
There are a few teams out there that are staring at some pretty some tough decisions. Say you're the Sixers. It doesn't take a rocket scientist to know their head coach is their weakest link. Well, what if the season is just flat out cancelled or there's a weird tournament and the Sixers get bounced early. Does that mean ownership would give Brett Brown a mulligan and allow him to still be the coach which is clearly holding them back? Or what if they go on a deepish run in this weird playoff format but don't win the title, does that keep his job safe where maybe if it was a traditional format they would lose early and they have the same problems we saw this year next season? As a Sixers fan, would you want someone like Brown or maybe Kenny Atkinson? Depending on how this all plays out, maybe Sixers ownership decide to do nothing.
Same shit with the Rockets. Their window to win is right now, and it's a big prove it year for D'Antoni. If there's no season/playoffs, what's the deal with him? If the Rockets don't have to play full series in order to win a title, maybe that actually helps them and he saves his job. If not, well he's the hottest coach on the market that could maybe end up in BKN or some shit seeing as how they want a big name head coach. 
Everything about Giannis
I know 2021 is still a little ways away, but you could argue no player/team has more pressure on them this year than the Bucks. After having a historic season last year and ultimately choking big time in the ECF, they were right back at it this year. Another historic season, no LeBron or Kawhi in the conference, this was the year MIL was going to break through and ultimately show Giannis that he can win in MIL right? Well let's say he loses his chance to go on that run this year and then the Bucks don't win next year. What are the chances he stays? I still think pretty good since it's hard to pass up supermax money, but every team in the league is going to be after him, and after 3 straight years of not getting over the hump, maybe he starts to look elsewhere.
The clock is ticking on the Clippers
I think one of the biggest losers of this whole ordeal might end up being the Clippers. A cancelled or shortened/weird playoffs could prove to be pretty costly. Remember, they pretty much didn't give a shit about the regular season because everything is all about the playoffs. Well what if there are no playoffs? You can't forget that both Kawhi and Paul George have player options after next season. If they end up having to waste a valuable year because of this whole ordeal, who is to say they end up staying long term if next season isn't a deep playoff run? This year is by far one of their best chances, especially if they aren't going to pay Harrell moving forward. Now you're potentially adding one or two HUGE names to the 2021 free agent list and everything the Clippers gave up in order to bring those guys in immediately blows up in their face. Someone who swings and misses on Giannis could end up with one of those two as a consolation prize. What if that team is someone like MIA or TOR? That could change the balance of power in the East in an instant. 
I know this is a whole lot of "what if", but that's all we have right now. That's why it's so important that the league finds some sort of way to finish things up and it's going to be fascinating to see how whatever conclusion they arrive at impacts how teams make decisions moving forward. No matter what you thought might have happened before hiatus, the reality of the situation is things are going to be different. Teams and players are going to have to think differently in this new reality, and oh yeah none of it might even matter because the Warriors are going to be 100% healthy next year and probably will get back to dominating everyone.