N'Keal Harry and Jarrett Stidham Working Together Through the Quarantine is Bourbon for My Soul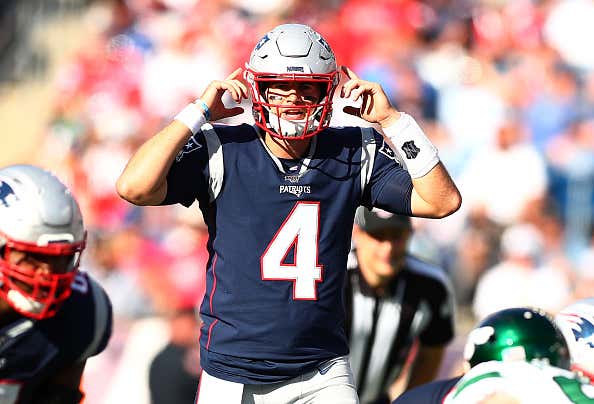 NFL.com - New England Patriots receiver N'Keal Harry has kept in touch with 2019 draft classmate, teammate and Tom Brady's potential replacement, Jarrett Stidham, about linking up soon to play catch. It's something they might have done anyway, but with the uncertainty caused by the coronavirus pandemic, they're setting logistics now, since they're figuring they won't be together in Foxborough any time soon.
Offseason programs, which were scheduled to begin in April, have been postponed indefinitely. League and team facilities are closed. Gyms nationwide are closed. It's why many players, like Harry and Stidham, are setting up alternative plans.
"I talked to Stidham the other day to make sure we read the (passing game) script," Harry said. "If this goes on for a long time and there is no offseason training or OTAs, we're going to have to meet up and get to work."
This is what I need to hear. 
I'll concede that as news goes, it's not up there with my man RKK flying 1.7 million masks back from China. It's not a total cure for what's ailing Pats fans in a post-Braxit world. But it's a reason to be hopeful. N'Keal Harry and Jarrett Stidham are the hydroxychloroquine and azithromycin of New England football, interacting in a way that shiows promise, even if they require further tests. 
It's possible that no one in pro football last year got a rawer deal than Harry did. He came to the Patriots with the stigma of being the first receiver of the Belichick era to get drafted in the first round. By all accounts, he worked his ass off in the offseason. It didn't help his development at all that Brady skipped OTAs, but the rookie showed up to Brady's house to run routes for him. He did everything asked of him in training camp. Then his leg was injured, he aggravated it playing through it in a preseason game and missed nine games. It happens. Life is unfair. But because of it, the usual suspects who are quick to hammer the false narrative that GM Bill can't draft wide receivers pounced. They rushed to judgment and called him just another bust. 
Granted, his production in seven games, 12 receptions for 105 yards and two touchdowns looks terrible next to the numbers of the wideouts taken after him who played all year, Deebo Samuel (57 catches, 802 yards, 3 TDs) and A.J. Brown (52, 1051, 8). But if it's genuine rookie busts you're after, look no further than second rounders J.J Arcega-Whiteside (16 games, 10, 169, 1) and Andy Isabella (15 games, 9, 189, 1, with 88 of those yards coming on one broken coverage). Harry deserves the right to be graded on the curve after missing half the season and trying to acclimate to a complex offense run by the most demanding, hard-to-please, results oriented quarterback who's ever lived. But he didn't get it. 
Still, it sounds like he's determined to do whatever it takes to make sure 2019 doesn't happen again. If he can't work out with his future quarterback, he's going to make damned sure to be cyber-study buddies with him until they can. And if OTAs are cancelled, they'll do it on their own. 
I'd expect nothing less from two guys Belichick decided to pin his hopes for the future on. These are a few of things NFL.com said about Harry when he was a prospect:
Highly competitive at everything he does
Consistently productive over three seasons
Fearless play demeanor with alpha swagger
Outworks opponents to carve out work space in tight quarters
Junkyard dog who is willing to scrap as a blocker
And about Stidham:
Intelligent with ability to decipher defenses
Makes good decisions from RPO looks
Good recognition to wait for throwing lanes to clear
Competitive open-field runner as scrambler
Willing to put his head down and find tough yards to secure first downs.  
Competitive. Productive. Fearless. Alpha swagger. Outworks opponents. Scrap. Junkyard dog. Intelligent. Good decisions. Competitive again. Willing to put his head down and find tough yards. And to these we can add, "Willing to get busy working together in the middle of a worldwide health crisis to get ready for their first season on the field together." Right now, it's all we can hope for. 
P.S. How different would the season have gone if the refs didn't blow the call on Harry's touchdown? Hopefully The Revenge Tour starts the first week in September.