NCAA Tournament Simulation: We Have Major Upsets And Buzzer Beaters In Today's Sweet 16 Games
So we don't have the NCAA Tournament. Well, at least not on our TV. But we have it here on Barstool. Thanks to WhatIfSports we have a website that will simulate these games for us. Every day that we're supposed to have games we'll have simulations for that round. Yesterday we started with half of the Sweet 16, today we'll finish it up, etc. For the sake of simplicity I'm using Lunardi's last bracket before everything went to shit.
Reminder, this is all being simulated on WhatIfSports. They play the game on a neutral court, spit out play by play, box scores and an overall score. I'm not picking anything, etc. This is all computer simulated to determine a fake champion. Get your picks in now.
Friday March 27 - Sweet 16 Games
Before we get started, let's set the scene here. It's Friday of the Sweet 16. We have half the Elite 8 set. Shit is starting to get real for your program if they are alive. These are when they games get real nervous. You start looking at the matchup for the next game or two and figuring out realistic chances of playing on Monday in April. You have to get through the day for the first tip after work. Hit the damn music. 
East Region 
No. 12 Richmond vs No. 8 Colorado
And just like that we have a First Four team playing in the Elite 8. Richmond trying to match its rival VCU and make a Final Four apparently. This is honestly what I miss the most about the NCAA Tournament. This year was absolutely batshit crazy. Look at how many top-5 teams lost during the year. There was going to be mayhem in the NCAA Tournament. I wouldn't have been shocked at all to see a double digit seed make an Elite Eight. It's just the way the year was going. Also hilarious that Richmond fans were desperate to fire Chris Mooney this past offseason and now he made the Elite Eight in this very real fake Tournament. 
Winner: Richmond 90-81
No. 7 West Virginia vs No. 3 Villanova
What an ending! You know both of these fanbases packed MSG. Every Villanova graduate lives in NYC, I'm sure of it. WVU travels to NYC all the time. And this is how the game ended: 
Big Oscar T getting a rebound leading to a Culver layup just makes sense. That's pretty much how WVU scored on every possession this year. But then Justin Moore? The freshman hits the game winner and not Gillespie or Bey or even Samuels. It was only a matter of time for Moore to figure it out again. I actually really like his projection going forward for Nova in real life. He's a guy who hunts his shot, he fits the Nova guard mold. We get another classic Sweet 16 game though. This always seems to give us the most crazy games. 
Winner: Villanova 85-83
South Region
No. 9 Rutgers vs No. 4 Louisville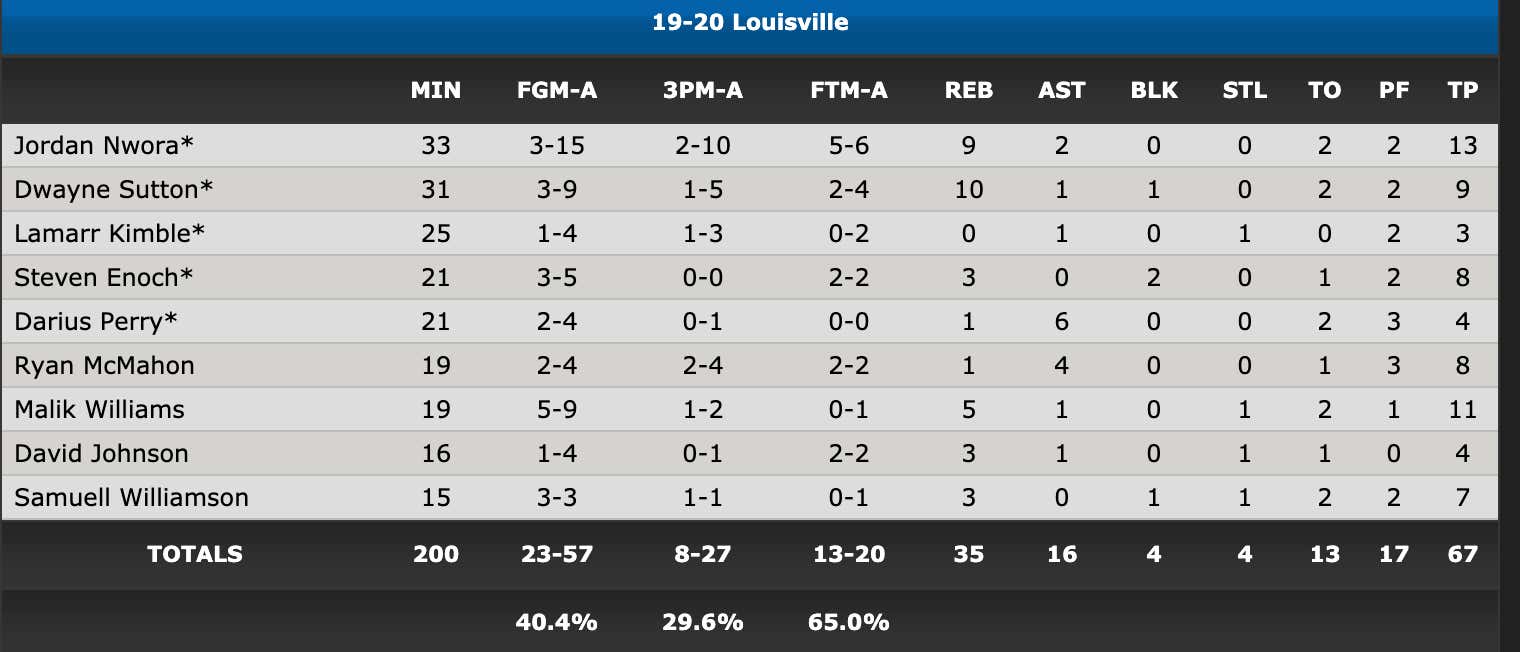 Rutgers?!? Rutgers! Your family, your religion and Rutgers basketball! It's pretty ridiculous how good of a coach Steve Pikiell is in real life and in this fake important Tournament. Sure, Rutgers may have taken advantage of getting a 16 seed Winthrop in the Round of 32, but now they beat Louisville too. This just happens during the Tournament. Louisville shot like shit, 8-for-27 from three. You can't be doing that when you rely on some guys hitting shots. Nwora finishes with just 13. You're not going to win if that happens. Go crazy Jersey. 
Winner: Rutgers 76-67
No. 3 Michigan State vs No. 2 Creighton
And we end the Sweet 16 with another classic game. Creighton might be the most underappreciated team this season. I know a lot of people just think of them as Doug McDermott, who hasn't played there in years. This team was fucking awesome. They were different in the sense of how they pretty much ran small ball, legit would use a 6'5" center for a majority of times. They had three guards who could shoot the shit out of the ball. It does feel a bit wrong for Cassius Winston to end his career on kind of an average game. But it makes sense that in our only 2v3 game, we get a 1 point game. 
Winner: Creighton 81-80
Updated Bracket