Wake's Brandon Childress Called Out His Haters In An All-Time Postgame Interview After Beating Duke (Bonus: Classic Coach K)
The f bomb that ACC Network tried to cancel out and you can see the moment of panic from the reporter. 'Shit, he's fired up and you guys heard that, right?)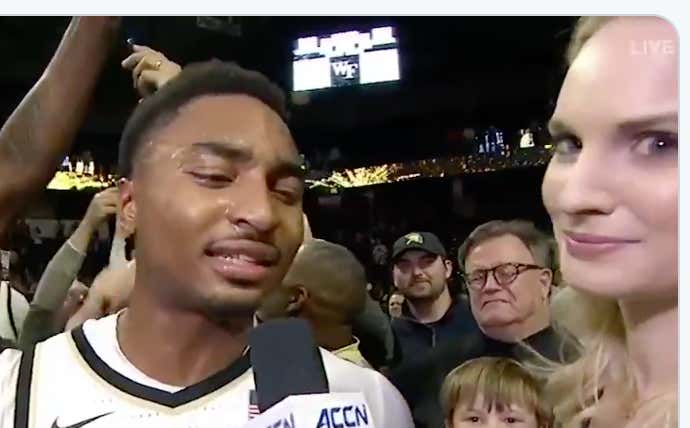 But really this is one of the more memorable postgame interviews I can remember - especially while still on the floor. Brandon Childress is a senior at Wake. More importantly, he's the son of one of the greatest Wake players of all time, who also happens to be the associate head coach. Randolph Childress. 
It didn't matter how well he played at Wake, whenever they struggled or he struggled it would immediately be well dad just brought him in. He's just a Childress. He's actually been pretty fucking good too. He's played at least 20 minutes per game all 4 seasons. He was a lead guard on a team that made the NCAA Tournament. He is a decent shooter - this is his worst shooting year and coming into it, he never shot worse than 35% from three. 
He also did this last night: 
Naturally, with him hitting that 3 to force OT after Wake was down 9 with 75 seconds to go Coach K had a classic Coach K. 
He HAS to know what he's doing at this point. He has to know that every single person is going to make fun of him for being this holier than thou jackass. As Trill and everyone else said to me 'clockwork.' It's what you can expect after a player goes off against Duke in a win or a near win. Why the fuck should Brandon Childress care if Coach K is proud of him? He's not his coach. Big Cat said this once and it couldn't be more true. 
Coach K actually displays true dickhead behavior, coaching other team's players, lying, and throwing kids under the bus, and what do we get? Crickets. It's so fucking stupid. Coach K is a fantastic coach as well as a tremendous dickhead and sore loser, if everyone would just openly admit those three things can all exist together and stop pretending this guy is a saint, the world would be a better place.
Two losses to instate teams by double digits in a week? Yikes.