Report: The Patriots are Talking with the Ravens About Trading for Hayden Hurst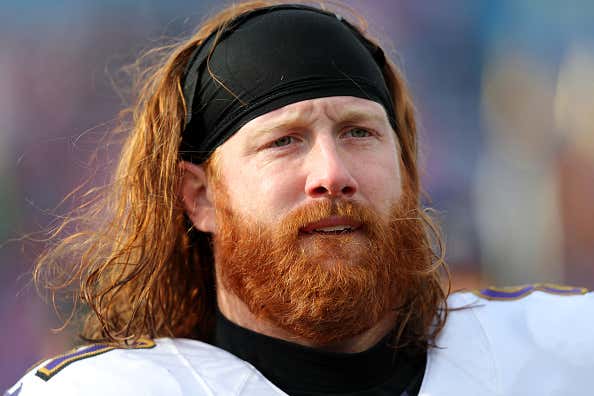 I can't speak to the reliability of the source on this. Eugene Frenette describes himself as a sports columnist second, husband and father first. And since my own family describes me as a stoop-shouldered, drunken typing baboon first and a below average husband and father 10th or 12th, far be it for me to question his veracity or his sources. I'm not familiar with any story he's broken before, but I'm all about playing along on this one. For this report, I'll apply my life rule that states whenever I'm not sure what the truth is, I choose to believe what I want to be true. In this case, that the Patriots are trying to land Hayden Hurst. 
Granted, I'd rather they sign Hunter Henry. But since he's the unquestionable best free agent tight end on the market and it's expected to be an especially awful tight end draft class, he won't come cheap. Ideally, I'd like Hayden Hurst and Hunter Henry, just for the non-stop hilarity of listening to guys like Dan Fouts get their brains tied into balloon animals from all the alliteration. But that said, Hurst would seem like a good, if less than perfect, solution to their existential tight end crisis. 
Hurst was taken 25th overall by the Ravens in 2018. And while it wouldn't be fair to call him a bust, he does qualify as expendable. One because he's on the offense that just set the league's all time rushing record. And two, because he's been passed on the depth chart by the tight end Baltimore took with 61 spots later in that same draft, Mark Andrews, who just made the Pro Bowl. As a matter of fact, while Hurst played 500 total snaps to Andrews' 503, Nick Boyle buried them both with 795, mainly as a blocking tight end, attached to the formation. Whereas Andrews had around 100 more reps on passing downs than either one of them. 
In his two seasons, Hurst only has four starts and 43 receptions. But still all the potential you could reasonable hope for. According to Pro Football Focus, Lamar Jackon's passer rating when targeted him last year was 122.5. And Belichick personally went to his Pro Day at South Carolina. Plus, a deal works from a contract perspective:
 Here's what I wrote about him in 2018 draft preview:
Roy Hobbs:


Hayden Hurst, South Carolina. 6-4, 256 lb, 4.67

Hurst will turn 25 years old before the season begins. The reason being that he spent 2 ½ seasons as a pitcher then a 1st baseman in the Pirates organization before walking onto the Cocks [this is your last warning] in 2015. Physically, he was created in a lab to be the prototype of a tight end's body. That body has also matured to the point it's maxed out, so his improvement will have to come from the reps and experience he lacks. If he can get the refinement his game need when it comes to, say, field awareness and getting open in tight spaces, he has the raw material to go in the 2nd or 3rd. For what it's worth, when Gronk and Murdnandez were rookies, they were 20 and 21, respectively, so it's hard to say if the Pats would be interested. As Pops told The Natural, "Guys your age retire, they don't start playing."
Compares to the leading brand: Travis Kelce 
Obviously Hurst went a lot earlier than expected. The Pats only had one pick when he was still on the board and used it on Isaiah Wynn. So we've never known how interested they were then. But if this report is valid, they appear to be interested now that he's about to turn 27. I can't imagine it would be easy to negotiate with Baltimore. The Ravens aren't predisposed to doing Bill Belichick a solid when he's dealing from a position of weakness.
But there are other factors involved here. Real world factors. Life and death, in the literal sense. 
I'm actually reluctant to bring this up in a goofy post about a trade rumor on a comedy site. But it is relevant. Hayden Hurst came out last week and spoke with an admirable amount of courage and candor about his struggles with depression and suicide.
Source - Hurst's demons bested him in his second season in the minors with the Pirates down in Bradenton, Fla. … Hurst says he was drinking every day. 

"There were weeks at a time I would sit in a dark room and not want to be around people," he said. "Just that fear of embarrassment. I had never experienced anything like that." …

After deciding to quit baseball Hurst walked on the football team at the University of South Carolina. His battle with depression and anxiety returned.

"I woke up in the hospital," he recalled. "I didn't know what happened. I had to have a friend fill me in. Apparently, I had been drinking and went into my apartment and cut my wrist. My friend found me in a puddle of blood. He called 911."

It was in that South Carolina hospital that Hurst had what he calls his "come to Jesus moment." He was handcuffed to a bed. He says he looked and said "What happened? What are you doing?" That was the moment he figured out that he needed to ask for help. …

"I don't have the answers to fix all of this," he said. "It's still a trial and error to this day. … I struggle with depression, anxiety and things like that."
That's as heartbreaking as it is frightening. And we can all be glad he's talking about it and getting the help he needs. It goes without saying Hurst's mental health will have to come first, last and foremost. Both he and the team would have to go into a trade believing New England would be the ideal situation for him. Every person's condition is unique, obviously. Whatever issues Josh Gordon was dealing with where helped by being in Foxboro, but only temporarily. The team signed Austin Seferian-Jenkins last year, and he left due for personal reasons that were never disclosed. So it's all case-by-case. And if in Hayden Hurst's case all sides agree it's to everyone's benefit, I'd love to see the deal get done.