The Ravens are Giving Ray Lewis a Statue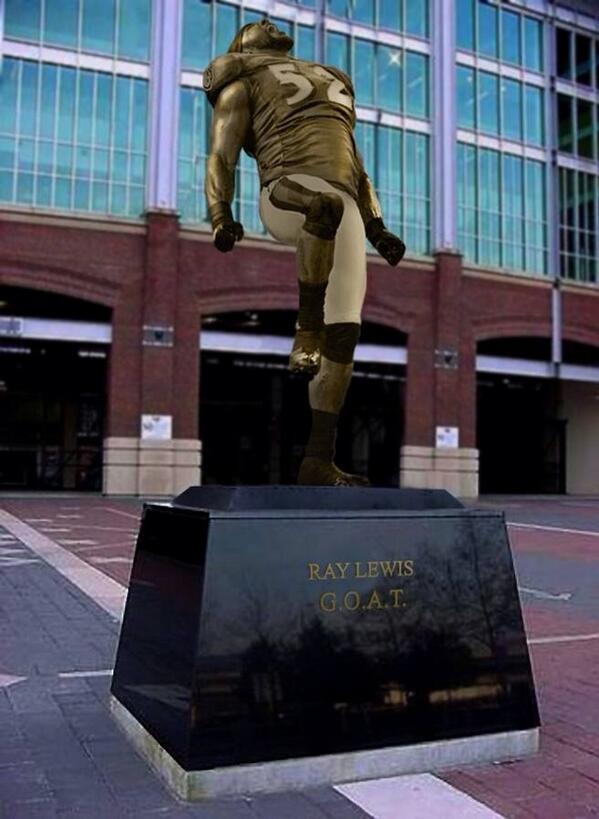 Baltimore - The Johnny Unitas statue that stands outside of M&T Bank Stadium in Baltimore is about to have some permanent company. Ravens owner Steve Bisciotti said this week that he hopes to have a Ray Lewis statue up before the 2014 NFL season kicks off… Bisciotti first announced plans for a Lewis statue after the Ravens won Super Bowl XLVII over the 49ers in February 2013… The statue won't be the first time the Ravens have honored Lewis, the team also honored him last season when he became the sixth player in franchise history to be inducted into Baltimore's Ring of Honor.
As I wrote a few years back, being deemed statue-worthy is the highest honor any sports figure can receive.  Way bigger than any Hall of Fame induction.  Bigger even than making one of those "Mount Rushmore of Sports" lists.  It's an honor not to be bestowed lightly.  It needs to go only to the absolute, unimpeachable legends.  A privilege only reserved for your Bobby Orrs and your Red Auerbachs. Or in Philly, your Rocky Balboas.  Giants of their games who changed their sports, their franchises and their cities forever.  I mean, you can't just go around throwing up permanent monuments to every borderline All Star who won a title the way the Celtics retire numbers ("Louscy"?  Really?)  otherwise they'll litter the sidewalks like street musicians and bums.
So of course the Ravens have decided Ray Lewis is worthy of this most sacred of honors.  Because they've spent the entire 21st century covering for this miscreant, polishing his image, ignoring his misdeeds and exaggerating his accomplishments, so why stop now?  So naturally they're only too willing to pollute the streets of their city with a graven image of this Bible-thumping phony, even if it diminishes the tribute paid to a true Baltimore/American icon, Johnny U.  I have no doubt the Lewis statue will look exactly like the photoshop job above, because there was nothing that gave those morons in the purple #52 jerseys boners like his stupid, self-aggrandizing, pregame histrionics.  So it's such a given it will look like this, I can see it like it's already been unveiled.
Well fuck that.  Here are my suggestions for how the Ray Lewis Statue should look:
Incarci-Ray:
Six Children By Four Different Women Father of the Year Ray:
Pleading Guilty to Obstruction of Justice in a Double Homicide Ray:
Testing Positive for Deer Antler Sp-Ray:
Ratting on His Friends to Save His Own Ass Ray:
Pimp Ray:
'
Fake Crying Whenever Someone Pointed a Camera at Him Ray:
And My Personal Favorite, Stabby Ray:
@JerryThornton1