Gossip Rag Says Brady & Gisele are Headed for a $600 Million Divorce. Barstool Investigates.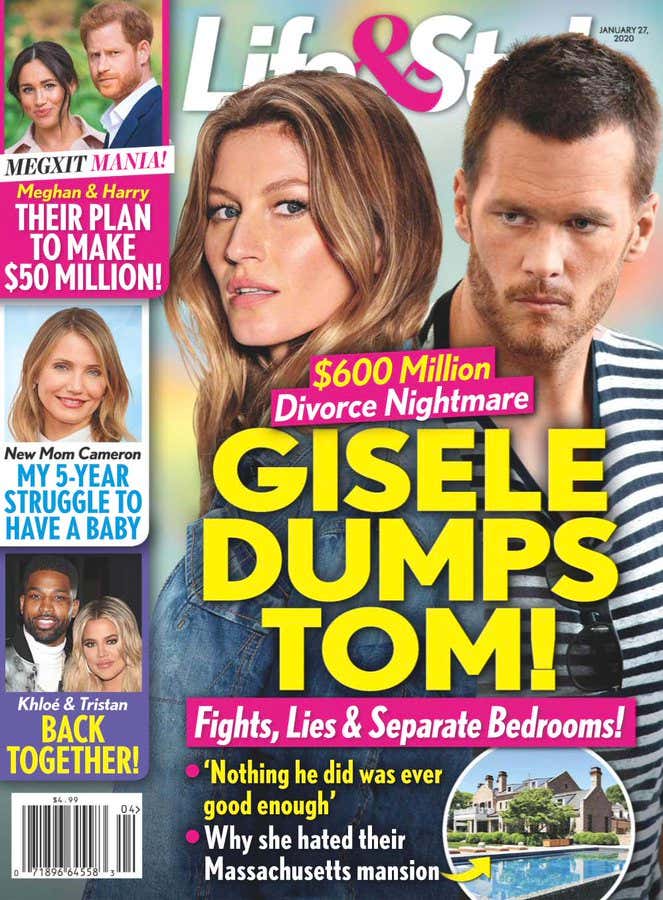 As if my life wasn't hard enough, now I have to deal with this? One of America's most trusted sources of famous person news is rocking my world. The magazine you peruse for Brad Pitt updates and Jennifer Lawrence cleavage while waiting for the decaying corpse of some old lady in front of you to pay with coupons and a check at the express register is reporting the worst of all possible news. Thanks for that, Life & Style. 
Seriously, I don't need this right now. I still haven't recovered from the fictional breakup of Scarlett Johannson and Adam Driver. (And my own beguiling Irish Rose would throw me into a wood chipper to fertilize Adam Driver's garden if she thought it would please him.) I don't think I'm going to be able to survive if Tom Brady and Gisele split up. If the world's most emotionally, spiritually, aesthetically and genetically perfect power couple can't make it, how are we supposed to have faith in anything?  
But how can I argue it's not true? Life & Style are respected journalists who've been on top of every story from Jennifer Aniston's SAG awards dress to #Megxit to Alex Dunphy going braless in a grocery store:
So who am I to declare this Fake News? 
The only way to get to the bottom of a report like this and weed out the truth is to go to another celebrity site. To fight tabloid gossip with tabloid gossip:
Source - Tom Brady's future in the NFL may be uncertain, but his marriage to Gisele Bündchen is not. A tabloid alleging they're getting an $600 million divorce is false. Gossip Cop can debunk it. 

In a phony cover story from Life & Style, the tabloid claims Bündchen is "begging Tim to retire." The outlet quotes a supposed source as saying, "Gisele puts up with his training and game schedule, but she hates that he's away from home so much." It's not like the Patriots quarterback is jet-setting around like some kind of playboy. He's working and Bündchen certainly understands that, after almost 12 years of being married to a professional athlete.

Nevertheless, the dubious source alleges that Brady and Bündchen have been "having some nasty, blowout fights" over his refusal to retire. "One was after Gisele told Tom that a psychic told her to leave him," adds the questionable insider. "Of course he told her that was ridiculous and laughed at her. They've said some really ugly things to each other – it's gotten really bad. Some friends think there's no going back."

Bündchen directly contradicted this bogus narrative in a recent interview with the Observer. In it, the supermodel tells the publication, "I've been with my husband for more than 12 years now and, as you know, men are very… They want a lot of attention… So I think the important part is to have fully present moments with everybody. I think that leads to fulfillment."  …

Last month, Life & Style's sister publication, Star, falsely claimed Brady and Bündchen were living separate lives. … Gossip Cop can confirm this latest story is more fiction. 
OK. Thank you, Gossip Cop. That makes me feel a little better. 
As a matter of fact, this is one of those times where there's nothing like a quick internet search to keep a guy from throwing a bourbon-and-antidepressant smoothie into the Bullet Blender. It seems like "Tom & Gisele divorce" clickbait has been around almost as long as "Tom & Gisele" has been a thing:
And the last time I checked in on Gisele, things seemed to be going swimmingly.

So there you go. We can call off Laura Dern and Ray Liotta. This Marriage Story continues to be the greatest romance ever told. The rumors of it all coming to an end are as much a work of fiction as they were in 2015 and 16. This is not the end of hope. God is not dead. Real, true, enduring love does exist in this cynical world. Tom loves football and Gisele loves the way he loves football and all is right in the universe. 
Now if we can just make sure he and the Patriots don't get divorced, I won't need anything else.