The Boston Celtics Are Allergic To Not Playing Like Dogshit
There's a saying that a basketball team is never truly as good as they look when they are experiencing a long winning streak and never as bad as they look when they can't beat a local YMCA pick up starting five, and maybe that's true when it comes to the Boston Celtics but what is all true is this team suck gigantic donkey dick right now. I mean we all shrugged it off when they lost to the Wizards and it was this weird one off performance. Then they kept happening and it was a concern but a few wins here and there gave us the illusion that things maybe were getting back on track. Then the bad losses kept happening and all we are left with this is reality.
The Celtics have now lost 6 of 8. Of those, 4 have been to teams well below .500. Of those games, 3 of them have been on their home floor. In each of those home losses they allowed 129, 116, and 123 points. Of all 16 playoff teams from each conference, only the Nets (2-8) have been worse than the Celtics (4-6) over the last 10 games. They've seen their decent lead as a 2 seed evaporate, where now they are holding onto the 4th seed by just .5 games. Ever since this team lost to the depleted Raptors (at home) on December 28th they've been in a tail spin. What we are watching, but the very definition is a collapse. I could give two shits about their schedule, I could give two shits about who is in or out of the lineup, even if this team was starting the entire Maine Red Claws, what we are seeing on both ends of the floor in unacceptable. You're telling me just because Kemba or Jaylen isn't playing that this Celtics team can't prevent an opponent from scoring 120 points or shooting 60%? Fuck outta here. It's embarrassing it's enraging, and we keep waiting for them to snap out of it and resemble the team we saw for the first 35 games of the season and over the last 12 days that has not even come close to happening. 
This team went basically the whole year not losing to below .500 teams and now I feel like there isn't a team in the entire NBA that I would feel confident playing right now. I'm not even kidding. Even in the wins over the pathetic Hawks or Hornets during this streak the Celts still had to sweat those out. 
But what do I always say. We do not run from the blog when things are at their absolute worst. We get through this 82 game journey together, good or bad. Credit to me. We're all waiting for the football to kick off so we may as well get started.
The Good
- Point blank, I will die for Marcus Smart, no questions asked. Maybe you think that's weird, I don't really care. It also has nothing to do with his 11 3PM, setting a franchise record for made threes in a game, or his 37/5/8/4 
We've seen Marcus get hot, he's the true definition of a streaky shooter and it was his outside shot that kept the Celts alive while the rest of their offense looked like baby deers learning how to walk for the first time. But to me, that's not even close to the best part of his night and why Smart has a cult following in this city. It was cool to see him turn into a Curry Cousin, but the real value with Smart is what happened when Hayward missed that wide open layup in a gigantic spot. I'm sure you've seen it by now. Smart IMMEDIATELY ran over and picked his teammate up at his lowest moment. That is leadership. Smart isn't dumb, he knows the shit Hayward is going through right now, and there is no denying that was a a brutal fuck up that pretty much sealed things. Instead of finger pointing or yelling or any of that shit, Smart reacted the exact opposite way almost out of instinct. Then he took to Twitter and made my heart sing even louder
He's a flawed player at times, the defense (which we're getting to) hasn't really been all that great since he came back from being blind, but that leadership is what truly matters. That is what is going to save this team from this rut, not his 11 3PM. It's why he's the captain, it's why he's going to go down as one of the most beloved Celtics when this is all said and done, and it's why I will willingly risk my life without hesitation if he asks me to.
- So this is weird, you look at the final box score and you see Tatum had 26/10 on 50% shooting and Hayward had 22/7/7 and you would think they had good nights, only that's not entirely true. Before we kill them both we should at least appreciate the positive things they did so let's all take a minute and try and numb the pain for a bit
They both did some cool shit at times, but this was one of those games where you truly had to watch in order to see how things really went. I don't think either played particularly well, and I'll explain why further down.
- Honestly I can't even make anything else up for this section. That's what losing 6 of 8 will do to you against yet another under .500 team. Everyone knows I wake up in the morning in order to spinzone this team, but they have broken me at the moment so let's move on.
The Bad
- You'll never believe this but the Celtics started a game like they've never played the sport before, got down 12-3 and never recovered. Nothing like finishing a quarter with 33/30% splits while playing zero defense and allowing 47.8% shooting. That always seems to work out and is definitely not something they've done every single game of this disaster streak. Oh wait, they have? 
Did you know, since December 28th, when things first started to go downhill, this is what the Celtics are averaging in first quarters? 
25.4 points (28th in NBA)
43.4% FG% (29th in the NBA)
100 Ortg (29th in NBA)
106 Drtg (11th in NBA)
-6.5 net rating (24th in NBA)
They have legitimately been one of, if not the worst team in the entire league to start games. This is why it doesn't matter who they play, you cannot beat anyone when you start off like this. They are honestly losing games in the first 2 minutes it's insane. Take last night for example. Devin Booker scored to make it 4-3 with 10 minutes left in the 1st quarter and the Celtics never even tied it the rest of the night. They led in this game for a total of 97 seconds, at home! Against a team that is like 6 games below .500!!
Every single game it's the same shit. They miss a ton of shots early (1-8 last night), they decide to let that impact their defense, and the opposing team is getting nothing but layups and easy buckets on the other end. Then things start to snowball, everyone panics and takes more bad shots which are basically turnovers and the thing balloons. I'm looking at Brad, but I'm also looking at the players. Take some fucking responsibility and play the right way. Maybe don't try the exact same shit that has gotten you off to horrific starts every single game. That's all I want, they can be bad in a first quarter, just don't be putrid. Is that too much to ask? I don't even expect them to be good! Just don't be the worst fucking team in the NBA. I feel like that is a reasonable expectation.
- You know I was told that when playing at home, your less talented role players tend to play better on their own floor. My question is when is that going to happen? Because what I had to watch was a bench unit that once again was pretty much useless. Remember, this is the Suns we're talking about here. A group that you should be able to handle offensively, especially their bench. Well, our second unit went a stellar 6-23 from the field. When this game was in the balance in the 1st-3rd quarter, they went 5-19. 
If you aren't on board by now with the realization that the second unit is destroying this team then I don't know what to tell you. It's even more important for them to show up in games where a starter sits, and time and time again they are throwing up these type of performances. Everyone tweets me all the time that Waters needs more minutes, well he wasn't exactly the savior last night was he? I know Brad doesn't play rookies, but that has changed this year and I find it inexcusable that Romeo couldn't get a look when there was no other productive offensive player on the second unit last night. What more does Brad need to see?
- If you want to pick the #1 reason why this Celtics team can't beat anyone, it all starts on the defensive end. For example, here's how it looked last night
I'm sorry but what the hell is that. I loved Smart's threes like everyone else, but if he's not going to stop anyone then what are we even doing? He's supposed to be the best defender on this team and he's been getting that work for this entire streak. Hayward certainly hasn't been any better, and even if you want to give Grant a pass because he's a rookie, this just goes to show how badly this team needs bench help. Even someone like Tatum, who has taken real strides as a defender looked like shit.
Now I don't want to overreact based on one game. That would be foolish. So let's instead look at how things have looked since 12/28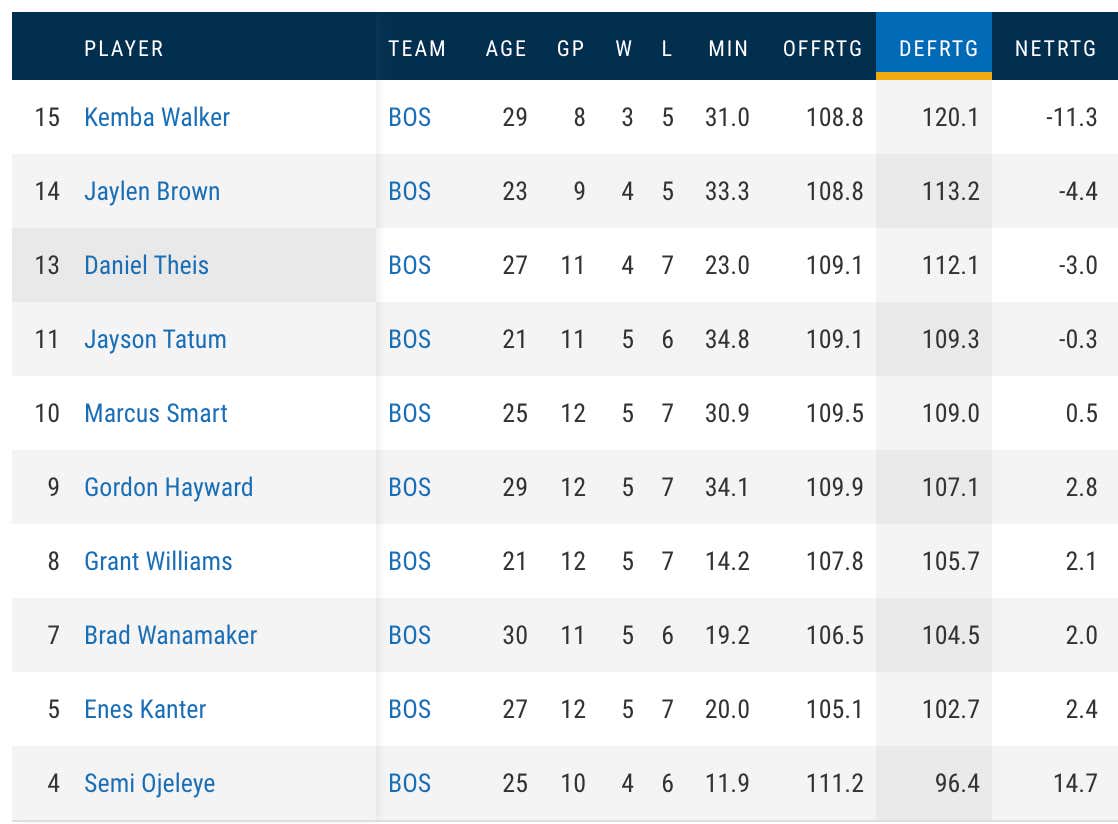 Kemba, Jaylen, Theis, Tatum, Smart, Hayward, pick a name they've been dogshit on the defensive end for the past two weeks. This is why I get upset when people try and put this rut all on one player. That simply isn't true. The entire team as a unit has taken a gigantic step back, and it's coming from ALL their important players. 
- I know the final lines look nice, but in the meat of this game, when it was in the balance, Gordon Hayward was 4-13 and Jayson Tatum was 6-15. They were a combined 0-7 from three (Tatum 0-5) and were a -27. On a night when you don't have Jaylen or Kemba, you need those two to be efficient and carry the load. 75% of this game they were mostly dogshit and were saved by a solid fourth quarter. That's it.
- Speaking of fourth quarter, the Celts actually played well and scored 43 points on 52/50% shooting. Pretty good right? Well then you see that they couldn't defend once again and allowed 36 points on 50/62% shooting. What assholes.
The Ugly
- It's sort of a double edged sword because on one hand the Celtics got a prayer with Marcus Smart making 11 threes which is just not something that happens, but this was once again a game where someone random has the game of his life against the Celtics. This is no longer a random occurrence in my opinion. This time it was Mikal Bridges, who finished with 26 points on 10-13 shooting and 6-8 from three. it was only the second time all season he's scored more than 15 points and the first time all season he's made more than 4 3PM. That's fun. 
The problem was everyone just left him open. He was a combined 5-5 while being defended by Tatum/Hayward for 13 of his 26 and was perfect from three. Slow rotations are killing this team on a nightly basis from someone and it's clear that only the Celtics employ players that refuse to hit open threes. Everyone else in the NBA from Sekou to DiVincenzo to Bridges doesn't seem to have that issue. I find that annoying.
- I mean where else can we put this. Have to make that layup. Have to.
The good news is it's just the 34-8 Lakers coming to town on Monday. To be honest it doesn't even really matter who the Celtics play as long as they continue to give this sort of effort on defense. They've made it clear that you can be the best in the league or the worst in the league and you're still going to put up 120 on them. A win on Monday would go a long ways to making people feel better, but it doesn't make everything we've seen over the last two weeks go away. This is quickly turning from a bad stretch to a season defining collapse, and I am yet to see this team actually give a shit about it and do something different. If it bothers you so much, I dunno this is a crazy concept so stay with me here, but maybe try not playing like complete dickheads. At this point it's worth a shot because nothing else seems to be working.