The Biggest Viral Moments Of The Decade
The growing use of social media in the past decade brought about an internet renaissance, complete with wacky dances, 13/10 puppers, and ridiculous memes! From cuckoo fads and challenges to iconic photos and videos, here are the most viral moments that defined the internet from 2010-2019.
The Oscars Selfie (2014)
The world was buzzing in 2014 when Finding Nemo star Ellen DeGeneres broke the internet by posting a selfie (self-taken digital photograph) with a star-studded crew of fellow actors, including Academy Award-winning rapist Kevin Spacey (The Usual Suspects, Billionaire Boys Club). 
Planking (2011)
In 2011, American humanitarian Ellen DeGeneres raised $17.8 million for the victims of Somali pirate attacks, and singlehandedly decreased the crime rate in Mogadishu, by starting the massively popular campaign fad known as "planking" or awkwardly walking around with wooden planks tied to your feet under the assumption that you'll eventually be rewarded with some kind of large cash prize. 
However, after receiving terroristic threats, DeGeneres rebranded "planking" as an anti-obesity campaign challenge for white cisgender men with skinny/petite female partners.
The Harlem Shake (2013)
In an attempt to raise awareness for the positive effects of gentrification in Harlem and other New York City neighborhoods, former American Idol judge Ellen DeGeneres redefined the "Harlem Shake" as a trendy video meme in which Caucasian participants performed wacky, out-of-rhythm dance moves to an EDM song by a Jewish DJ. The viral movement, spearheaded by DeGeneres, helped raise millions of dollars for Amazon's HQ2 project. 
Wendy's Chicken Nuggets Kid (2017)
The "Wendy's Chicken Nuggets Kid," a lifelike robot designed by The Ellen Show's engineering team, was a social experiment and marketing campaign funded by anti-animal rights activist Ellen DeGeneres to promote the Wendy's Twitter account (also the brainchild of DeGeneres) and increase the cruel and inhumane murder of chickens by the fast food industry.
Ice Bucket Challenge (2014)
Splash! Burrrr! Emmy-winning television icon Ellen DeGeneres teamed up with the Kardashian family to create the "Ice Bucket Challenge," a viral stunt that was originally intended to raise money for American Liposuction Survivors.
Whip/Nae Nae (2015)
Now watch me whipppp! Who could forget the lovable 2015 dance craze started by hip hop/culture icons Hillary Clinton (Just Chillin' In Cedar Rapids) and Ellen DeGeneres (Dallas Cowboys vs. Green Bay Packers).
The Running Man Challenge (2016)
Before being appropriated by college basketball players, the "Running Man Challenge" was a social media dance trend started by Twitter personalities Ellen DeGeneres (The Ellen Show) and Hillary Clinton (The White House attendee) to raise money for American billionaires running from the law.
April Fools Pranks (2014)
In 2014, Mr. Wrong star Ellen DeGeneres took the internet by storm when she invented and patented the viral craze known as "April Fools pranks," in which zany young women typically pretend to be pregnant on April 1st. 
Gangnam Style (2012)
In 2012, celebrity satirist Ellen DeGeneres jokingly helped a poverty-stricken Korean soybean farmer gain widespread fame by bringing him on her show and teaching him a quirky dance sequence that helped him go astronomically viral and earn millions of dollars, with the only stipulation being that he included her logo in his record-breaking music video and never made a hit song again. 
The K-Pop Craze (2013)
After successfully blackmailing PSY and realizing the true potential of Korean music stars, DeGeneres and her team of scouts ventured to Seoul to recruit the hottest and most talented young Korean men and groomed them into a modern phenomenon of iconic, money-making machines with unrealistically rabid fanbases. 
Women's Gymnastics (2016)
Gymnastics became a nationally known sport in the Summer of 2016 when television host Ellen DeGeneres featured two little girls on her show and graciously let them "perform" a variety of adorable tricks, which included hanging from a miniature bar and briefly balancing on a thick wooden beam.
"Damn Daniel" (2016)
Daniel Lara, an impoverished teen boy from the slums of Riverside, California, became widely popular when famous philanthropist Ellen DeGeneres gave him a lifetime supply of Vans shoes and apparel, which prompted him to earn viral fame for becoming the most stylish kid at his high school overnight, frequently eliciting reactions like "Damn, Daniel!" from the same peers who used to bully him for being poor and gross.
Military Homecomings (2013)
"Military Homecoming" videos became a viral craze when Youtuber and celebrity prankster Ellen DeGeneres (War in Iraq advocate) staged a fake "military homecoming" between two struggling, volunteer actors. The viral video helped prompt thousands of women to encourage their husbands and sons to enlist in the marines with the hopes of having the opportunity to star in their own viral military homecoming video one day. 
#TheDress (2015)
In a viral attempt to raise money for Chinese sweatshops, Ellen DeGeneres and her team of unpaid Graphic Design interns concocted a computerized optical illusion known as #TheDress.
Bottle Flipping (2017)
Worldwide sales in plastic water bottles saw an astonishing 8,000% increase in 2017 when Ellen DeGeneres created the "Bottle Flipping Challenge" to raise money for mega-corporations like PepsiCo and Nestlé.  
The Mannequin Challenge (2016)
Inspired by a guest appearance from Michael J. Fox (Stuart Little), American actress Ellen Degeneres created the "Mannequin Challenge," a viral internet video trend in which a group of participants remain completely still, and as quiet as a mouse, while a trendy rap song plays in the background. As a result, millions of black teens proceeded to remake Ellen's hip video and turn the insanely dope idea into a viral fad.
Walmart Yodel Kid (2018)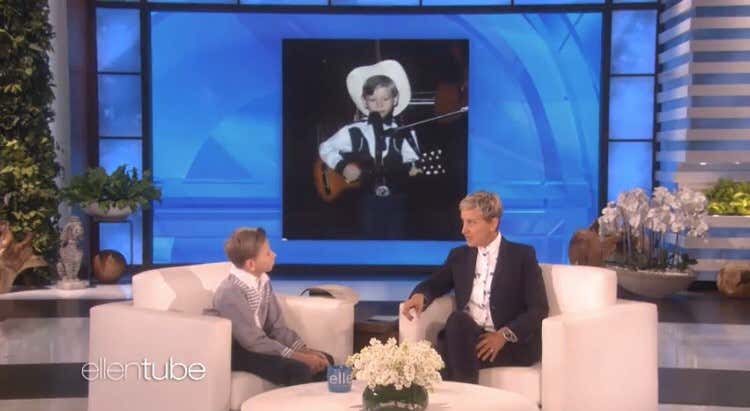 In 2008, staff members of The Ellen Show kidnapped an infant child named Mason Ramsey from his rural home in Golconda, Illinois and forced him into captivity where he underwent rigorous music and vocal training for 12–15 hours per day, until he was skilled enough to go viral for his singing and yodeling abilities. The decade-long project, funded by Ellen DeGeneres, also served as a highly successful marketing campaign for the Walmart corporation.
"Spilling The Tea" (2016)
This viral slang term, coined by public figure Ellen DeGeneres and later appropriated by "Black Twitter," became a cool way to refer to the juiciest gossip on social media.
Tweetdecking (2016)
In a viral campaign to promote the Pixar film Finding Dory, social media influencer Ellen DeGeneres created the lovable @Dory Twitter account and used "tweetdecking" to steal tweets and use illegal methods to artificially inflate the numbers on her hysterically relatable posts. 
30–50 Feral Hogs (2019)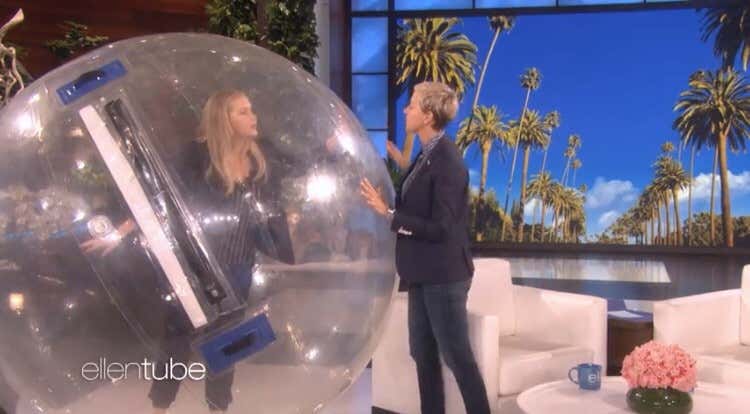 Inspired by a guest appearance from celebrities like Lena Dun-
Ope! Looks like I reached my character limit. Happy holidays, and here's to another decade of awesome viral memes!