What I've Learned From: Brandon (FUCKING) Walker
There may be no person at the company I jived with faster than Brandon Fucking Walker. He *defected from traditional journalism, had a similar way into the company, and also LOVES hoops. 
Outside of Big Cat and Dave, is there any Barstool employee more *prolific than Brandon FUCKING Walker??? The advice he gave me my first week shows why. 
Here are the nuggets of advice he gave me week 1 and 30 days in, some of my takeaways.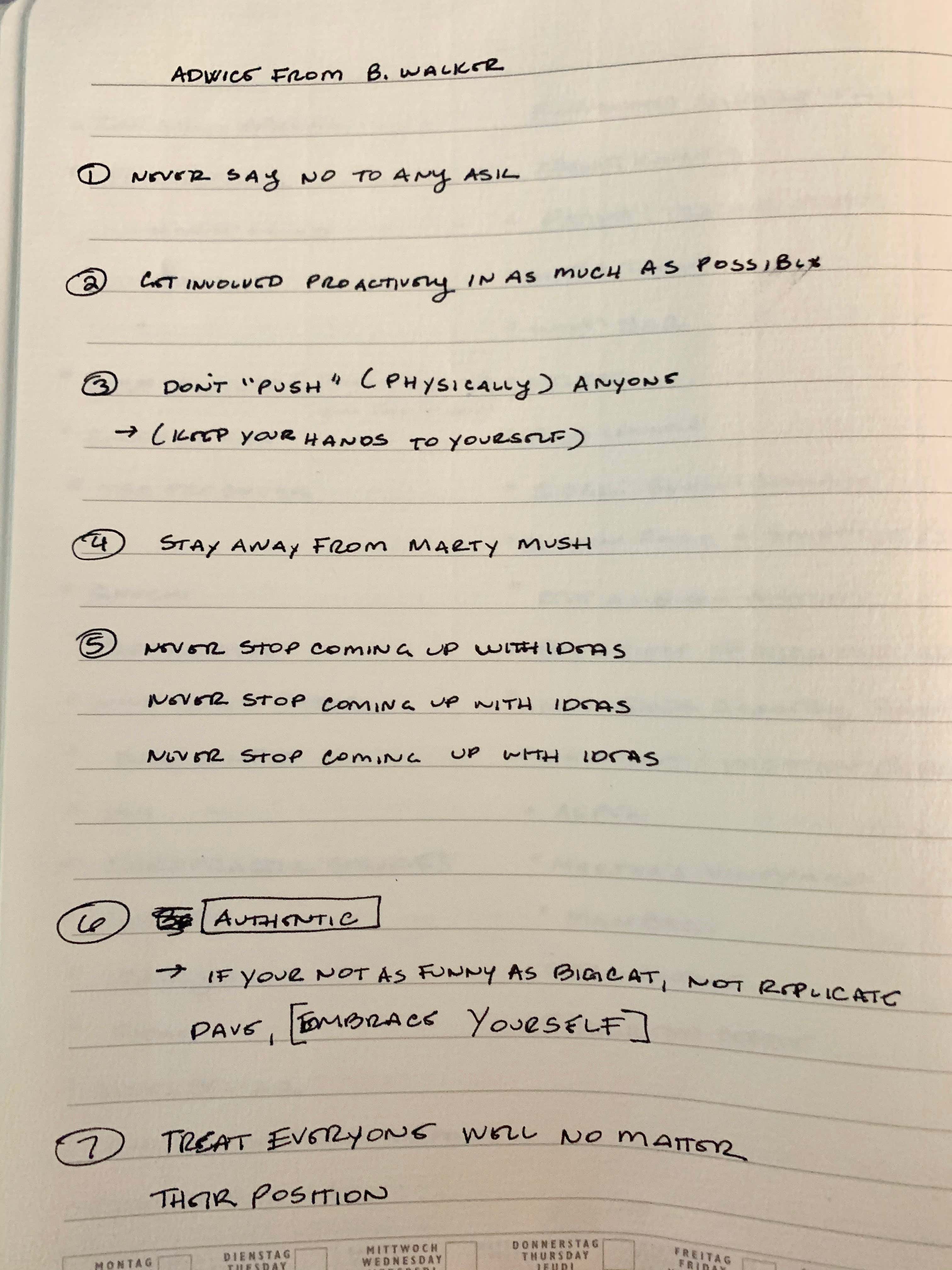 1. Never say no to any ask: This may be the most valuable piece of advice I've received. This is a "self start" type of environment (meaning you gotta get shit done independently) and if you're included or asked to participate in any show, content series, etc... its a MUST you say yes. It sort of feels like when you get invited out to the bars with a new group of work friends, if you say no too many times, you may never EVER get invited out again. You may have to BEG and even then, its like nah... Take it from someone that doesn't drink, I've made that mistake and the end result is seeing you weren't invited to a work happy hour via IG story. 
2. Get involved proactively in as much as possible: 30 days in... I understand why this is sage advice. See above. If you're not getting invited, just crash the happy hour when you see the location via IG story. That's basically what B walk has done and he's literally EVERYWHERE content wise. He even gets a 9 man camera crew for a haircut. 
3. Don't push anyone. I still think that was for content. Devlin and Brandon are both sweethearts. 
4. Stay away from Marty Mush (wait… don't they have a show together?) 
5. Never stop coming up with ideas (3x)… This should be gospel at this company. I've learned this company is the epitome of an incubator. You can either sit and stare at a computer, or you can think of new ways to create. One is fun, and the other leads to misery. 
6. BE AUTHENTIC (EMBRACE YOURSELF)… Was that a double entendre? I keep hearing B Walk is VERY horny. 
7. Treat everyone well no matter their position:  why don't you say hi to Ebony when you walk in???? 
Asterisks (Definitions)
Defected: (abandoned one's country or cause in favor of an opposing one)
Prolific: (of an artist, author, or composer) producing many works.