The Jets Hand Out Cards to Their Players Teaching Them How to Talk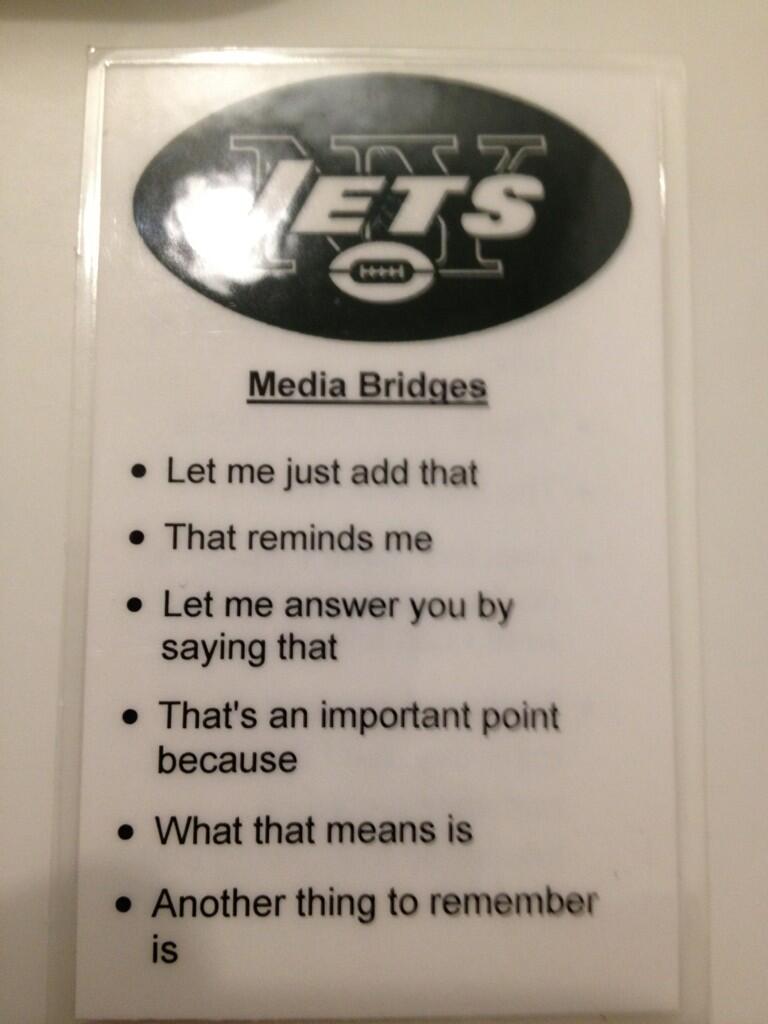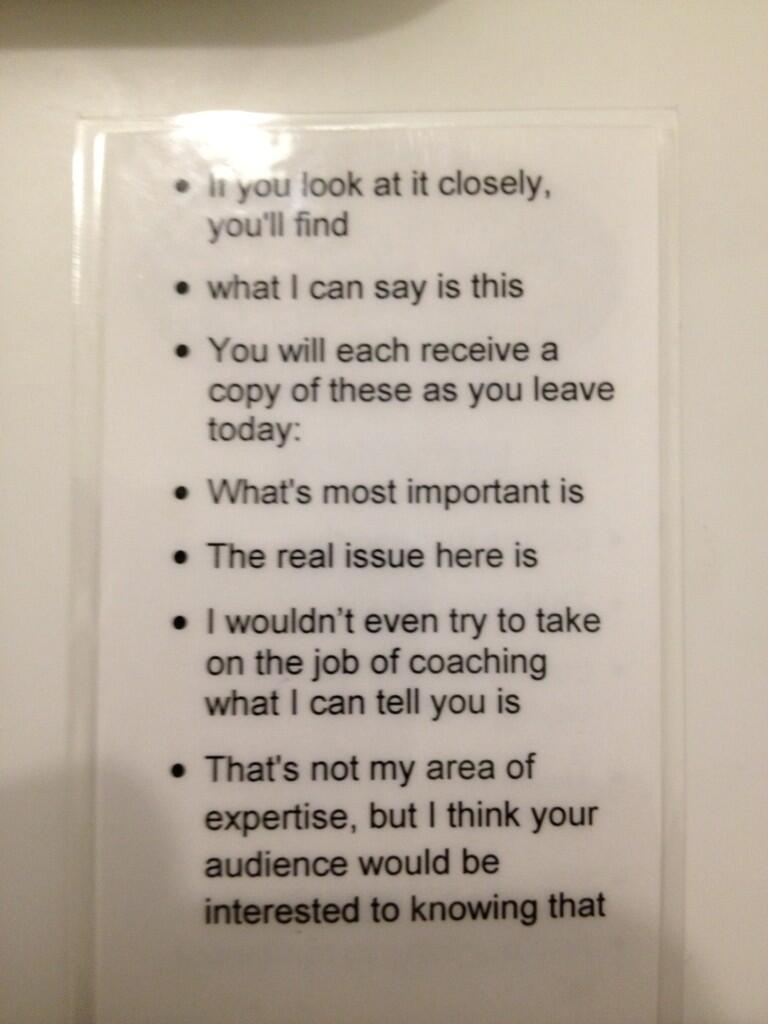 NFL.com - The New York Jets want very badly for you to think of them as anything other than a circus. The franchise has earned the big-top moniker over the past two years, a fallow period in which they've gone from Super Bowl contenders to AFC also-ran status. A new season brings new hope for both the Jets and their media relations department. Perhaps in an effort to curb meddlesome tabloid drama, the team has issued players a "Media Bridges" card of phrases to use with reporters.  Manish Mehta of the New York Daily News got his hands on a laminated card and helpfully tweeted out photos of both sides.
I suppose I could tool on the Jets for this, but I won't.  Partly because no team in football spends more time and energy coaching up their players on how to control the message than the Patriots do, and it's worked for them.  Granted, the Pats aren't so hamhanded and colossally pig-ignorant enough to put a bunch of catchphrases on a laminated card and give it to someone dumbass enough to leak it to the Daily News.  But the Jets are new at this business of trying not to look like fucking idiots, so I give them a free pass.
My real problem is with the "Media Bridges" themselves.  I mean, what kind of phrases are these?  Are they really supposed to sound natural? Coming from Jets players of all people? Someone deserves to get fired if they expect us to buy something like "That's not my area of expertise, but I think your audience would be interested to know that blah bitty blah" coming out of Antonio "Father of Our Country" Cromartie's mouth.  It's an insult to our intelligence.
But look, in the spirit of good sportsmanship and intra-division rivalry and all that, let me be helpful.  If the Jets want some useful rhetorical devices to get a positive message out there and represent what the organization stands for, try these:
*"Let's go eat a goddamned snack!"
*"I couldn't care less about the team strug-gil-linnnggg.  I want to kiss you."
*"We went to two AFC Championship Games in a row!"
*"…I have Karis who is 3.  I have my, my Junior which is 3.  I have my daughter who just turned 3 as of yesterday… uh… I have another son, uh, named Tyler who turns 3 in December…"
*"Show us your TITS!!!"
*"The age of consent in New Jersey is 16."
*"You really have beautiful feet.  Can I smell 'em?"
@JerryThornton1