In 2010, 34% of DC Residents Said The Redskins Were Their Favorite Team. In 2019, It's Down To 13%
Dan Snyder has ruined the Redskins, part 10,545. I blog all the time about how we shouldn't give this guy any more money. Let the stadium be empty. Wear "Sell The Team" shirts instead of official Redskins shirts. Yes, he's still going to make money off the TV deal, but he doesn't need any more money from us, the fans. He deserves to be embarrassed when Jets fans take over FedEx Field. When "Sell The Team" chants can't even last more than 10 seconds because there aren't enough fans there to chant it.
And now, the stats are showing what we already knew- DC has fallen out of love with Dan Snyder's Redskins:
Washington Post - A World Series title coupled with years of on- and off-field blunders by the local football team has reshuffled the sports hierarchy in Washington, and the Nationals are now clearly the city's favorite sports franchise, according to a poll from The Washington Post.

More than one in four D.C. residents — 28 percent — name the Nationals as their favorite local team, four times the number that named them in 2010. Meanwhile, fandom for the Redskins, long the dominant sports team in the region, has plummeted, with just 13 percent of Washingtonians now calling the Redskins their favorite local team, down 21 percentage points from 2010.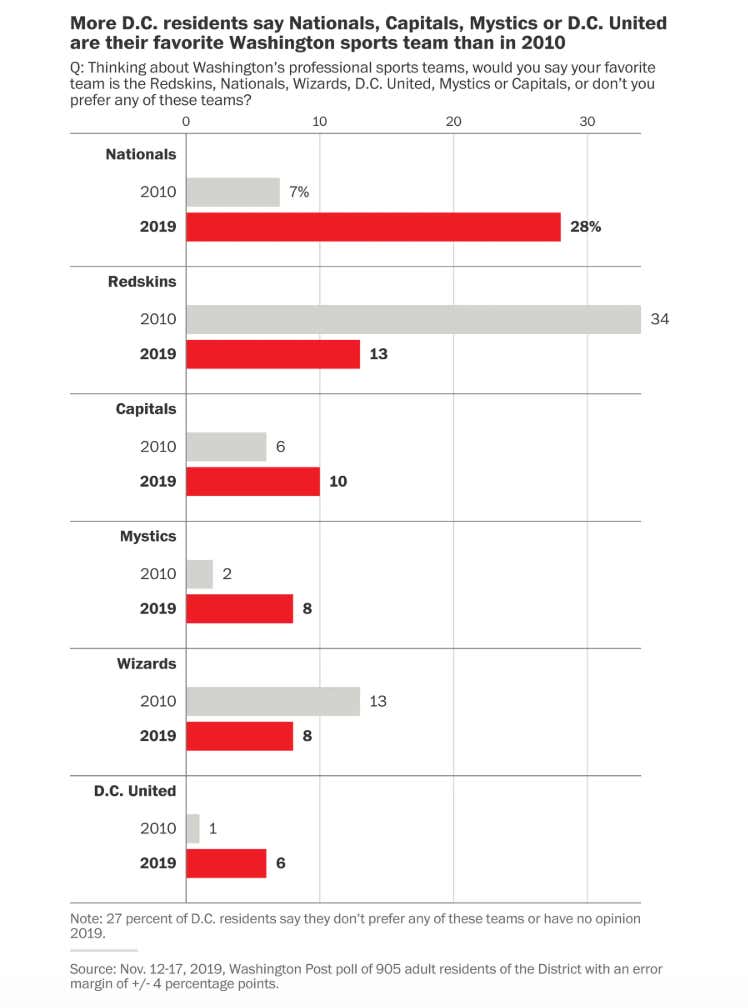 The numbers are a little skewed because this poll was taken right after the Nats World Series (I'd expect Caps to be higher right now and Nats to decline a little), but a 21% decrease in 10 years is absolutely staggering. Redskins fans have had enough of what Dan Snyder has done to this team. It's why you can go for $4. It's why you see Nats and Wizards and Caps jerseys at each others' games, but not Skins jerseys. People don't want to affiliate themselves with the Skins. Don't want to give Lil Dan Dan the satisfaction of knowing they support the team he has ruined.
The culture though?!!?!
Every week is a new low for the Skins. We just lost to the Jets while the Oline quit on Haskins, who knows what is in store for this Sunday. What we do know though is nobody will be there to see it. Good.