Happy Birthday To The Greatest American Hockey Player Ever, Patrick Kane. My Top 31 Kane Memories
Time flies when the games are on TV and we all witnessed a Dynasty. It's been a weird experience watching players of this generation get old and realizing that…I am older than them. I feel lucky to be a hockey fan in Chicago at a time in my life when I didn't have any real responsibilities like a wife or kids or even a job that I cared about. I could stay up until 3AM watching a game in Anaheim go to triple overtime and not regret it for a single second. Memories in my 20s were punctuated with moments of brilliance from Patrick Kane, who for my money, is the greatest US Born hockey player of all-time. Better than Chelios, more Cups than Modano, and more important than Roenick. There's nobody better than 88. Here are my favorite memories of his career.
2007 World Junior Championships
So this was the only highlights I could find from that tournament on Youtube. Kane didn't score in the shootout and Toews absolutely put Canada on his back. Canada won, but the 2007 WJC was a real coming out party for Patrick Kane. He was a DOMINANT player in that tournament. The Blackhawk were in perpetual rebuild mode at the time, but if you watched that tournament with how good Toews was and the saw Kane go to the Hawks on Draft night you knew we were in for a good run in Chicago
2009 Playoffs vs Calgary
I want to say it was Game 2 at home. Calgary was ACTIVELY trying to intimidate Kane. Getting in his face before and after whistles. Trying to bully him. Kane wouldn't have it. Just stood there and laughed as plugs like Dustin Boyd and Jamie Lundmark tried to push him around. He didn't need protection or an enforcer. He just got it done and had the series GWG in Game 6
This gif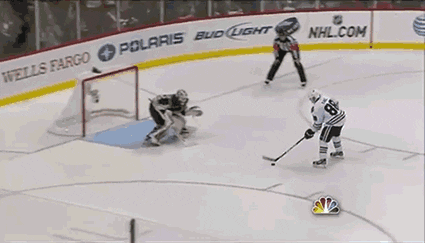 This other gif from 2013 against Dallas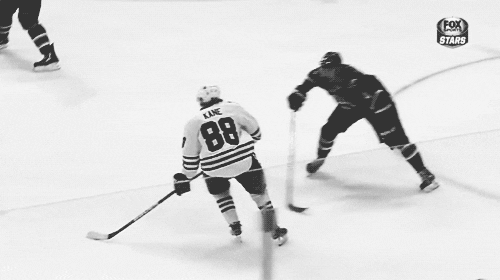 Patrick Kane Beats The Shit Out Of Jokinen
The Day He Signed A Essentially A Lifetime Contract
Worth every penny every single night
When He Gave Sharp His "A" For His Final Home Game
Just the kind of guy he is. Obviously that was a bad year for the Blackhawks, but Kane did right by Sharp in last United Center game of Sharp's career. Kane also supposedly made a very emotional post-game speech about how important Sharp was to the organization, him personally, and the legacy of the Chicago Blackhawks. Kane doesn't need a letter on his chest to be a great leader.
Game 5 Game-Tying Goal vs Detroit in 2009
Kane had been quite in the series and it was clear the Blackhawks weren't quite ready for prime-time as the Wings just had a little bit more in every way. The Wings won that game, but Kane's back-hand snipe to tie it up late in the 3rd and force OT gave us a little hope for the series and a TON of hope for the future.
"We're Gonna Be Back" at the end of 2019
"We Are Gonna Get This Thing Turned Around And Make A Run For It"
This goal from his rookie year
Impossible to pick one specific goal from that year, but I remember this one. Just attacking the zone with speed going in 1 on 4 and sniping it home. He made hockey fun in Chicago for the first time since like 1996.
2016 Game 5 vs St Louis
This one is probably higher if the Blackhawks go on to win the series, but with their backs against the wall in double OT Patrick Kane delivered an unbelievable goal. Like he just decided he had enough of that game so he was winning it right there by himself on that shift. Unbelievable.
The Panarin Affair
Again, it's impossible to pick just one moment, but from the word go you knew these two were going to be special. That goal against the Rangers announced it. These two were born to play together and for those two years it was some of the most magical hockey anyone has ever seen. Never should've been broken up.
Kane Wins The MVP And Art Ross
Similar to the Panarin affair, that was an unbelievable season for Kane. The year after they lost Sharp and Saad, Patrick Kane carried the Blackhawks to the playoffs with 106 points. First American ever to win the scoring title.
Game 5 2013 Stanley Cup Final vs Boston
People remember Game 4 for being absolutely bananas and a 6-5 finish. They remember 17 seconds of game 6. Tucked in between there was Patrick Kane in game 5 with two tucks in a very tightly checked game. Kane came through when it mattered most.
Patrick Kane Kills The Wild…Again
Minnesota Wild fans HATE Patrick Kane more than any other fan base. Its one of my favorite things on the internet. He just put them in the dust pan every year during the height of the Blackhawks Dynasty. The Wild had some really good teams in that era. Didn't matter. Kane was better
Kane Kills The Canucks 2009
The Blackhawks were HUGE underdogs heading into that series. People forget that. Kane established himself firmly as a MONSTER clutch player and it was that moment I think we all realized the Blackhawks were absolutely going to win a Cup at some point with this group.
Patrick Kane Saves The Season 2010 vs Nashville
One of those team of destiny type moments. You remember where you were. Hossa in the box, about to go down 3-1 in the series. Kane goes to the net and pots one.
Kane Ends The Lightning in 2015 Stanley Cup
In this moment I became a "SHOOT IT" guy. I was begging Richards to shoot the puck, but the correct play is always to get it to Patrick Kane. He cashed. .
Patrick Kane Kills The Kings In 2013
One goal never seemed like enough for Patrick Kane in the biggest moments. He stepped on LA's throat with a hat trick in Game 5. The game-winner is the first memory that comes to mind for me in the Toews-Kane era, simply because they were both involved. A defining moment.
Game 6 in Philly
He saw it before anyone else, which is fitting because that's how it always is with Kaner. He sees things nobody else can and he's always one step ahead. I said earlier the 2016 year was incredible and peak Kane, and it was because he took home all the hardware, but he seemingly gets better every year. He had 110 points last year on a team that gave him very little support and now he's got 26 points through 20 games and is just getting hot now. The Blackhawks are going to go as far as Kane will take them, just as it always has been. The perfect player for this city at the perfect time. These were just the ones that instantly come to mind mind. There are plenty more. If you've got them, leave them in the comments or hit me up on twitter. There's going to be more playoff moments to come, Patrick Kane said so. Starts tonight against Carolina. Let's go.