Darryl Roberts Lashes Out Against 'Fake Ass" Jets Fans and His Despair Saddens Me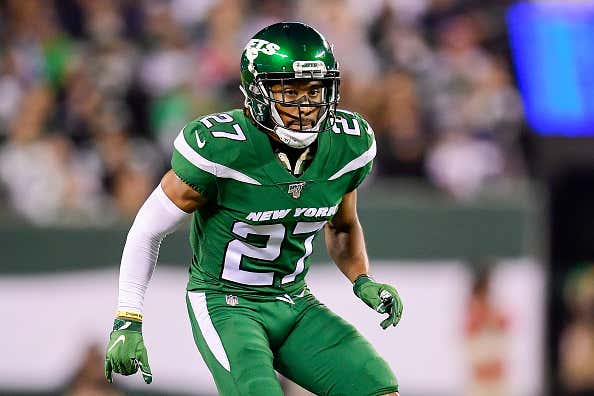 As the psychologists like to say, people deal with loss in different ways. Jets cornerback Darryl Roberts chose to deal with a literal loss, 26-18 to the Miami Dolphins – the most aggressively and intentionally terrible team the NFL has ever seen over the first half of the season – by laying into "fake ass fans killing me with dat negative shit."
Not just any fake ass fans, mind you. He's talking specifically about the ones who "wouldn't buss a dam grape in a fruit fight." Which I think was implied, but Roberts wanted to be on record as overtly challenging those Jets fans in particular, to eliminate any confusion.
And I respect that. It's not at all an unreasonable expectation to ask that if people are going to rock wit you, that they actually rock wit you. That only makes sense. And just to be perfectly clear, in what the lawyers like to say is "out of an excess of caution," Roberts repeated that he was referring to the "fake ass" ones, differentiating them from the loyal Jets fans:
Well said. Well said indeed by this bard of the secondary. Even through the pain of suddenly finding yourself looking up at the 2019 Dolphins, of all teams, at the bottom of the AFC East standings. (Hard stop to let that sink in for a minute.) And so I have to say I respect Darryl Roberts here. All he's asking for is a little support for his team. The team that is coached by a Scrat-eyed crazy person who snorts smelling salts in the middle of preseason games and set an NFL record by getting the GM who hired him fired inside of five months, the team who's franchise quarterback sees ghosts and whose star safety is offended they'd listen to trade offers for him because "the Patriots don't take calls about Tom Brady" just needs a little understanding from the masses who haven't seen a Super Bowl trip in half a century.
It's not too much to expect IMO. But to me, this is more than just a call for support. It's a cry for help. An existential scream from the darkness that is the Jets for some human compassion. Like something out of Kafka or Pink Floyd's "Hey You." Roberts is reaching out from the abyss of 1-7 in a desperate attempt to find some understanding. And it saddens me that, like the title character in "The Bucket Rider" or Pink in "The Wall," he'll find only despair and heartbreak.
Still, it's this kind of thing, coming after a bad Patriots loss in which they were completely outplayed, that really puts your minor suffering in perspective. At least we have hope. The entire Jets organization is bereft of it. Again. So if you're a Pats fan and getting all worked up about last night, remember: "Shut tf up & please go like another team!"