Patriots Porn: ESPN the Mag's Profile of Brady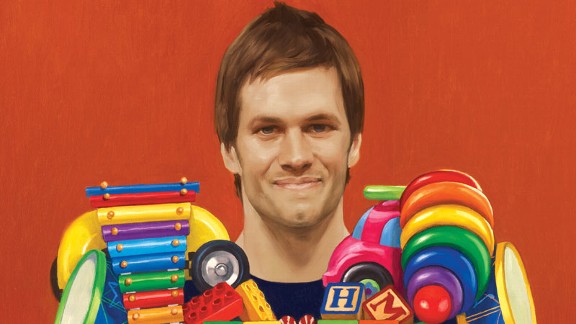 Over the weekend a bunch of people sent me the link to the Tom Brady piece in the new ESPN the Magazine.  It's long.  It's not exactly chock full of groundbreaking stuff (Tom tries to balance football and family, Tom works hard to improve, Tom tries to relate to his younger teammates, etc. etc).  Much of it is stuff we already knew.  But there's a responsibility that comes with being the world's foremost Brady Fanboy.  When you spend as much time camouflaged in the bushes outside his condo as I do, you owe it to the public to blog about an article like this.  Beside, there's still plenty of high-quality Patriots Porn in here that makes it well worth 5-7 minutes of bathroom "alone" time.  Some of the real "money shot" gems:
*Brady is a future Hall of Famer and entering the final act of his career. He says that his "first 13 years prepared me mentally and physically for my last seven." He has won and lost Super Bowls. He has been loved and reviled; he has won MVP awards and has watched — after his knee injury in 2008 — football move on without him. Most of all, he has kept it together. He has never self-destructed or posed for a mug shot or twisted himself in lies. Brady is a study in discipline and consistency — he plays and wins — in the face of the most extreme professional and personal life expansion of any athlete of his era. If the first stage of his career was defined by miracles and the second stage was somewhat diminished by them, in the third stage he's trying to summon magic again.
*BRADY HAS had a throwing coach since he was 15. For most of his life, that coach was Tom Martinez… [I]n February, Brady stood in the gym in his house in the Los Angeles hills with his new throwing coach, Tom House, the former major league pitcher whom Brady hired last year after Martinez died of a heart attack…put him through a beginner's version of the slice of torture he had designed for pitchers called the Fogel Drill: stepping and shuffling as fast as possible while making simulated throws for 30 seconds. Pitchers who've trained with House do four sets; House wanted Brady to try one. House set his timer, and Brady was off, shuffling and stepping, throwing right and left, and after 30 seconds, the color had drained from his face and he felt as if he might pass out. Hunched over, Brady looked at House and said, "How long will it take before I can do what the pitchers do?"
*Once, receiver Donte' Stallworth didn't run hard on a route and Brady's pass was intercepted. On the sideline, Stallworth told Brady, "My bad." Brady didn't reply. He just looked Stallworth in the eye. And stared. And stared. And stared, until Stallworth felt worse than if Brady had yelled at him. Then Brady turned to look at the ground. "He's not an a — hole," Stallworth says now. "But he's a perfectionist."
*Brady has always amassed responsibility not only as a means of control but as a path to perfection… He has been one of the most leaned-upon athletes of his generation, and the results have been brilliant — 11 division titles, seven AFC championship games, three Super Bowl wins, two Super Bowl MVPs, two winning streaks of at least 18 games and numerous records…"But no one remembers that. They remember who got the trophy."
*[A]fter Welker signed with the Broncos, Brady held one-on-one throwing sessions with his replacement, Danny Amendola, an offseason workout before offseason workouts began, trying to spike variables before an opponent exploits them, one route at a time.
*[H]e no longer defines himself as a spurned sixth-rounder. He is motivated by the fear of not fulfilling his own expectations… He knows, as his dad says, that as soon as Belichick gets "a quarterback who is better for a dollar less, he'll be gone." He won't allow himself to be outworked or overpriced.
And there you have it in a nutshell.  The SparkNotes version of why I have an unwavering, some would say borderline creepy, appreciation for Tom Brady.  Granted I would've included a mention of his amazing bone structure and dreamy blue eyes, but other than that Seth Wickersham nailed it.  It never ceases to amaze me to find people around here who think Brady is overrated.  Or who obsess over his Metrosexuality and bowties and mansions with moats and Uggs.  My Irish Rose's girlfriends who claim they can't stand him because they think he's a cuckolded prettyboy.  But what's great about this article is it pulls back the curtain and shows us the real Brady.  That he came from nowhere, made himself successful beyond any 6th round picks' wildest dreams and turned himself into an international icon married to the only woman in the world who ever made a billion dollars off her looks.  So what does he spend his time doing?  He works to get better.  He does drills until he's ready to puke, spends his offseason throwing the route tree to his new slot receiver, carries himself like he's never one a goddamned thing, demands perfection of his teammates, and basically lives his life like he's a 3rd stringer who can be cut at any time.  And when he's not doing those things, he's at home watching Toy Story with his kids.  That's why I have a perverse love for the guy.  Because in him we've all got a front row seat to one of the all time greats with his priorities in the right place and who is obsessed with making himself better.  If loving that is wrong, I don't want to be right. Now if you'll excuse me, I'll need a few minutes with the door locked to read this again. @JerryThornton1