8 Days After Their RB Said They Could Run For 200 Yards, Tulsa Ran For -73 Yards Tonight Against Michigan State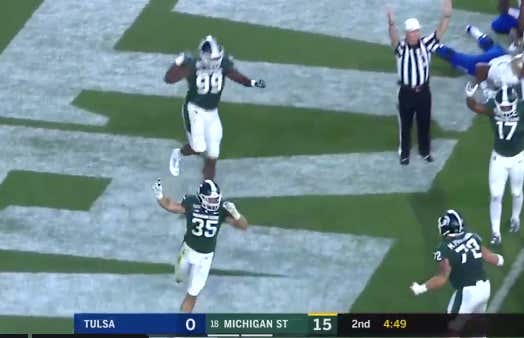 The Friday night slate of opening weekend has not been great. The best game has been Wake Forest – Utah State and for the casual fan, it just doesn't do it for them. Unless you went to Michigan State or had a wager on the game, you probably had no interest in the Michigan State – Tulsa game. It appeared that was the case for Tulsa's running game as well.
What makes this even funnier is that their RB claimed they could run for 200 yards on Michigan State, just 8 days ago:
SOURCE-Tulsa running back Corey Taylor II wasn't shy Thursday when asked about the goals for the Golden Hurricane ahead of their August 30 matchup against Michigan State football.

"With the offensive line that we have, those are great guys, so 100 yards apiece (for Taylor and fellow junior tailback Shamari Brooks), at least, and five (yards) per carry is pretty reasonable," he said.
Life comes at you fast.
Some may point out that they had -73 yards thanks to the NCAA counting sacks as negative rushing yards. This is true. However, as you can see, nobody had above 0 yards of rushing. So, that means it's a negative yardage performance, no matter which way you put it.